From the pages of
Pinedale Roundup
Volume 105, Number 22 - May 29, 2008
brought to you online by Pinedale Online
---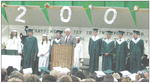 Pinedale High Principal Richard Kennedy introduces the Presidential Education Scholarship award winners.

Pinedale graduates 60 seniors

by Jennie Oemig

The 2008 Pinedale High School senior class had its commencement ceremonies last Friday evening in the Wrangler Gym, with 60 students receiving their diplomas and beginning the next chapter in their lives.

Beginning at 7 p.m., the graduates donned their caps and gowns for the ceremony in a gymnasium filled with family and friends.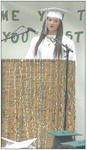 Senior class president Caitlin Baxley welcomes those in attendance to the commencement ceremony on Friday.

Senior class president Caitlin Baxley welcomed those in attendance, delivering an emotional speech.

"This is the last time that we will all be together in one place," she said, adding that everyone's destiny will lead them to bigger and better things. " … It's not the end; it's just the beginning." Baxley then went on to thank her family for all of their support and encouragement over the years.

"You've been there for me since day one and you'll be there to the end," she said, her voice cracking with emotion. " … And mom, without you I never would have made it."

After acknowledging the senior foreign exchange students and the students who had attended Pinedale schools for the past 12 years, principal Richard Kennedy handed the podium over to salutatorian Abe Pearce.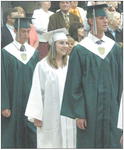 Members of the Pinedale High Class of 2008 make their way to the front of the gymnasium to begin the commencement ceremony.

"I'm a competitive individual. I hate to lose," Pearce began.

Comparing his high school experience to the sport he knows best, basketball, Pearce explained how perseverance is just as important on the hardwood as it is in a classroom setting.

"We won," Pearce told his classmates. "Not only as individuals, but as a team."

Erica David then took the stage to give her valedictorian address.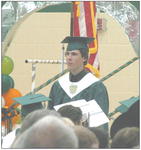 Senior David Hohl was acknowledged as a merit scholar during the graduation ceremony.

"Life has many doors," she said, describing how lives begin going through hospital doors, then moving onto car doors and the school doors before approaching the "door of life."

David then went on to tell her classmates that they are the only ones who have the power to control their futures.

"We are the only people who exhibit who we truly are," she said. "There's no one youer than you … it is in our hands to control our destiny."

Finishing up her speech with the door theme in mind, David told everyone to look inside themselves and know that anything is possible as long as the desire is there. "So I encourage you all to ask yourself, 'Do you have the strongest hinge?'" she said.

Kennedy took the stage once more to acknowledge the Presidential Education Award winners before Superintendent Doris Woodbury introduced guest speaker Adam Corssen, the head swim coach at Soka University. "As you close this door, rest assured that another will open," he said, encouraging all of the seniors not to be scared to take risks as they continue on with their lives. " … Don't be afraid to stumble or fall … Life is a game. Play it everyday."

The presentation of slides showing each of the graduates in their baby pictures and senior portraits was played to the class song, "So Far Away" by Staind.

Baxley was the first to receive her diploma before continuing to introduce the rest of her graduating class as they filed across the stage to receive their diplomas. After all was said and done, the class of 2008 threw their mortarboard in the air as green, black, orange and white balloons fell from the ceiling.

See The Archives for past articles.
---
Copyright © 2008 Pinedale Roundup
All rights reserved. Reproduction by any means must have permission of the Publisher.
Pinedale Roundup, PO Box 100, Pinedale, WY 82941 Phone 307-367-2123
editor@pinedaleroundup.com