From the pages of
Pinedale Roundup
Volume 105, Number 21 - May 22, 2008
brought to you online by Pinedale Online
---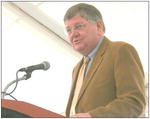 Gov. Dave Freudenthal thanks Shell for its generosity at the event.

Shell makes $500,000 donation

by Alecia Warren

Although this summer marks the 100th year for the Zakotnik ranch, a modest white house and weathered barn on an expanse of prairie outside of Eden, it has never in its history hosted a party like the one that unfolded on its front lawn last Friday.

Dozens of top-ranking officials from the Department of Interior and the Fish and Game Department joined the governor, energy industry barons and scions of old ranching families at the Zakotnik plot to honor a rare victory benefiting all the present factions. The influential crowd gathered beneath a spacious outdoor tent to witness and celebrate a $500,000 donation by Shell Exploration and Production that would affect them all.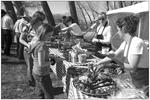 People line up for the buffet at the ceremony to honor Shell's $500,000 donation.

The oversized check was handed over to the Wyoming Wildlife and Natural Resource Trust created by the governor and state legislature as part of the federal Healthy Lands Initiative (HLI), a conservation program created by the Department of Interior.

Alongside federal and state agencies, local ranchers had volunteered their land to be included in conservation efforts funded by the company's donation.

What goal could possible unite such a motley crew of factions?

Shell's donation will initiate an HLI project to conserve and enhance wildlife habitats on an initial 87,000 acres of BLM, state and private land in the Upper Green River Basin, including the Zakotnik ranch.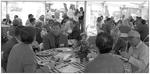 People who attended the ceremony for Shell's donation included local ranchers, members of the energy industry, the department of the Interior, the Game and Fish Department and Governor Dave Freudenthal.

"We get involved in the local community and the natural resources because we are aware that we're going to be partners with them for a long, long time," said Russ Ford, Shell vice president, adding that most wells drilled in the basin will produce for as long as 40 years. "This is something that really fit what we wanted."

The many partners involved in the project quickly agreed to concentrate their efforts in the Eden-Farson area because its habitats had already been thoroughly studied by the Wyoming Ranch Agriculture and Wildlife Management Planning Project, an organization that inventories ranches across Southwest Wyoming for their wildlife values.

"This particular lot of land already had baseline data collected, and a real active constituency, so that you knew the funding would go right to the betterment of the habitat," Ford said. "All of those things came together, and it happened pretty fast. The donation was pledged at the end of last year."

This conservation project is an example of how the federal HLI can create even the most unlikely partnerships, said Jim Mosher, deputy assistant secretary for Fish, Wildlife and Parks in the Department of the Interior. "These kinds of partnerships, particularly between landowners, industry and agencies, are models for how to get cooperative conservation work done," Mosher said. "The idea is to benefit wildlife and other resources, and to do that in a way that's positive and productive for all the interests involved."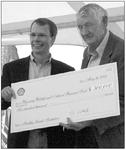 Russ Ford, Shell's Technical Vice President for the Americas, presents the donation check to Bob Budd, director of the Wyoming Wildlife and Resource Trust.

John Andrikopoulos, a Sublette County rancher and Coordinator of the Wyoming Ranch Agriculture and Wildlife Management Planning Project, said the project will specifically focus on managing agricultural operations in ways that help sustain sage grouse habitats.

"We want to enhance the agricultural industry's contributions to help prevent the listing of species like the sage grouse," Andrikopoulos said. "And we want to implement — and here's where Shell's money is so critical — we want to implement wildlife habitat improvement projects wherever we can in order to maintain the next 100 years for the Zakotnik family."

Preserving sage grouse populations affects the whole state of Wyoming, said Governor Dave Freudenthal, and he congratulated Shell on its generosity. "Shell stands out in this case, because they're doing something they're not required to do," Freudenthal said. "This isn't part of a mitigation package required by the federal government. It isn't part of a requirement imposed by the county commissioners or by the state, and this particular area is in fact outside of the area of influence of most of Shell's activities in the state."

The habitat preserved in this project will not only sustain multiple use for agriculture and recreation in Wyoming now, Freudenthal added, but also for future generations. "What people in this state really want is a way to strike a balance, and Shell is helping us strike that balance when they don't have to," he said.

Photo credits: Alecia Warren, Alecia Warren, Alecia Warren, Alecia Warren

See The Archives for past articles.
---
Copyright © 2008 Pinedale Roundup
All rights reserved. Reproduction by any means must have permission of the Publisher.
Pinedale Roundup, PO Box 100, Pinedale, WY 82941 Phone 307-367-2123
editor@pinedaleroundup.com