From the pages of
Pinedale Roundup
Volume 105, Number 20 - May 15, 2008
brought to you online by Pinedale Online
---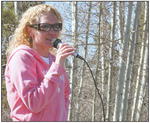 Heidi Dickerson, Executive Director of the Pregnancy Resource Center of Sublette County, thanks the crowd for attending the first 'Walk for Life.'

'Walk for Life' draws about 200 participants

by Alecia Warren

More than 200 people hustled out of Boyd Skinner Town Park on Saturday for the first annual "Walk for Life," a 2-mile group march to raise awareness for the Pregnancy Resource Center of Sublette County (PRC) that opened in Pinedale this March.

"I think most of us in the community want to help people who are in a position where they need help," said PRC Executive Director Heidi Dickerson. She was thrilled that the walk raised $1,200 in private donations, the sole fuel for the non-profit organization.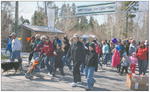 The crowd leaves the Walk for Life starting line.

"The community really cares. I think it's an amazing thing that we can help someone else in need."

Pinedale resident Marla Kalal joined the walk because the PRC is such a worthwhile organization, she said.

"I think it gives anyone who's pregnant more options," Kalal said as she rubbed her arms in the chilly morning wind. "I just want to help support it."

The PRC offers counseling and assistance to men and women of any age facing an unexpected pregnancy, which PRC volunteer Pam Murdock said is needed now more than ever in Pinedale.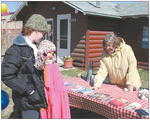 Pinedale resident Serese Kudar peruses brochures available in front of the Pregnancy Resource Center. Volunteer Pam Murdock stands behind the table.

"This town has a lot of men in it — a lot," said Murdock, the former director of the Jackson PRC, where she said she counseled pregnant women from as young as 12 years old to 48. "Young girls are becoming sexually active younger, and they need someone to talk to if they're not able to talk to their parents. But there are also just so many people in this community besides teenagers who might need it as well."

The center offers a tolerant and confidential source of guidance for those unprepared to face the pressures of childcare, Murdock said.

Trained peer counselors can discuss any pregnancy related issues, including financial preparation, medical referrals, or basic parenting lessons. Low-income mothers can receive donated maternity clothes and baby furniture, and the center also offers free pregnancy tests.

Mark Pyatt, member of the Sublette County Rural Health Care District, was one of the first to speed walk across the finish line on Saturday. Pyatt helped open PRCs across Indianapolis in the early '80s, he said, and he remembered that they always opened with a similar public walk that garnered interest and guaranteed success for the organization.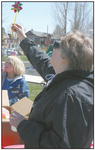 Local Connie Berry examines a windmill for sale at the Walk for Life event

"Hopefully the PRC will use this (walk) as a springboard to broaden its constituency," Pyatt said. "Any town where there are young people or women in crisis with a pregnancy or expected pregnancy, there's a need (for the PRC). And it's a resource not just for somebody who's pregnant, but for people who need help understanding the consequences of their behavior."

Pinedale resident Serese Kudar parted from the crowd at the walk to gather brochures at the PRC facility on East Charles Street.

Kudar had faced an unplanned pregnancy at 23 about five years ago, she said, and sought help at the Jackson PRC.

"The center was there for me when I was a mess," Kudar said, admitting she hadn't even known how to take a pregnancy test at the time. "I knew everything was going to be alright, but it was good to have a place to go and know about the resources to help me."

PRC counselors instructed her about health insurance and how to afford feeding and clothing a newborn, Kudar remembered. "People don't realize how needed (PRC) is," Kudar said to Murdock. " I can't imagine being a pregnant teenager. That's where you guys come in."

Now Kudar has three children, all of whom accompanied her on Saturday's walk. Murdock, who had been the young mother's counselor at the Jackson PRC, beamed with pride as she hugged Kudar and waved at her little ones.

"You look like you're a great mom," Murdock said.

The Pregnancy Resource Center is open from 10 a.m. to 5 p.m. on Mondays, Wednesdays and Fridays.

Call the facility at: 367-7077, or the 24-hour hotline: 1-800-395-HELP

Photo credits: Alecia Warren, Alecia Warren, Alecia Warren, Alecia Warren

See The Archives for past articles.
---
Copyright © 2008 Pinedale Roundup
All rights reserved. Reproduction by any means must have permission of the Publisher.
Pinedale Roundup, PO Box 100, Pinedale, WY 82941 Phone 307-367-2123
editor@pinedaleroundup.com