From the pages of
Pinedale Roundup
Volume 105, Number 2 - January 10, 2008
brought to you online by Pinedale Online
---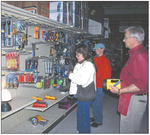 A Ridley's employee helps customers look through flashlights during the outage by shining a flashlight on price tags.

Overview: It could have been worse

by Alecia Warren

Many things went wrong last Thursday after the power flickered out across much of the Pinedale area at 7:13 a.m. Rocky Mountain Power (RMP), the county's energy provider, did have a replacement part for the equipment that failed at the Pinedale Substation and caused the blackout. But the only crew trained to make the repair was 150 miles away.

The power company did have temporary measures to provide electricity during the wait for repairs. But the measures failed to provide enough power for rotating outages to cover all affected customers and to give them at least intermittent heat in the midst of plummeting temperatures.

Later, as businesses closed for the day and residents shivered in their homes, RMP did have repairs completed. But the initial effort to turn the power back on proved too hasty, and failed.

Even when most of the thousands affected by the outage did have power restored by 7:21 p.m., more problems prevented one Cora neighborhood from regaining electricity until about 10 p.m.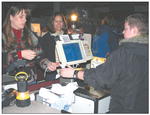 Cashiers check out groceries by gas lamp during the outage.

At the end of the day, all RMP could offer was that things could have been worse. Especially, said RMP spokesperson Jeff Hymas, if a larger piece of equipment had broken down.

"It would've been even more problematic, resulting in overnight outages," Hymas said. "We do work to maintain our equipment so that these types of situations don't occur. You do the best you can to keep equipment running well and make sure it's well maintained and that back-up equipment is available when needed. But despite your best planning and preparation, unforeseen circumstances do occasionally occur."

The blackout initially affected 3,700 people in three circuits: Pinedale 22, including most of Pinedale; Pinedale 23, serving Boulder, Bargerville and Sand Draw; and Pinedale 21, serving Daniel, Cora, Green River Ranches and part of Hoback Ranches. By about 8 a.m., RMP had reduced the number without power to 1,700, Hymas said, though customers in all three circuits were still affected.

The outage was caused by a mechanical failure in a component of the main transformer at the RMP Pinedale Substation. In order to replace the component with a new one on hand, the Pinedale RMP crew had to send for personnel with specialized training from Evanston, a three-hour drive.

"The Pinedale crews are well trained, but it's very uncommon for a transformer or a component of a transformer to fail," Hymas said. Because transformers have very few moving parts, the likelihood of component failure is small.

Hymas said RMP doesn't know why the transformer component broke down, which surprised technicians, as the transformer is only two years old and should be able to last well into two or three decades.

Knowing that a component repair is "not a quick fix," Hymas said, RMP initially planned to conduct rotating outages among the three affected circuits by using an older transformer as a backup for the day. The 20-year-old transformer could only carry the load of one circuit at a time, however.

RMP was forced to change plans — instead of constant rotating outages, the power company would try to supply electricity to Pinedale most of the day, and occasionally supply energy to towns within the other two circuits.

"We decided it was important to keep power on in Pinedale as much as possible — partly because the schools were in session there, and also because there's the medical clinic, both critical care customers," Hymas said.

As a result, different sections of Pinedale hummed alive with electricity off and on throughout the day, while outlying towns waited their turn.

RMP briefly shut all of Pinedale down in the late afternoon to bring Daniel, Cora, Green River Ranches and Hoback Ranches online for a short period.

But Sand Draw, Boulder and Bargerville were without power throughout the entire day, Hymas said.

Once the crew finished repairs by late afternoon, it had to shut down power in all three circuits to restore power to all customers at once.

Initial attempts to bring the transformer back into service failed, however. "We had to go back and do some additional work to get the transformer connected to the system and working properly," Hymas said.

When the company finally began to restore power, the crew tried to bring the three circuits online too quickly, tripping the transformer offline.

Working more slowly the second time, the crew at last restored power in the evening. The technicians discovered soon after, however, that a line was down in one Cora neighborhood. Although the power company rushed to repair the line, more than 240 people in the area waited to regain power until about 10 p.m.

"It was definitely a much longer outage than we would've hoped for earlier in the day, due partly to problems with getting the transformer back online and just carrying the load during the temporary measures," Hymas said. "Our crews in Pinedale did work very hard to restore power as quickly as possible, and they definitely put their best foot forward and did all they could." The Pinedale crew conducts monthly inspections of all substation equipment, Hymas said, but he couldn't predict the likelihood of another breakdown.

The substation only has some replacement parts for equipment on hand.

"It wouldn't be economical to have every potential piece of replacement equipment in Pinedale — especially when the cost for that equipment can be very expensive," Hymas said. "We do have a central location in Salt Lake, where some backup equipment is stored, and we'll be able to bring it in when it's needed."

One of RMP's biggest obstacles now is ensuring reliability while struggling to keep up with the pace of development in Sublette County.

When the Pinedale substation transformer was first installed two years ago, RMP recorded a peak winter load of 10 megawatts of electricity used in Pinedale. This year, RMP had another peak winter load of 17 megawatts — a daunting increase over such a short time span.

In response to the growth not only in Pinedale but also across the county, RMP upgraded equipment at the Chapel Creek substation in La Barge to serve a new 80-megawatt load in October.

The company is also installing new equipment in Pinedale to minimize the length of outages. The upgrades should help isolate damage so fewer customers remain without power while repairs are being made, Hymas said.

"There's a tremendous amount of work that goes into enabling the transmission and distribution of electricity to serve (the growing population)," he said.

Equipment upgrade construction is ongoing. In the meantime, locals might have to

break out their flashlights and extra blankets again this winter, Hymas said.

"We work hard to keep outages from occurring, but severe weather sometimes does result in outages or other types of problems, like equipment failure," he said. "When it happens, our crews work even harder to restore power safely and quickly."

See The Archives for past articles.
---
Copyright © 2008 Pinedale Roundup
All rights reserved. Reproduction by any means must have permission of the Publisher.
Pinedale Roundup, PO Box 100, Pinedale, WY 82941 Phone 307-367-2123
editor@pinedaleroundup.com