From the pages of
Pinedale Roundup
Volume 105, Number 19 - May 8, 2008
brought to you online by Pinedale Online
---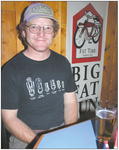 Dave Smith enjoys a beer at the Corral Bar after learning that he was elected to the Town Council on Tuesday.

Kunard, Smith win Town Council vote

by Alecia Warren

Only an hour after the polls closed on Tuesday night, the votes for the two openings on the Town Council were tallied, with the two winners a mere few votes within one another.

Incumbent Nylla Kunard garnered the most votes at 103, with Dave Smith right behind at 93. Both will serve four-year terms, starting on June 1.

Mayor Stephen Smith said he was pleased with the results.

"I'm very happy for them — I'm looking forward to working with Nylla and Dave," the mayor said. "This town is changing in a huge way, so the Town Council's biggest challenge is facing the issues of change in a proactive and responsible manner."

The other votes tallied at 82 for incumbent Gary Heuck, 67 for Janet Bellis, 55 for Delores Christensen, and 42 for John Fogerty.

People streamed steadily into the Town Hall throughout the day on May 6 to vote. Although Pinedale's population is over 1,400, Town Clerk Patty Racich said that she was impressed with the turnout of 231 voters. "We've had turnouts as low as 39 and as high as 400, so this is about the middle," Racich said.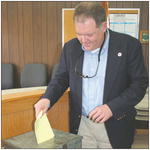 Mayor Stephen Smith casts his ballot for the Town Council election.

The victory meant a great deal to Dave Smith, whose election to the council in 2006 was annulled by the District Court after only a few months, when it was discovered that he hadn't been registered to vote on the day he applied to run.

"I guess it's just reassuring that there are enough citizens that still have faith in me," Smith said as he sipped a beer at the Corral Bar on Tuesday night. "It feels good." Smith, a lifelong Pinedale resident and a broadcast engineer, was definitely a registered voter when he applied to run this year, he added.

The new council member acknowledged that he disagrees with some decisions that the council has made in the past two years, but he only looks forward to the debate that he will bring to important issues.

"If you ever have a council that gets along unanimously, you need to reelect the council, because that's bogus," Smith said, predicting that council members will diverge on issues concerning growth, the environment and infrastructure. "We're in a little boom town right now, and these are all the big issues we've got to work through. There are a lot of different viewpoints and opinions about what's the best approach, and it's going to come down to votes and folks trying to validate their arguments, the same as it always is."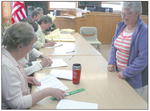 Arlinda McLaughlin confirms that she's a registered voter.

Kunard, reelected after serving on the council for the past five years, said she felt "wonderful" about the election results. "I was very, very pleased that I got a good vote, and I feel that I really want to listen to the people and do what I should do," Kunard said. She predicted that growth would be the most pressing issue the council will address over the next few years, and she anticipates improving streets and water lines. "I'm very pleased that people turned out to vote for us, and I feel that when we start out, we'll have their support."

Now retired, Kunard previously worked for 40 years as the county treasurer.

Dave Smith admitted he was disappointed that the voters didn't also pick Heuck, however, who has served on the council for the past six years and was running a co-campaign with Smith.

But Heuck said he hadn't cared if he or Smith won a seat, just as long as one of them was on the council.

"Dave will have to hold the rest of their feet to the fire," Heuck said.

He isn't sure if he'll run for council again, but Heuck said he is currently satisfied to enjoy the Monday Night Football he missed while serving on the council.

Fogerty, a member of the Planning and Zoning Commission that advises the Town Council on developments in town, said he was surprised that he received the smallest percentage of votes.

"I definitely could've done more advertising, but I was banking on the idea that people would recognize what I stood for and the kinds of things I've been trying to achieve for the town," Fogerty said of his platform to hold energy industries more accountable for the environment, as well as accommodate local growth while preventing overdevelopment.

He hasn't decided if he'll run in the next council election in two years.

Bellis, who went to great lengths posting campaign signs all over town and recording radio advertisements, said she was naturally disappointed but respects the voters' decision. "I have plenty to keep me busy," Bellis said of her efforts to beautify Pine Street and halt bullying in local schools.

Christensen said she wished the best of luck to Smith and Kunard, and she hopes the council will work to create more events for the town's children.

Pinedale resident Ana Cuprill hoisted her 4-year-old daughter Sofia onto a chair to watch her mother vote for Kunard on Tuesday morning. "(I vote by) just lifetime experiences — what you've done, what you haven't done, and what you've participated in," Cuprill said. "I think Nylla's got a lot of lifetime experience here in Pinedale and in government."

Pinedale resident Steve Roberts said he voted for Smith because the candidate wouldn't be afraid to help Pinedale change to accommodate growth.

He particularly hoped the new council members would upgrade the town infrastructure and hire a building inspector, which the town needs "desperately," he said. "I was born and raised here, I'm related to half the county," Roberts said outside the Town Hall on Tuesday afternoon. "I liked the old town of Pinedale, actually I loved it. But it's kind of late to be holding onto that, and Pinedale needs to meet with the times."

Photo credits: Alecia Warren, Alecia Warren, Alecia Warren

See The Archives for past articles.
---
Copyright © 2008 Pinedale Roundup
All rights reserved. Reproduction by any means must have permission of the Publisher.
Pinedale Roundup, PO Box 100, Pinedale, WY 82941 Phone 307-367-2123
editor@pinedaleroundup.com