From the pages of
Pinedale Roundup
Volume 105, Number 18 - May 1, 2008
brought to you online by Pinedale Online
---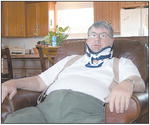 Frank Sackrider's condition is steadily improving and with his new neck brace he has become active again.

On The Road To Recovery
Pinedale man 'lucky' in hit-and-run wreck
by Jonathan Van Dyke

On March 3, Frank Sackrider headed south of Pinedale, picking up speed gradually before finally reaching 65 mph when he saw a white Ford truck coming the other way in his lane.

Sackrider pulled farther to the right to avoid a collision, smacking two reflector poles, before veering back, getting clipped, then sliding into the bank before going airborne and flipping his own vehicle over multiple times.

"If I hadn't turned to the right, we would've hit head-on," Sackrider recalled while sitting at home.

After somewhat getting his bearings in the crushed vehicle, he tried to get in a better position so he could possibly extricate himself from the awful mess.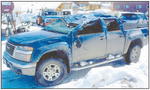 Frank Sackrider's truck was heavily damaged in the hit-and-run wreck.

"I was trying to get out," he said. "My seatbelt was choking me."

He would later find out that the impact of the seatbelt had cracked his sternum and broken his collarbone.

"Then I thought, 'Well I'll try to get out to the side," he said. "So I took my feet and I pushed to get over in the passenger side. My feet went numb and my hand went numb."

Sackrider realized his condition might be worse than even he could realize. He yelled for help, hearing several vehicles pass here and there — he estimated that it might have been anywhere from 5-10 minutes before a man he and his wife only know as "Scott" stopped by the scene.

"Is there anyone in the truck?" Scott asked.

Unable to move, Sackrider just replied, "Yes."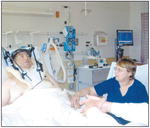 Frank Sackrider recently had the halo removed and was able to leave the hospital in Salt Lake City. He is pictured here with his wife Jeanie.

"Is there anybody else in there, like a passenger," Scott asked.

Sackrider replied, "No, can you get me out of here?"

"Just lay still," Scott said. "Don't move. Just don't move."

Sackrider was worried about whether the car was burning and if he had the luxury to stay put, but was glad for the calm in Scott's voice. Eventually Sublette County's emergency crews arrived to the scene and at about the same time Sackrider regained some feeling in his fingers and feet. They put him immediately in a neck brace and used the Jaws of Life to pull him out of the mangled vehicle.

From there he was life-flighted to a Salt Lake City trauma center.

"Fortunately I didn't move anymore, or I could have killed myself," Sackrider said. Eight weeks later and Sackrider was sitting upright, watching some television. He just had his halo brace removed from his head a little over a week ago.

Getting rid of that halo has brought him much joy, the kind of joy that comes from being stuck in bed for almost two months with little to no mobility.

"Once I got the halo off it really helped because now I can go out and get around," Sackrider said.

While bedridden, he and his family had been receiving a gracious amount of community support from Pinedale all the way to Salt Lake City, where he had to spend 12 days in the hospital.

"If it hadn't been for the brothers and sisters at our Kingdom Hall [Jehovah's Witnesses in Salt Lake City when I was there] and people from the town here coming to see me, it would've been really bad," Sackrider said. "I appreciate it. I want to make sure they all knew I appreciated everything they've done."

"There was a lot of support from the town," wife Jeanie Sackrider added. "It just goes to show how a small town will band together to support one of its own."

With the support of those around him, including an incredibly supportive family, and a little good fortune, Sackrider just narrowly escaped dire consequences — he had, after all, broken his neck.

"Where the break is, is where the breathing and everything is — like Christopher Reeves," Sackrider said. "I suffered what he had, but fortunately I could breathe.

"My doctor figured I should have been on a respirator or in a wheelchair — paralyzed from the neck down. Instead I'm walking and talking and breathing."

His fracture was fused in front in the hopes that his neck will eventually have more mobility. He will be in his current neck brace for at least another six weeks.

"It just has to heal," he added. "It's doing pretty good, but when they showed the X-rays you could still see the line where the crack was."

Today, Sackrider will find out the fate of his arm, which doctors suspect might be a torn rotator cuff, but could not test until they removed the halo.

"I have trauma in the arm yet," he said. "I can lift a coffee cup and that's about it. I'm getting better though."

He has physical therapy on the arm three times a week, and suspects there will be more once he is free of any neck brace. Nerve damage affecting his ears — making them extremely sensitive to touch — is likely permanent.

The white Ford pickup owner has not come forward and did not stop at the scene. Sackrider and his wife hope that awareness of his particular incident will spur greater urgency for defensive and responsible driving in the area, especially on the highway. "He could've just nicked me with his bumper, and would have got me going," Sackrider said. "The only thing I was really upset about is when he hit me, he didn't stop."

Ironically, a highway-traveling vehicle also nudged one of Sackrider's sons since moving to the area. The son was unharmed and able to track down the vehicle. The woman inside had left the scene because she was worried about a ticket and losing her job in the energy fields. The Sackriders understand the fear, but are only asking for each person to treat another like they wish to be treated.

"When you're wrong, you're wrong," Sackrider said. "You don't leave somebody." It is unclear, if ever, what condition Sackrider will be in once he is fully healed. He is a carpenter, and hopes to get back to work as soon as he can.

If the driver responsible for the accident were to step forward, it would also help with insurance toward the accident, but with each passing day that scenario seems unlikely.

With his health on the mend after such a brutal accident, in what could have left him for dead, Sackrider is enjoying the turn of weather and his ability to go out and enjoy it. He just hopes that he doesn't have to hear about similar situations in the future, for anyone.

"You've got to be defensive here," he said. "You do something that hurts somebody and you've got to render them aid.

"I know one thing: I'm getting better. It's just a long haul."

Photo credits: Jonathan Van Dyke

See The Archives for past articles.
---
Copyright © 2008 Pinedale Roundup
All rights reserved. Reproduction by any means must have permission of the Publisher.
Pinedale Roundup, PO Box 100, Pinedale, WY 82941 Phone 307-367-2123
editor@pinedaleroundup.com