From the pages of
Pinedale Roundup
Volume 105, Number 17 - April 24, 2008
brought to you online by Pinedale Online
---
Obituaries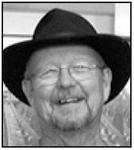 William Belveal
WILLIAM BELVEAL
Pinedale resident William Walter Belveal, 69, passed away at the Eastern Idaho Regional Medical Center in Idaho Falls on April 12, 2008. He was born Aug. 9, 1938, in Stockton, Calif., to Edith M. and Phillip W. Belveal. He grew up in the communities of Stockton and Jenny Lynn and attended the public schools there. He graduated from San Andreas High School in 1956. He married Glenda G. Austin and together they had three children Craig, Curtis and Cheryl. They later divorced. He later married Lucille M. Rich on May 1, 1965, in Reno, Nev., and together they had two children, Norma and Phillip.
William was born with artistic talent he enjoyed creating paintings with oil of classic cars and other scenery. He also enjoyed photography and the beauty of Sublette County.
He was very passionate about protecting the quality of life in Pinedale for everyone. He was active in the fight against pollution and was a member of the air quality board.
William entered a piece of art that won best of show last year in the county fair. He loved art and that carried over into his professional career as an auto body shop owner as well. He also had a knack for making beautiful jewelry. He was a firm Christian and tried to live his life according to his faith. He loved to fish and to prospect for gold. He was also an avid rock hound. But most dear to his heart was his family. He truly believed in the power of love in keeping his family strong. His dedication to his family led to a life of abounding joy and happiness. He will be deeply missed by all who knew him.
He is survived by his wife, Lucille, of Pinedale; sons William "Craig" (Connie) Belveal of Buhl, Idaho; Curtis Keith (Karla) Belveal of Buhl and Phillip W. (Amy) Belveal of Pinedale; daughter Norma J. Belveal of Pinedale; 16 grandchildren and 17 great-grandchildren.
He is preceded in death by his parents, daughter, Cheryl D. Belveal, and three sisters, Polly Hurst, Rebecca "Sam" Cornish and Carol Belveal.
A memorial service for William will be held in the early summer in Pinedale. In lieu of flowers memorial contributions can be made to the William Belveal memorial fund at Bank of the West in Big Piney. P.O. Box 428, Big Piney, WY 83113-0428, to help offset medical and funeral expenses.
---
YVONNE MORENE KELLOGG
Yvonne (Granny) was born April 26, 1927 to Gladys and A.W. Vincent in Amoret, Missouri, and died on April 11, 2008. She had one sister, Peggy.
After the birth of her daughter, Marla Maree, and son, Don Johnson, she left Missouri. After several places in Wyoming, the Big Piney/LaBarge area caught her heart. She enjoyed camping on LaBarge Creek, refinishing antiques, bottle hunting, reading LaBarge history and family gatherings. She was blessed with six children, Marla, Don, Dean, Kristi, Gary Lynn and Pete, 19 grandchildren, 11 great grandchildren and six great, great grandchildren.
She married Hal Kellogg on July 8, 1995. They enjoyed community barbecues, pig roasts, etc.
Hal and Granny were soul mates and did everything together.
During the last few years her illness kept her from doing the things she loved, but no matter how she felt she always had a smile, hug and kiss for everyone.
She was preceded in passing by her parents, sister, three children and three grand children. She will be greatly missed by her family and friends.
Kellogg, Maree, Corgill, Chapoose, Heathman families.
See The Archives for past articles.
---
Copyright © 2008 Pinedale Roundup
All rights reserved. Reproduction by any means must have permission of the Publisher.
Pinedale Roundup, PO Box 100, Pinedale, WY 82941 Phone 307-367-2123
editor@pinedaleroundup.com