From the pages of
Pinedale Roundup
Volume 105, Number 17 - April 24, 2008
brought to you online by Pinedale Online
---
Six candidates seeking two Town Council seats

by Alecia Warren
Pinedale residents have a diverse group of candidates to select from for the Town Council elections on May 6. Two council seats with four-year terms are up for election, which have been held by Nylla Kunard and Gary Heuck.
The six Pinedale residents campaigning for the seats offer divergent platforms, ranging from promises of maintaining the status quo to completely reinvigorating the town's infrastructure and economy.
But all converge on the promise that they hold the town's best interests in mind. Pinedale residents can vote for their preferred candidates on Tuesday, May 6 at the Town Hall. People must be registered to vote, and can do so at the County Clerk's Office. Those who weren't registered before April 7 must register the day of the election in order to vote in it.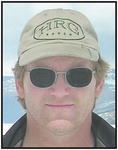 Dave Smith
Dave Smith
Lifetime Pinedale resident Dave Smith said he and current council member Gary Heuck are running a "co-campaign" centered on their concerns with other council members' plans for town water rights, environmental quality and development.
"There's an awful lot of work that needs to be done," Smith said.
Smith had won a seat on the council last summer, but his election was annulled after a few months when it came to light that he wasn't a registered voter on the day he applied to run.
Since then, Smith said he has observed "a lot of very morally questionable things happening in the town council and at the mayor's level."
He refused to specify, but promised to bring these issues to light in the weeks leading up to the election when campaigning increases. Smith is a broadcast and communications engineer currently running his family's business in town. He said his qualifications lie in the perspective he brings as a resident who remembers when "contractors who worked with the town did what they said they were going to do, and the government was run efficiently and honestly," referring to the instance in 2004 when the town became entangled in a lengthy lawsuit over mistakes by a company contracted to build a town shop.
He asserted that council decisions depend on a majority from all four members, and he is prepared to face the sometimes-frustrating bureaucratic process to ensure that decisions help the town's majority instead of private individuals.
"I think Pinedale voters needs to be very aware that there are a lot of other interests from a lot of other places that are coming to town and getting politically active," Smith said. "Those interests may or may not be in the best interests of every Pinedale citizen."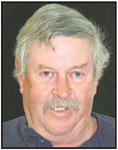 Gary Heuck
Gary Heuck
Gary Heuck, running for re-election after six years on the council, said he feels it's best that he and Smith are elected together to improve the credibility of the council.
After living in Pinedale for 15 years, he wants to remain on the council because he cares about the town.
"We've had some major problems (with the town council)," Heuck said.
He acknowledged that he and Smith don't agree on everything, but they see eye to eye on the larger issues, including the council's oversight in hiring the contractors that failed to produce a town shop.
There's also "a cloud over the entire council right now" over the pending agreement between the town and BloomField subdivision developer Matt Harber, in which the town will build a water main for the development and the subdivision will give the town three lots of commercial property in return. "I don't think that's fair to Pinedale taxpayers," Heuck said.
A heavy equipment operator for Reed's Construction and Ready Mix, Heuck said he brings an extensive knowledge of construction and infrastructure to the council.
"That's one of the main things that needs to be done and done now," he said. "We have a golden opportunity to get all of our water and sewers and streets, valley pans, sidewalks, whatever, repaired, with the help of the county and the tax dollars we're taking in right now."
He also wants to continue protecting the town's water and air supply, and slow gas development to "a reasonable rate," he said.
Most important, Heuck plans to push for more public input on council decisions, he said.
"There are many things I believe that are going into executive session which I believe should be done in public, whether litigation or personnel or whatever," Heuck said.
The council has held multiple discussions in executive session, for instance, about purchasing the 18 acres south of Boyd Skinner Park to annex into the town and protect from development. The public hasn't had a chance to participate in choosing how to pay for the potentially $2 million purchase.
"This whole park issue needs to be drawn out into the open before any taxpayers' money is used," Heuck said. "The people of Pinedale should know what's going on, and not have a bunch of stuff going on downtown behind closed doors."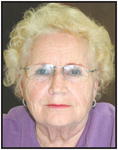 Nylla Kunard
Nylla Kunard
Current council member Nylla Kunard has served on the council for the past five years, and lived in Pinedale for the past 50. Now retired, Kunard said she has the time that's necessary to balance the council's obligations, as well as confer with residents who have concerns.
She's pleased with accomplishments the council has made in her tenure, such as hiring Town Engineer Eugene Ninnie, and Municipal Officer Jennifer Gocke, and said she brings essential expertise to the council after working as the Sublette County Treasurer for nearly 40 years.
"I know how budgets work, and I'm acquainted with the different problems in the town, like drainage and traffic," she said. "I know how grants work, I know what we have to achieve. I think I have a basic knowledge of how the town works."
After seeing how the town was affected by energy booms and busts in the past, she wants to ensure Pinedale spends its money wisely, she said, particularly on muchneeded infrastructure maintenance. She supports continuing drainage studies, maintaining the new sewer lagoon, replacing water pipes and roads, and orchestrating a traffic study to implement a more efficient road network.
"I think these are important things for a town that's grown," she said.
Kunard acknowledged that some residents might disagree with the council's decision to annex land for the BloomField subdivision, a 926-unit development that could double the town's population, but she believes the annexation was in the town's best interests.
"I hope to achieve steady growth that is good for the town," she said. "I don't want to just pass anything that would make it grow; we need to be wise, and I'd like to work toward that. People say we're not going to have any say on (future development), but we are, and we can keep that in line. "Basically I just hope to keep the town running smoothly."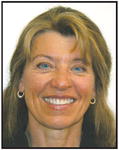 Janet Bellis
Janet Bellis
Janet Bellis may have only lived in Pinedale for the last year and a half working as a geologist for the Bureau of Land Management (BLM), but she calls Wyoming home after growing up in Laramie and spending a few years in Casper.
Bellis also lived for more than 20 years in Boulder, Colo., where she served on multiple boards helping to mitigate the population that doubled in about a decade.
"When I got (to Pinedale), it was pretty apparent that the town was suffering from a lot of problems that Boulder did when it went through a population growth," Bellis said. "I thought maybe it would be a good idea to see if I could help in some way, seeing as I have experience already."
She credits herself for improving the quality of life in Boulder by establishing soccer fields, trail systems, a network of electric buses and a renewal of the pedestrian mall. She also worked on a consortium of cities to buy and conserve open space around the community.
If she were elected to the Pinedale Town Council, Bellis would make similar efforts to plan for growth and ensure that it continues after the gas boom dissolves.
She has a list of ideas to boost local business that include beautifying main street to attract more stores, and creating a pedestrian mall on North Maybell Avenue.
Above all, Bellis said she wants to help Pinedale re-establish the sense of belonging that has become fragmented with the inundation of new residents.
"I've heard a lot of people say that this is such an opportunity for us to do something positive, with all the growth and infusion of money," she said. "But I know how it felt when I lived in Boulder. All of a sudden we were inundated with people; we couldn't keep up with the housing, we couldn't keep up with the traffic, we couldn't keep up with the smog. There was this underlying feeling of anger and loss.
"It won't be the same as it was, but we need to regain that sense of identity and community."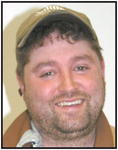 John Fogerty
John Fogerty
Carpenter and musician John Fogerty has lived in Pinedale on and off throughout the past 10 years.
"I always wound up coming back to Pinedale because I really love the place; I really care about its future," Fogerty said.
Also a member of the Pinedale Planning and Zoning Commission since October 2007, he has long followed local politics and boasts a strong grasp of what the town needs, he said.
"The most important thing to me is for the town to keep its eye on the ball during this boom, and aim for a soft landing when the inevitable bust comes," he said.
He advocates for the community to take advantage of all the mineral tax funds while the money is still coming in, but "not to overdevelop certain housing projects to meet an unnatural market."
The energy industry drilling around the community should also be pressured to do much more for the community, he added. "They're making astronomical amounts of money while compromising the recreational value and quality of life in our community," Fogerty said. "While they're here, we ought to be making the most of it." The most significant issue hanging over his head now though, he said, is improving local air quality.
"We should not have to sacrifice our natural resources in deference to natural gas," he said. "To what extent the Town of Pinedale can control its own destiny in these regards I'm not sure, but we can do our best to bring these issues to the forefront." He would also push to preserve open space in town, and also provide baseball and soccer fields for community teams that have nowhere to compete.
"If elected, folks can be assured I'll always be open to their consensus and I'll do my best to follow the direction of my constituents," he said.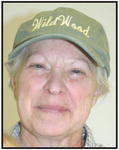 Delores Christensen
Delores Christensen
Delores Christensen, a retired elementary school teacher, said the Town Council needs some new blood.
"I felt I needed to give back to the town that's been so great for me and my sons," said Christensen, who raised two boys in Pinedale after moving here in 1984. "I felt if I had some say in budget matters, that maybe some things I felt haven't been done in the best way might be."
Primarily she hopes to improve the town's aesthetics, renovating the many dilapidated buildings in town to attract new businesses and boost the local economy. Pinedale streets are also in dire need of repair, "especially the ones the tourists see," she said.
If elected, she would also push the town to nurture more tourist events than just the Green River Rendezvous festival, Christensen said.
"There needs to be some more things for children and families," she said. "The new (PAC) facility and the possible new park are a good beginning."
Before settling in Pinedale, Christensen and her husband bounced around towns across the state, she said, which exposed her to different infrastructure and amenities that she might help Pinedale achieve.
"People should vote for me because I'm honest," Christensen said. "I have good listening skills, I'm very organized, and I'm responsible."
See The Archives for past articles.
---
Copyright © 2008 Pinedale Roundup
All rights reserved. Reproduction by any means must have permission of the Publisher.
Pinedale Roundup, PO Box 100, Pinedale, WY 82941 Phone 307-367-2123
editor@pinedaleroundup.com