From the pages of
Pinedale Roundup
Volume 105, Number 17 - April 24, 2008
brought to you online by Pinedale Online
---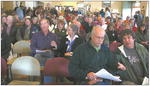 Nearly 200 people attended the public meeting the Department of Environmental Quality (DEQ) held on Monday at Rendezvous Pointe.

Big Turnout For Ozone Meeting
DEQ hears from angry residents
by Alecia Warren

Nearly 200 irate locals crammed into Rendezvous Pointe on Monday night for the public meeting the Department of Environmental Quality (DEQ) had promised to hold about environmental health issues. And most who attended leapt on the chance to barrage the agency with questions that consumed well over three hours of fervent discourse.

DEQ representatives admitted up front that the audience wouldn't walk away satisfied with the current status of recent elevated ozone levels and hydrocarbon contamination in industry water wells.

"Do we have the answers to the problems tonight? No we don't," said DEQ Director John Corra. "Can we tell you what it is we're doing to work on it tonight? Yes we can. And we'll be back as we continue to work this through and we'll continue to communicate with you."

The agency is more than aware that action is warranted after events concerning the Pinedale Anticline Project Area (PAPA) this winter, including the five ozone alerts the DEQ issued in February and March, the more than 88 wells on the Jonah and Pinedale Anticline fields contaminated with benzene, and the Environmental Protection Agency (EPA)'s recent declaration of the Bureau of Land Management's (BLM) Revised Draft Supplemental Environmental Impact Statement (RDSEIS) as "environmentally unsound." Even without an obvious panacea for the impacts caused by local gas field operations, Corra said the DEQ has spent recent weeks toiling to better manage development effects.

Besides continuing to monitor ozone in Daniel, Boulder and the Jonah Field, the agency has decided to add a new monitor in Pinedale in the next two or three months, Corra said. The prevailing goal is to created an ozone model within the next three years that will predict smog more accurately than the current data available.

The energy industry has also recently provided the DEQ with a lengthy list of actions that operators can pursue on the gas fields to trim emissions, including immediate tactics to avoid heightening ozone when weather conditions portend pollution.

The Clean Air Act doesn't allow state agencies like the DEQ to regulate mobile emission sources like drilling rigs, Corra said, but the DEQ is painfully aware that some rigs on the anticline are Tier one and Tier zero, which release as much as seven times the emissions as newer controlled rig engines.

If hazardous ozone levels persist, the DEQ plans to use litigation to obtain the right to regulate rig standards.

But operations on the Anticline and Jonah fields, the second and fourth largest fields in the nation, might also be causing health impacts no one is aware of, Corra acknowledged, as pointed out in a recent request for a Human Health Impact Assessment written by several prominent members of the county.

Although such an assessment is "much broader than what the DEQ can take on," Corra said, the agency will spend the next several months conducting an air toxin study instead, which will provide an inventory of the contaminants locals breathe every day.

"It will take some length of time, and we'll be communicating with you about that," Corra admitted. "Today we met (with the county commissioners) and agreed on a small steering committee, and small tactical teams that will begin to design the study, develop the protocol and get materials put together so we can go out to bid to get the necessary equipment in place."

As for water wells, operators are fixing the three industry wells in the county with hydrocarbon contamination exceeding drinking water standards. The DEQ has also pushed for more regulations on back-flow prevention, so hydrocarbons don't siphon from tanks back into wells. Operators must also monitor wells prior to use to determine whether the contaminations occur naturally. For many who attended the meeting, that just wasn't good enough.

"The ozone average of 40 parts per billion should not have ever changed to 75 parts per billion," said Traci McCarty, a Pinedale High School student. Her observation garnered deafening applause. "You're doing your research, but you're not taking action, and I'm a little worried about that."

Many others railed against the DEQ for even considering operators' proposal for expanded drilling when ozone levels are already peaking at above the National Ambient Air Quality Standard of 75 parts per billion (ppb).

Corra responded that the BLM has all the control in giving permission to drill.

But recent months have seen "pretty significant meetings" between the DEQ and the BLM over additional mitigations for air and water quality to include in the SEIS, which proposes an additional 4,000 wells to the already 1,000 on the anticline.

Both agencies hope to add new measures like an additional mitigation fund for water well monitoring.

"I'm unable to talk about anything other than I think we're going to see a much stronger Record of Decision as a result of all the comments you submitted, as well as what the DEQ has submitted and what the EPA submitted," Corra said, adding that he couldn't specify on details because they are all in the "pre-decision" stages. "Ideally in the not too-distant future, we'll have this resource being developed in a way that you all won't be noticing it as much as you are today." Pinedale resident Jared Rogerson notices it every day.

"I'm one of those 'at risk' people you talk about when you have these alerts," said Rogerson, an asthmatic who works outside on a drilling rig and has suffered wheezing and shortness of breath in recent months. He questioned the safety behind the current national ozone standard.

"Can it change in the future? Can it go back up to 84 or even higher?" Rogerson asked.

Corra explained that the EPA lowered the National Ambient Air Quality Standard from 84 to 75 ppb about a month ago after considering 1,700 new health studies on the effects of ozone on human respiratory conditions. The EPA will review the standard again in five years, but Corra doubted it would go up again.

In order for Sublette County to officially exceed the new standard, making it a "nonattainment" area, the area's fourth-highest ozone levels for three consecutive years must average at above 75 ppb.

So Sublette County will have to see two more years of the levels experienced this winter before the federal government labels it as a dangerous environment. At that point, Corra said, "all possibilities are open to discussion" to lower emissions.

Air quality has become a significant issue in the county since 2005, when the DEQ first monitored ozone levels at well above the national standard. Ozone level escalated again in 2006 and in 2008, peaking as high as 122 ppb in March this year.

The DEQ doesn't predict any other ozone warnings will occur this winter, said Dave Finley, DEQ Air Quality Division administrator, because of the lack of snow cover.

Snow doubles the power of UV rays from the sun, breaking up Nitrous Oxide (NOx) emissions that combine with volatile organic compounds (VOC) to form ozone.

Many at the meeting were still eager to remind that even with such weather conditions, local ozone levels would remain harmless, if not for operations on the gas fields.

"Our air is broken, and we know who did it," said Pinedale resident Steven Duerr. They need to fix it, and we'd appreciate if you'd help them do it."

Photo credits: Alecia Warren

See The Archives for past articles.
---
Copyright © 2008 Pinedale Roundup
All rights reserved. Reproduction by any means must have permission of the Publisher.
Pinedale Roundup, PO Box 100, Pinedale, WY 82941 Phone 307-367-2123
editor@pinedaleroundup.com