From the pages of
Pinedale Roundup
Volume 105, Number 15 - April 10, 2008
brought to you online by Pinedale Online
---
Obituaries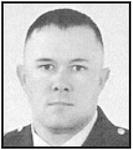 SHAWN DAVID GILLESPIE
SHAWN DAVID GILLESPIE
Staff Sergeant Shawn David Gillespie, 27, of King George, Va., passed away March 24, 2008, while on active duty.
He was born April 3, 1980, in Omak, Wash., the son of Toni Gillespie Symonds and step-father T.J. Symonds. During his growing up years he lived in Washington, Nevada, Nebraska and Wyoming. He graduated from Pinedale High School in Pinedale, Wyo., in 1999. On June 20, 1999, he enlisted in the U.S. Army, where he did his basic training at Ft. Jackson, S. C. On Oct. 4, 1999, he went to Ft. Gordon, Ga., to complete his advanced individual training. Upon completion of his training, he attended an airborne course at Ft. Benning, Ga. His first duty station was at Ft. Bragg, N. C., where he was assigned to the 82nd airborne unit as a mobile sitcom operator.
On June 19, 2002, he married Jennifer Pipkin in Dillon, S. C. In December of 2002 he was selected for Presidential Support Duty for the White House Communications Agency. He served this position for five years. In August of 2007 he transferred to Ft. Myer, Va., and served as a trainer of noncommissioned officers for one of the largest companies in the Army. He was in charge of all training exercises within his unit. In January of 2008 he was selected to join the Armed Forces Inaugural Community at Ft. McNair, Va., where he was stationed at the time of his death. He had just re-enlisted for another six years. Shawn was a very dedicated soldier and had been involved in 93 tours, both stateside and overseas.
His biological father, Howard "Doug" Lake, grandfather, David Gillespie, and uncle, Jeff Symonds and great-grandparents and many other family and friends preceded him in death.
He is survived by his wife, Jennifer Gillespie of King George; his mother, Toni Symonds of Hardin, Mont.; his step-father, T.J. Symonds of Hardin, Mont.; his sister, Billie Jo (Zande) Waddington of Hardin, Mont.; two brothers, John and Colt "Shorty" Symonds of Hardin, Mont.; his grandparents, Darlene Gillespie of Okanogan, Wash., Tom and Peggy Symonds of Sundance, Wyo.; one niece, Reata Waddington of Hardin, Mont.; brother-in-law, Justin Pipkin of Georgia; many aunts, uncles and cousins.
Shawn came from a very large family that will miss him greatly. Please accept our apologies for not listing them all. Prayer services were held at 4 p.m. on Thursday, April 3, at the Bullis Funeral Chapel. Funeral Services were held at 11 a.m. on Friday at the Bullis Funeral Chapel. The Symonds family and friends would like to have everyone join them for sandwiches and refreshments following the service at the Big Horn County Fairgrounds. Bullis Mortuary has been entrusted with the arrangements.
---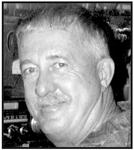 LARRY EDWIN HULTQUIST
LARRY EDWIN HULTQUIST
Larry Edwin Hultquist, 60, passed away at his home on Tuesday, April 2, 2008, in Kemmerer, Wyo. He was born on May 14, 1947, in Windom, Minn., the son of Caryl J. and Irene Ann (Carlson) Hultquist.
He married Carolyn F. Perala on Jan. 28, 1967, in Windom. In 2002, Pastor Larry and his wife Carolyn moved to Kemmerer to Pastor Grace Baptist Church. They recently had purchased property in downtown Kemmerer and began to build a church. The church is near completion and Pastor Larry preached his first sermon from the pulpit on Sunday before his death.
Larry was the first Eagle Scout in Windom. He was an avid outdoorsman, and loved to be out in God's country. He also enjoyed writing. Larry was fluent in the Spanish language. He and his spouse served in the mission fields in Peru, South America, along the Amazon River for eighteen years. He loved sharing the gospel with others. Larry also enjoyed making other people happy. He had an uncanny knack for being a great storyteller. He would always find the humorous side of every story and would "polish" it when telling the story.
He is survived by his loving wife, Carolyn Hultquist of Kemmerer; a son, Clint (LaWana) Hultquist, of Pinedale, Wyo..; a daughter, Jennifer (Eric) Griffin, of Sewell, N. J.; grandchildren, Brooke and Ashleigh Hultquist, and Zachary and Makayla Griffin. He is also survived by one sister, Linda Garms, of Janesville, Minn.
Friends may called for visitation on Monday, April 7, from 4 p.m. until 7 p.m. at Grace Baptist Church in Kemmerer, and again on Tuesday, April 8, from 1:30 p.m. until 3:30 p.m., also at the church. Funeral services were conducted on Tuesday, April 8, at 4:30 p.m. at the Kemmerer High School Auditorium. Cremation preceded the services under the direction of Ball Family Chapel of Kemmerer.
Memorial donations in care of Grace Baptist Church would be appreciated.
See The Archives for past articles.
---
Copyright © 2008 Pinedale Roundup
All rights reserved. Reproduction by any means must have permission of the Publisher.
Pinedale Roundup, PO Box 100, Pinedale, WY 82941 Phone 307-367-2123
editor@pinedaleroundup.com