From the pages of
Pinedale Roundup
Volume 105, Number 1 - January 3, 2008
brought to you online by Pinedale Online
---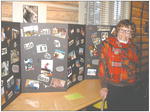 Lifelong Sublette County resident Mike Shannon celebrated her 80th birthday on Dec. 31, while a party to commemorate her life was held at the Sublette County Library in Pinedale on Dec. 30.

80 Years In Sublette County
Longtime county resident looks back
by Jennie Oemig

Mike Shannon celebrated her 80th birthday on New Year's Eve, which will also mark the beginning of her eighth decade living within the Sublette County borders, residing in Pinedale since 1946, when she married her husband, David. Born on Dec. 31, 1927, to John H. and Mattie May Tracy Wardell, Mike grew up along the Green River, where she attended school in a one-room schoolhouse.

"There were about nine kids, maybe not even that many," she said of her classmates. "And sometimes I was the only girl."

Being the only girl could have had its disadvantages, but Mike said her four brothers were quite protective of her. "Louie taught me how to fight," she remembered. " … They didn't let nobody else touch me."

And that security paid off once Mike began attending Big Piney High School. "It was alright," she said of her experience in Piney. "Us kids that came over the river, they called us river rats – the teachers, too."

While the rivalry between Big Piney and Pinedale existed back then as well, Mike admitted that she was fonder of kids who attended the school to the north.

"I liked the Pinedale kids better, which wasn't too popular in Piney," she explained. "We got along good with most of them."

During the summer months, Mike explained that her and her brothers would ride their horses to school, though they took an alternate form of transportation once the snow came.

"In the wintertime, we'd go in a sleigh," she said, remembering one instance in particular. "One time we were going up there, we ran over a cow and tipped the sleigh over."

As the movie "Walk the Line" played on a TV in the Lovatt Room of the Sublette County Library during her birthday celebration on Sunday, Mike recalled one instance when she thought she would have the chance to meet her idol.

Two of her friends had informed Mike that her Johnny Cash would be at a bar in Jackson Hole one evening. Being a fan of his music all her life, it was an opportunity that Mike said she absolutely couldn't pass up. "We went over there, me and my husband, David," she explained.

As the night grew later and later, David was ready to leave, though Mike said she refused to depart until she saw the legendary singer.

Finally, the two of them approached the bartender to find out where the Man in Black was.

"He told me, 'Lady, I don't know. The nearest you're gonna come is that jukebox over there,'" Mike said.

Mike also remembers the fun she had participating in dances, the location of which would alternate between the various ranches in the neighborhood.

"We'd have them at our place," she said." … Then we'd go to the Murdock's."These events, with live bands providing music, would keep the youths of the area entertained for hours, Mike said.

"All the kids, we'd eat and we'd dance all night," she said. "We would dance until we got tired … then come in and go to sleep. We didn't leave until the morning."

She recalled attending rodeos and riding calves and horses during her 80 years. "It was fun," she said. "It was a good life."

After working as a ranch hand for many years, Mike said she worked for 30 to 35 years at the Cowboy Shop.

The last time she said she had ridden a horse was over a year ago, though if she could, Mike would be riding one right now. "I would if I could get a hold of one," she said.

One thing that Mike said she really liked about her days growing up was how everyone seemed to get along and showed interest in the lives of their neighbors, co-workers and friends.

"Everybody knew everybody and how many dogs they had," Mike said with a slight chuckle. " … Back then, you know, people looked out for each other."

Though every town eventually grows and changes over time, Mike said that she isn't too keen about all of the development she has seen take place in Sublette County.

"It changed an awful lot," she explained. "Since the oil boom, which they've had several of those … and all the people that have built houses. But I'm sure it has helped the county."

While all of the changes in the county may not be the highlight of Mike's life, her daughter, Karla, said it's still a wonderful place to grow up.

"It's a good place to live and a good place to have a family," she said.

And her mother simply couldn't argue with that.

"Yes it is," she concurred. "To grow up on a ranch is the best thing you can do."

Photo credits: Jennie Oemig

See The Archives for past articles.
---
Copyright © 2008 Pinedale Roundup
All rights reserved. Reproduction by any means must have permission of the Publisher.
Pinedale Roundup, PO Box 100, Pinedale, WY 82941 Phone 307-367-2123
editor@pinedaleroundup.com