From the pages of
Pinedale Roundup
Volume 104, Number 9 - March 1, 2007
brought to you online by Pinedale Online
---
Obituaries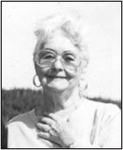 LEDA I. REACH

LEDA I. REACH

Leda I. Reach, 85, of Pinedale, Wyoming died on January 20, 2007. She was born September 21, 1921 in Rock Springs Wyoming to Andrew and Louella Hawks. She spent here life in Wyoming with her husband Harold "Babe" Reach they were married on May 2, 1942 in Rock Springs Wyoming. Babe and Leda moved to Pinedale shortly after World War II. They have owned several business and ranches during their 64 years of marriage.

She is survived by her husband Babe. Her sons and wives Gary and Deanna of Riverton Wyoming their children Monte Reach of Jackson Hole Wyoming, Paul Maestas Jr. and family of Rock Springs Wyoming Heather Maestas of Las Vegas Nevada. Son Terry and his wife Shannon and their children Jordan and Amber Reach all of Pinedale Wyoming They had a special son Charlie Clyde and family of California. Grandson Toby Reach Jr of Washington and Lisa Reach of New Mexico. She has a sister Denise Johnston and husband James of Ogden Utah, brothers Gary Hawks, and Carl Hawks of Rock Springs Wyoming She also has several sister-in-laws, nieces and nephews.

She is preceded in death by her son Toby Reach and grand daughter Maysie Reach; Brothers, Jean, David, and Conway Hawks, sisters Carol Palio and Vahun Gilfillan. Funeral services will be held in Pinedale Wyoming at the St Andrew's In the Pines Episcopal Church at 524 W. Pine on Friday February 23rd at 3:00 pm. A viewing will be held Thursday evening from 6:00 to 8:00 pm at Covill Funeral Home, and one hour prior to the service at the church on Friday. The family has requested donations in lieu of flowers to be sent to 1st Bank P.O. Box 1510, Pinedale, WY 82941. The funds will be used to buy recliner chairs for the residents of the Sublette Center.
---
A Tribute to Lance and anybody whohas lost someone
When a friend of mine died one day
I was very sad and thinking deeply.
I remembered something; a very old memory
Perhaps from another life.
I was talking to a fierce Indian warrior
After a terrible battle
I asked him how he felt about killing his enemies.
He said:
Today I sent my enemy away
Today I sent my enemy away
I sent him to a better place
Where there is no enemies
Someday I will go there too
And I will see him again
And
We will no longer be enemies
We will be brothers
And
Truly know each other for we will be
each other.
Today I sent my enemy away
Today I sent my enemy away
Those words came to me as a memory
And I then thought
Today I sent my friend away
Today I sent my friend away
Goodbye friend someday I will go
Where you are and we will be brothers.
Rick Kranz
---
An Angel
A tribute to my sister
Karen (Schooley) Edwards
May 8, 1941 – February 11, 2007
As I sit here today
Right after your passing,
Questions are forming,
Those that need asking.
A mother, a wife
A Gramma, an Auntie,
A sister, and my best friend.
Why did God take you?
What was he thinking?
All of the whys and what fors,
Doesn't he know that we needed
You more?
Then right off the bat
And out of the blue
The answer came to me,
God needed you too!
He needed someone
With your strength
And your courage,
To help him to guide
The meek and the weary.
Someone he could count on
Someone with strong faith,
Someone to lead his followers
Through those Pearly Gates.
Humor was needed
At the head of the stairs
To help everyone smile,
Help wash away their fears.
He needed your wisdom
Someone who could teach
Life's lessons worth learning
Are all within our reach.
He needed to find an Angel
And we all know the rest.
He put his arms around you,
For he had found the best.
And though we all will miss you
Your love will get us through,
My questions have been answered
God needed you too!
Sue Johansen
See The Archives for past articles.
---
Copyright © 2007 Pinedale Roundup
All rights reserved. Reproduction by any means must have permission of the Publisher.
Pinedale Roundup, PO Box 100, Pinedale, WY 82941 Phone 307-367-2123
editor@pinedaleroundup.com