From the pages of
Pinedale Roundup
Volume 104, Number 9 - March 1, 2007
brought to you online by Pinedale Online
---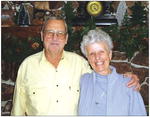 The Macks at home.

PIONEERS: Victor and Josephine Mack

by Helena Linn

Victor Mack's grandfather, Byron Leroy Mack, was born in Oregon in 1857. He left his home in Macksburg, Oregon and traveled to Nebraska where he met Minerva Alice Weaver. They married and moved to eastern Wyoming around 1900. By 1912 they were in what later became Sublette County. They homesteaded in the Big Sandy area on land that became known as Mack Flat, southeast of Boulder, Wyoming. Byron, Minerva, and their sons, John, Roscoe, and Elwin took up homesteads near each other.

Elwin Gerard (best known as Babe) Mack married Alma Ethel Murphy. They had a daughter Winnie Marguerite who was born in Lander. Their son Victor was born at Mack Flat on Big Sandy on July 6, 1926 and not long after that Babe and his family moved to land along the New Fork. Babe homesteaded about 29 acres in 1930 and a couple of years later he took up another 21 acres that was called "Mack's Island", an island in the New Fork River. Although they bought the McGaugh property and the Hutchinson Place, the land where Babe Mack's family settled became known as the Wild Horse Ranch, later as the Phil Burch Place.

Victor, or Vic as he is generally known, went to a school on the New Fork that was in session only six months of the year for the first five grades. He attended the Boulder School until time to go to high school in Pinedale. He graduated from Pinedale High School midterm in 1943 and immediately enlisted in the Navy. They told him he enlisted but had to wait until he was 18 to leave for the Navy. His boot camp training was in Farragut, Idaho then he was sent to the East Coast for submarine training in Connecticut. He was stationed in several places along the East Coast until he was sent to an LST amphibious landing craft which was used to rescue a craft that had been run up on a beach. His next assignment was to the aircraft carrier, the Midway. He was on that ship until he was discharged in June 1946.

Vic came back to Wyoming where his dad had a 10-year lease on Dell Creek in the Hoback Basin. Mr. Mack had gone to Dell Creek with a band of sheep but also had cattle. Babe and Vic bought and sold cattle. Vic met a young lady whose parents had moved from California to Bondurant in Hoback Basin.

Josephine Ann Fisk was born on July 17, 1933 in Southern California to Roy Thomas and Marcella U. Springer Fisk. They grew up in Washington but lived in California for their college educations. The Fisk family bought land on Jack Creek near Bondurant in 1948 and Jo remembers that it was the first time she saw snow fall. They spent summers in the Hoback but went back to California in the winter where Mr. Fisk worked in a laboratory. Josephine graduated in California and would have gone on to art school but decided she would rather marry Victor Mack. They were married on August 16, 1952.

The newlyweds lived in Los Angeles for a couple of years. Vic worked for a taxidermist there and could have taken over the business but city life wasn't for Vic, and Josephine liked the wide-open spaces too, so they came back to Wyoming. Their first visit back to Los Angeles in 1973 was OK but by the time they went back in 1983, they decided the day and night traffic on a freeway a half mile from their motel was too much. They prefer Wyoming and their homes here.

After they moved back from California, Victor and Josephine bought a ranch about 12 miles north of Riverton in Fremont County at Ocean Lake. They have a son, Vic Jr. and a daughter Joni Marguerite. Vic Jr. and Joni attended school in Riverton. The reclamation land there was a good place to grow crops and raise their cattle and at first the cost of water to irrigate was reasonable.

They trucked their cattle to the land they owned in the Hoback for the summer and tried to spend some time there. They had to travel a lot to keep things going in both places so when the water fees had raised five times what they started with, the Macks sold the Ocean Lake property and bought the Frank Ball Place near Big Piney.

Vic Jr. married Lucy Kay Wisotzkey and they have a daughter Megan. They lived on the ranch with his parents and Lucy taught in the Big Piney School. Vic Sr. developed some health problems so when Leon Hursh wanted to buy the ranch, Macks decided to sell. Vic Jr. and family bought a ranch near Eden, Wyoming and now Megan is a student at the University of Wyoming.

Vic Sr. and Josephine bought a home in Pinedale and they divide their time between Pinedale and Jack Creek in the Hoback. They bought the property that her parents owned on Jack Creek and also bought land from Banty Bowlsby next to it so they have a place for Vic Jr. to bring his cattle in the summer and his parents look after the cattle for him. It is just right for their retirement years.

The Mack's daughter Joni is married to Rob Weed and they live at Hoback Junction. Rob is a real estate agent and Joni works in the office of St. John's Episcopal Church in Jackson. Joni is the author of Raven's Crowne, a tale of Medieval Scotland.

Josephine is a fine artist and spends a lot of time painting. Both homes have space for her artwork and she finds a lot of inspiration for putting the beauty around her onto a canvas. She began drawing when she was a child and even though she used to do a lot of needlework, she loves painting best of all and has time now to devote to her creativity. She really enjoys being a member of the Mixed Media art group. She also feels very blessed that a special childhood longing to become a rancher really came true in her life.

Vic keeps busy and especially enjoys the summers at Jack Creek. He doesn't keep a horse anymore but his old "Siwash" is still at Vic Jr.'s place in Eden. Vic named him Siwash after he learned that Frank Ball had a dog named Siwash and Vic liked the name. Siwash has a peculiarity — he likes watermelon.

Vic and Jo don't travel a lot. They made a couple of fun trips to Canada, first to Alberta, Banff, Edmonton and around that country, then a second trip into British Columbia and down into Washington. They also traveled to eastern Wyoming and South Dakota and enjoyed seeing Mt. Rushmore and Devil's Tower. Both Vic and Jo are avid readers.

The Macks celebrated 50 years of marriage on August 16, 2002. Most of their 55 years together have been spent in Sublette County. People like Victor and Josephine Mack make Sublette County the special place it is.

Photo credits: Helena Linn

See The Archives for past articles.
---
Copyright © 2007 Pinedale Roundup
All rights reserved. Reproduction by any means must have permission of the Publisher.
Pinedale Roundup, PO Box 100, Pinedale, WY 82941 Phone 307-367-2123
editor@pinedaleroundup.com