From the pages of
Pinedale Roundup
Volume 104, Number 8 - February 22, 2007
brought to you online by Pinedale Online
---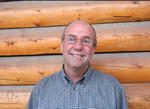 Mike Fitzgerald is the new Roundup editor

Roundup welcomes new editor
Chicago native has covered news in Las Vegas, Hawaii and California
by Annie O'Brien

Mike Fitzgerald, most recently of the Merced Sun-Star newspaper in Merced, California, has signed on as editor of the Pinedale Roundup. Fitzgerald has worked in journalism for nearly 30 years, at about 12 papers around the country.

Fitzgerald grew up on the south side of Chicago. Many people in the neighborhood, which he described as "blue collar," worked in the nearby steel mills in northwestern Indiana. His father was a pipecoverer in the steel mills, and Fitzgerald financed his college education working in the mills during the summer.

He attended Southern Illinois University, located in Carbondale, IL. There, he majored in English and Creative Writing, with a minor in Journalism. After graduating in 1977, Fitzgerald went to work for the Clinton Daily Democrat, a newspaper in Clinton, Missouri, where he covered "everything from the town council to giant sunflowers," he recalled.

Fitzgerald spent much of his career as a sports writer. He was the sports editor of the Las Vegas Sun during the 1980s. He held the same position at the Honolulu Star-Bulletin, and moved on to work as the managing editor of the Provo Daily Herald, in Provo, Utah. In Provo, Fitzgerald said, he got his first taste of life in the intermountain west, and directed the Daily Herald's coverage of the 2002 Winter Olympics in Salt Lake City.

After working in California and Key West, Florida, Fitzgerald accepted a position as city editor of the Merced Sun-Star. While he said he appreciated the quality of the paper, Merced itself was "a rough town," complete with gangs and crime. Fitzgerald said he learned of an opening for an editor at the Roundup through Uinta County Herald editor Cal Tatum, who he knew from Provo. He visited in January and was charmed by Pinedale and its surrounding environs.

"I really fell in love with the place," he said, adding that Pinedale's "natural beauty, wildlife and especially the small town atmosphere with so many friendly people" were especially attractive to the avid fisherman.

Mike Jensen, the Roundup's group publisher said he was "very happy to have such a well-qualified journalist head the paper's editorial department." Jensen added, "I'm looking forward to Mike's experience and background lending itself to the progression and growth of the Pinedale Roundup. I'm confident in his abilities to continue the proud tradition of the Roundup and its relationship to the communities we serve."

Fitzgerald said he looks forward to switching from urban to community reporting.

"I've always enjoyed community journalism, where you can cover people of all different ages doing so many good things," he stated. Fitzgerald also said his fondness for small town reporting was partly born out of his father's habit of sending sports stories into the local paper. He has not forgotten the thrill of seeing his or his brother's name in print. While Fitzgerald has spent only a few days in Pinedale and wants to acquaint himself with the community, he anticipates some topics are important to readers everywhere. Safety, particularly concerning children, education and issues that affect "dayto-day life" are often chief points of interest, he said.

Fitzgerald also offered some perspective on the growth associated with the oil and gas boom in Sublette County. He said he has observed rapid growth and development that has been managed well, in the case of San Clemente, California, but has also seen communities, like Las Vegas, grow too quickly for the local infrastructure to respond.

Fitzgerald said he looks forward to working and settling in Pinedale. "I hope this is my last stop in a long, fun newspaper career, which will hit 30 years in June," he said.

Photo credits: Annie O'Brien

See The Archives for past articles.
---
Copyright © 2007 Pinedale Roundup
All rights reserved. Reproduction by any means must have permission of the Publisher.
Pinedale Roundup, PO Box 100, Pinedale, WY 82941 Phone 307-367-2123
editor@pinedaleroundup.com