From the pages of
Pinedale Roundup
Volume 104, Number 7 - February 15, 2007
brought to you online by Pinedale Online
---
Obituaries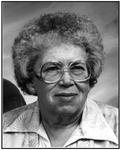 MARGIE E. JONES
MARGIE E. JONES
Margie E. (Spomer) Jones of Pinedale, WY, formerly of Julesburg, CO, passed away Thursday, February 8, 2007. Margie was born October 19, 1932 to Henry and Basil Spomer of Ovid, CO. She grew up in Ovid, and then moved to Denver, CO to attend Nursing School. She proudly graduated in 1956 as a Registered Nurse. Margie also met her husband of 49 years, Larry L. Jones and married him September 21, 1956. Margie and Larry had two daughters, Kathleen, born 1961 and Susan, born 1962.
Margie worked St. Anthonyís hospital in Denver for several years until she and Larry moved to Lander, WY, then South Pass, WY. Margie worked at the Lander Hospital and the Wyoming State Training school during this time. She and Larry enjoyed camping and fishing and had many good times doing so with their family. Margie and her husband later returned to Farson, WY, where they bought a small farm and finished raising their girls. Margie worked at the hospital in Rock Springs, WY during this time until her health no longer allowed it.
She enjoyed her farm animal and being outdoors. Margie and Larry eventually moved to Julesburg, CO where they lived for 22 years. Margie loved being a grandmother to Cody, born 1984 and Courtney, born 1993.
Margie moved to Pinedale, WY in July 2006 to be near daughter Susan, after Larry passed away. She resided at the Sublette Center. Margie and Susan attended as many Pinedale events as they could. The last being the Doggy Fashion Show where she took her beloved dog Harry, whom she loved very much. They gave each other much entertainment and companionship.
Margie was preceded in death by her husband Larry, parents Henry and Basil, infant brother, nephew Steven, and several aunts and uncles.
Margie is survived by daughters Kathleen of Elko, NV and Susan and husband Ron Orcutt of Pinedale, WY, grandson Cody Orcutt of Naval Air Station, Lemoore, CA, granddaughter Courtney Geary of Belt, MT, sisters Lois and husband Skeeter Peyton of Ovid, CO, Ag and husband Rob Kinnison of Littleton, CO, and Lola Henry of Ovid, CO, brothers Dick and wife Susan Spomer of Denver, CO and Henry and wife Peggy Spomer of Tempe, AZ, Aunt Ruth and husband Dee Webb, several nieces, nephews, cousins and friends.
Services for Margie E. Jones are Wednesday, February 14, 2007 at 10:00 A.M. at the Julesburg Mennonite Church in Julesburg, CO with Pastor Arthur Roth officiating and interment in Hillside Cemetery. Austin Funeral Home was in charge of arrangements.
---
JERRY RATHBUN
Jerry Rathbun, 45, of Meadow, SD, died in Spearfish, SD. Funeral services will be at 11:00AM, Saturday, February 10, 2007 at the Hulett Civic Center in Hulett, WY, with Reverend Larry Kellner officiating, burial will follow at Moore Hill Cemetery near Hulett. A memorial has been established in his name.
Jerry was born on January 23, 1962 to Harley and Shirley (Proctor) Rathbun. He grew up in New Haven, WY, attending country school until the 4th grade. He then continued his education in Hulett, WY, graduating from Hulett High School in 1980. During high school Jerry was active in basketball and wrestling. He was a member of FFA and held the state office of Sentinel. He was also active in the Rodeo Club. The events he took part in were team roping, calf roping, and steer wrestling. Jerry also enjoyed Range Riders 4-H Club where he showed horses, cattle and pigs and was on several state horse judging teams. Jerry attended Central Wyoming College in Riverton, WY, graduating in 1987 with an Associate of Arts Degree. While in college he was on the CWC Rodeo Team, taking part in team roping and steer wrestling.
Jerry spent his life doing what he loved, ranching and working with animals. He also cut logs. Jerry also guided horse back rides at Devilís Tower because he enjoyed meeting new people and helping them to experience a new adventure. Jerry enjoyed hunting for elk and deer as well as packing and camping.
Jerry married Lisa Lam in Casper, WY, on October 19, 1985 and the couple later divorced. Jerry was very good with a rope. He was a very good header and truly enjoyed it, although he was known to heel for his dad. He won numerous trophies and belt buckles for his success in team roping, many of which he gave to family members. Jerry spent the last few years ranching with his dad near Meadow, SD.
Jerry is survived by his father Harley Rathbun of Meadow, one sister Jolene (Jim) Henderson of LaBarge, WY, one brother Jeff Rathbun of Hulett, one nephew Shane (Bridget) Stinson and their sons, Dawson & TK of Douglas, WY, nieces, Shaunna (Jeremiah) Owens and their son Brody of Silverdale, WA, and Ashley Henderson of St. Paul, MN, and numerous aunts, uncles, and cousins. Jerry was preceded in death by his mother Shirley in 1989, grandparents, Richard & Mildred Proctor and Art & Myrtle Rathbun. Arrangements have been placed in the care of Fidler-Roberts & Isburg Funeral Chapel of Sundance, WY.
See The Archives for past articles.
---
Copyright © 2007 Pinedale Roundup
All rights reserved. Reproduction by any means must have permission of the Publisher.
Pinedale Roundup, PO Box 100, Pinedale, WY 82941 Phone 307-367-2123
editor@pinedaleroundup.com