From the pages of
Pinedale Roundup
Volume 104, Number 7 - February 15, 2007
brought to you online by Pinedale Online
---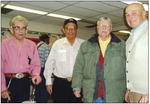 Bill Meyer, former EMT and County Coroner; Donny Pope; Dr. Wm. Close, and Dr. Tom Johnston recall old times at Donny's party on Saturday.

Donny Pope: Mr. EMT

by Helena Linn

If you have lived in the Big Piney area for even a few years, your life has probably been touched by Don Pope. You may be related to him; you might have worked with him or someone in his family; he may have helped put out a fire in your house; read your water meter; or dug up your broken sewer line; or he might have beat you at throwing horseshoes; or maybe you are glad when Donny is your partner at the Senior Center Sunday pinochle games because he is a good pinochle player.

On Saturday, February 10th, the Big Piney/Marbleton EMTs honored Don Pope for over 40 years of very dedicated service to this community as an Emergency Medical Technician. Donny and several others began with First Aid through the Fire Department and developed the Emergency Medical Service we have now. In 1965, Fire Chief Charles Sims talked Donny into joining the Fire Department.

The training for the Fire Department, and to drive the ambulance, consisted of an eight-hour standard Red Cross First Aid Class. After the first ambulance run, Donny decided he needed more training and took an advanced eight-hour course. In 1969, Donny and several of the firemen went to Salt Lake City for an EMT class which was all lecture except the CPR training. Buzz Wassenberg had lived at the Fire Hall in Laramie during college and had some EMT training. He was in Big Piney when the Fish House burned and decided to join the Fire Department. Buzz, Donny, Hank Walter, Dick Tanner, Sylvia Schaffer, Charles Sims, George Smith, and Bob Holgate were trained in Salt Lake to serve as emergency medical staff for Big Piney and the surrounding area. Bill Meyer from Pinedale took the classes too and when he became County Coroner, he asked Donny to be a Deputy Coroner so Bill would have help in the southern end of the County.

The firemen took over the ambulance service in 1961. At first they had a Mercury Station Wagon, then a 1967 Oldsmobile, and later used a Cadillac ambulance. They really weren't too keen on getting a fancy ambulance like the EMTs use now but Buzz Wassenberg says Paul Scherbel convinced them they needed a better equipped vehicle.

Donny doesn't quit anything easily. He didn't quit school, he hasn't quit marriage or being a great father and grandfather to his boys and their families, and he doesn't quit working. In 1982 Bob Tracy was mayor of Big Piney and he asked Donny to go to work for the town. All he needed to do, Bob said, was to "Be sure the water ran one way and the sewer ran the other way." So Donny became certified by the Department of Environmental Quality for the town of Big Piney and he is still making sure "water runs one way and the sewer runs the other way."

When Donny decided to become an EMT and to teach others to be emergency medical personnel, he wanted to learn as much as he could and be prepared to do it right when he began teaching others. He served many years as the EMT supervisor. John Brady thought Donny always did a good job of simulating a wreck so his students knew what to expect and how to take care of people who were injured in an accident. Gloria Willoughby remembers that Donny took her to see what he knew was a fatality so she would be prepared for a fatal accident. Another time they were in class and an ambulance call came in so they hurried to the scene south of town and Gloria was sure it was a bad one. She went right to work – until she saw that Brent Pope was the "accident victim" all covered in fake blood. It was all part of the training but a very convincing training session. Since Donny has made ambulance runs with over 100 different workers, some of them were with him when Donny delivered a baby.

In 1974, Bill Meyer and Curly Quinlivan delivered the first baby in a Pinedale ambulance and "Before the Big Piney crew stopped heckling them, Donny Pope and Gerry Waters delivered a baby enroute to Kemmerer." Donny has delivered at least ten babies in an ambulance. He also delivered three babies in a home, and assisted with births in the clinic or hospital more times than he can remember.

Dr. Close says that Donny delivered more babies between Big Piney and Jackson than most of the doctors in the County. Donny became known as "Midway Pope". Many of the deliveries occurred midway between Big Piney and the hospital. The EMTs and new mothers can remember when they pulled over on the side of the road in the middle of the night, or when the road had black ice, or when there was a blizzard. Gloria Willoughby said that the corner just before Hoback Canyon got to be known as "Baby Corner".

Edna Schilling, Ned Blackmon, and Jerry Waters were in one of Donny's classes. Edna remembers a trip to Salt Lake in a snowstorm and what they thought was an owl flying around Parley's Canyon turned out to be an airport light. They laughed about that many times. Another time Edna and a Physician's Assistant who was from Texas were coming back from Lander with Donny driving over South Pass on the road that should have been closed. The PA was pretty nervous and asked Donny why he didn't use 4-wheel drive. Donny was managing without it. He maintained that you didn't put it into 4-wheel drive until you got stuck then that would help you get out! Donny has had to go around the gate when the road was closed to get his patients to the hospital and that was nervewracking for his EMTs, the patient, and for Donny.

Rich Anderson and Donny were taking a lady to the hospital. She had driven to the clinic and warned Donny that she had seen deer on the road. About that time there was a thump and she said, "I told you to watch for deer!" She was in a lot of pain so, hoping she wouldn't be any more anxious and upset than she already was, Donny told her it was a jack rabbit. On the return trip about four in the morning, Donny and Rich stopped to move the dead deer off the road.

Another time they picked up a fellow who was over 7 foot tall. Donny figured out that they needed to put the patient in the ambulance feet first instead of the usual head first. In the early years of Donny's EMT service, he knew everyone and many were family so an ambulance call might be a very emotional time. Those who worked with him could hear in his voice that it was serious or that it was a difficult situation but Donny always managed to be calm for the patient. One very difficult time emotionally was the 45 minute CPR procedure he helped do on Bob Tracy. It means a lot to Donny that Bob survived his close brush with death.

For two years, John Brady, Rich Anderson, Gloria Willoughby, and Donny were the only EMTs and sometimes, they would get home from a run and have to make another one right away. Bryan David recalled one October when a Green River Search and Rescue volunteer was hunting on LaBarge Creek. He had gone off a cliff and was out overnight. Lincoln and Sublette County sheriffs were on hand to help bring the man up to the road. The man had severe hypothermia, lost an eye, had a broken neck and a broken back. On the way to the nearest hospital, the EMTs were notified that another hunter was hurt, and about the time they finally got home, a man had died in LaBarge so they had to go back right away. They were glad to learn that the hunter who had been so critically injured survived the ordeal and rescue.

Another time, a rig was being set up on South Piney and called for two ambulances. Maisie Pope drove with Bryan David as the other EMT in one; Donny and Ned Blackmon took the other ambulance. During boom times, it often happens that two or more ambulances are needed.

Being called for burn victims, bad accidents, and for injured or killed young people of the communities are tough times for ambulance personnel and everyone who contributed to this article was quick to say that Donny Pope remained a professional at all times, even when it was family or someone he had known all his life. Afterward, as Edna Schilling said, they all needed a shoulder to cry on -- even Donny -- but he had good shoulders for the rest of them. She said they called him "Mother One" because he was always checking on all of them. Others called him "Mother Pope" because he always knew what to do. He was efficient about sending doctors clear messages about what was happening with their patients. If he was driving the ambulance he was always aware of the situation in the back.

One night they left a patient in the Jackson hospital and by the time they got to Camp Creek Inn, they were notified that the ambulance was needed in Big Piney so they made the trip back to Big Piney with the emergency lights flashing.

At one time Donny, his wife Maisie, and their boys Nelson and Brent were all EMTs in Big Piney. Perhaps Maisie saw the writing on the wall that being an EMT was very important to Donny. On their first date, someone came into Jackie's Café to tell Donny he was needed on the ambulance. He left Maisie $20.00 (which paid for the two rib steaks he left her to eat) and his car keys then he and Charles Sims went on an ambulance run!

Several people, who began their training with Donny, work in the medical field now. The Pope's son Brent is a medical corpsman in the Navy. Crystal Norris worked in the clinic here for many years. Rich Anderson went on to become a Physician's Assistance. Tom Porter is an x-ray technician. Edna Schilling said that Donny is part of the reason why she is a registered nurse and the Director of Home Health in the County. There are many people who have good medical skills and abilities that they developed through their association with Donny. The people who helped with this article all expressed the same sentiment – that Donny is always a professional but has a soft heart and a sense of humor too. Dr. Close said he never worried about ice or snow when Donny was driving, that he was supremely competent as a driver and would be gentle and compassionate with patients and worried relatives. Of course, there was one time! Dr. Close was along when Donny was driving back from Jackson in the middle of a cold winter's night and they ran out of gas!

However, Dr. Close added that Donny would be a great comfort if you were stuck on a desert island. He knows his stuff and he really gives a damn.

Photo credits: Helena Linn

See The Archives for past articles.
---
Copyright © 2007 Pinedale Roundup
All rights reserved. Reproduction by any means must have permission of the Publisher.
Pinedale Roundup, PO Box 100, Pinedale, WY 82941 Phone 307-367-2123
editor@pinedaleroundup.com