From the pages of
Pinedale Roundup
Volume 104, Number 52 - December 27, 2007
brought to you online by Pinedale Online
---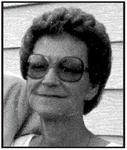 CLARE JEAN HORTON

Obituaries



CLARE JEAN HORTON

Clare Jean Horton, age 74, passed away Sunday, Dec. 16, 2007, at her home in Gillette, Wyo. Clare was born April 23, 1933, in Jackson, Wyo., the daughter of Alvin and Etta (Goodrick) Johnston. She attended rural schools in the Jackson area and graduated high school in 1951. After her graduation, she was employed as a waitress. In 1953, Clare was chosen Queen of the Cutter Racing Association where she met Morris Horton; they were married on Aug. 23, 1954, in Idaho Falls, Idaho. They made their home in Pinedale for 20 years. She worked at the Assessors office and graduated from County Assessors School in 1969. They later moved to Rock Springs and stayed for 10 years where she worked for a construction company as secretary for two to three years. In 1986 Morris retired and they purchased a motor home and spent winters in Arizona and summers in Jackson for eight years. In 1994, they purchased a home in Apache Junction, Ariz., and resided there until 2003. In 2003 they moved to Gillette to be near their children.

Clare enjoyed traveling in the motor home, crossword puzzles, reading and watching hummingbirds. She was a great cook and loved playing cards with her family and friends. She was involved with her husband in the Cutter Association, and she enjoyed chariot racing, horseback riding and going to rodeos.

Clare is survived by her husband of 53 years, her son, Alan, and his wife, Perry Horton, of Gillette; her daughter, Debra Horton, of Mesa, Ariz.; one brother, Burnell Johnston, of Jackson, Wyo.; sisters, Catherine Foster of Pavillon, Wyo., Alvira Sturlin of Buffalo, Wyo., RoseMaria Marbel of Buffalo, Wyo., and Revadell Boyer of Victor, Idaho; she is also survived by six grandchildren and six great grandchildren and numerous nieces, nephews and cousins.

She is preceded in death by her parents, son, Terry Horton; brother, Dewayne Johnston; sisters, Erma Bonner, Bertha Foster and Margaret Williams.

Memorial service for Clare Jean "Cam" Horton will be Saturday, Jan. 5, 2008, at 1 p.m. at the Church of Jesus Christ of Latter-Day Saints in Gillette, Wyo., with Bishop Jed Jensen officiating. Burial will be at a later date in a family plot in the Elliot Cemetery in Wilson, Wyo.

Condolences may be sent to the family in care of Walker Funeral Home, 410 Medical Arts Ct., Gillette, WY 82716 or via the internet at www.walkerfuneralgillette.com. A memorial has been established in the Horton Family Name.

See The Archives for past articles.
---
Copyright © 2007 Pinedale Roundup
All rights reserved. Reproduction by any means must have permission of the Publisher.
Pinedale Roundup, PO Box 100, Pinedale, WY 82941 Phone 307-367-2123
editor@pinedaleroundup.com