From the pages of
Pinedale Roundup
Volume 104, Number 52 - December 27, 2007
brought to you online by Pinedale Online
---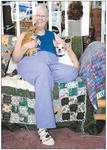 Kathyleen Weathers at home in Pinedale with Sassy (left) and Spot (right).

Battling Cancer
Pinedale resident relies on faith, humor in fight for life
by Jonathan Van Dyke

Kathyleen Weathers has enough faith and good cheer for the entire town of Pinedale.

It's been a trying but revelatory summer and fall that is just now seeing her gain more and more strength. On Jan. 4 she'll head back to the City of Hope clinic in California to find out her progress in a fight against ovarian cancer. "I'm doing much better than I was when I first came home," she said sitting in her cozy living room. "When I first arrived, that was kind of an ordeal." Indeed, when she arrived back home, the difficulties piled on. She had trouble breathing and needed to be put on an oxygen machine, and then had a bout of pneumonia. Yet, these were merely fleeting difficulties for a woman of such strong faith as Weathers.

In recapping her year — with a universal twist — Weathers reads a passage from the bible that has particularly carried weight with her, from Ecclesiastics III:

"To everything there is a season, and a time to every purpose under heaven; a time to be born, and a time to die; a time to plant, and a time to pluck up that which was planted; a time to kill, and a time to heal; a time to break down, and a time to build up; a time to weep, and a time to laugh; a time to mourn, and a time to dance; a time to cast away stones, and a time to gather stones together; a time to embrace, and a time to refrain from embracing; a time to give, and a time to lose; a time to keep, and a time to cast away; a time to rend, and a time to sew; a time to keep silent, and a time to speak; a time to love, and a time to hate; a time of war, and a time of peace."

Weathers effortlessly relates these words and pairings with her own year, and to some extent, the years of those around her.

Times got tough during chemotherapy sometimes.

"I really was like — a time to die," she recalled. "Well, I felt pretty close to death a couple of times. If I'm talking, I'm alive — that's what the doctor said. Whether taking in proper nutrients, ion put-backs, or working on the occasional inflammation, Weathers has been slowly building herself back up. Which leads to a time to weep. "There's a lot of crying when you're going through feeling all alone," she said. But with a time to weep, is a time to laugh. Weathers generally chooses the latter. "People look at me and say 'How can you do that?' and I go 'Well, you either laugh or you cry,'" she said.

A hairdresser previously, Weathers has had to do her share of laughing. She'll be the first to acknowledge her current appearance. She's not hiding anything, and it's growing back.

"When I lost hair, that's evidence that my body is also being destroyed of the fast growing cells," she added.

She first went through chemotherapy when she had leukemia some 20 years ago. She showed the salon girls her new look each individually.

"A lot of people are vain about hair loss," she said. "Me, I just played it up." After showing most of her hairstyling peers, Weathers got an offer from one's brother visiting to see her head. She charged him a dollar, and he actually handled the situation with grace.

"That's when I thought, hey, if a guy can except it…my husband has seen me look like a mannequin before I don't know how many times, and you know, he loves me in spite of it," she said.

This time around Weathers had the inspiration of a friend who has gone through the same things she faces.

"That's amazing, that I actually know somebody that's a long year survivor of ovarian cancer," she said.

She points out that any age can come upon cancer, and we should all be careful. "If you have symptoms that aren't your normal feeling of your body or yourself, if you're not in tune, then check it out, check it further," she added.

At the moment Weathers' movement is fairly in-home restricted. She goes to church when she can, but her current immune system forces her to be wary of human contact during a season flush with the flu and other sicknesses. Building strength is an ongoing battle.

"I feel like in my mind I could still do a lot of stuff, but because of my body, it doesn't allow me to, but I can still dance, I can still dance about it," she said. "It's important that we realize that there is a time to mourn and there is a time to dance, and that we try to look for those moments when you can dance."

And when she's ready to dance she'll be ready to dance with the world. It's the embrace part of her quote that is most dear to her, the part she wants to tell everyone. "You don't know how badly I'd love to just walk through the city of Pinedale and give everybody a hug right now," she said. For now, she wanted residents to know that God is hugging them, even if she can't right now.

Her battle with ovarian cancer is inspiring, but Weathers rarely let the conversation settle on her own issues for too long, especially at this time of the year.

"A real urgent prayer need for our community is our home health issues," she said. "They're very understaffed. I would really like to encourage — especially for the holidays — that people really think about what they can do, even on a volunteer status, or even an employment status. This is really an issue of caring for one another and taking care of each other."

The giving that has come from the community to herself has been as strong as her hopes for others suffering.

"People are so generous," she said. "Yes, I've lost some time being away from people, but then I get to see smiling faces hit my door every now and then dropping off a little treat or goodie, but there's other people out there that need to be given to, too." Since she can't have visitors very often, Weathers encourages well-wishers to call. Still this time of the year brings much to celebrate, despite the obvious hardships. Weathers and her husband, Jerry, just celebrated their 38th anniversary on Dec. 6. "My personal goal is that God would allow me and Jerry to celebrate at least our 50th wedding anniversary," she added. Their love is one of strong devotion. "I just think at times how my husband has waited on me hand and foot since I've been home," she said. "He kind of went through shock when I came back — I was in the poorest of poor health — and you could see the worry on his face. I'd look at him and I'd say 'Don't worry about me, everything's fine.'"

He would never say he was worried to her because they are a united, singular front, she added.

Weathers hopes her stay at City of Hope is brief. She's happy that the new Pinedale Medical Clinic will have helpful new equipment like the CT scan.

"Hopefully, we'll get to come back and see it without having to be a patient, but instead as a visitor," she said.

For Christmas, it will be a quiet dinner with her husband of 38 years. She's been rummaging through the house for little knick-knacks and forgotten objects, to make presents of.

"I'm making rediscoveries in my own house as I've gotten healthier," she joked. Her faith gives the most, however, and she hopes it can give a little back, but she'll always be at peace with whatever comes her way. She doesn't have a holiday outlook, but rather the holiday just shows Kathyleen being Kathyleen more than ever.

"I just pray that I can have enough years to see magnificent things happen, even just here in Pinedale, and with my family members, and friends and our world."

Photo credits: Jonathan Van Dyke

See The Archives for past articles.
---
Copyright © 2007 Pinedale Roundup
All rights reserved. Reproduction by any means must have permission of the Publisher.
Pinedale Roundup, PO Box 100, Pinedale, WY 82941 Phone 307-367-2123
editor@pinedaleroundup.com