From the pages of
Pinedale Roundup
Volume 104, Number 51 - December 20, 2007
brought to you online by Pinedale Online
---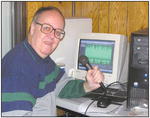 Bob Rule at KPIN.

KPIN celebrates its 10th anniversary

by Alecia Warren

"My philosophy of small town radio is three words," said Bob Rule, owner and operator of Sublette County's humble and singular local radio station, KPIN. "Local, local, local."

So has become the pulse of the longtime broadcaster's station here in Pinedale, which began as just an experiment and turned 10 years old this week.

A reliable news source constantly cycling out sheriff reports with local business ads and requests for volunteer help or event announcements, KPIN serves as the small town's immediate source for both information and one memorably eclectic arsenal of country and oldies.

"I have a deep passion for radio, and being of service to the community," Bob said of why he has maintained the station for so long. "Radio is a fluid form of media — it can change what it's doing instantly, and that means in situations like a fire coming over the hill towards Pinedale, radio can address the issue as it is happening."

Indeed, during the Pole Fire this July, when flames encroached a few miles outside of town and several subdivisions evacuated, KPIN served as an unofficial central command, providing constant updates on evacuation centers, livestock removal and many other details that were suddenly at stake. It took years for things to run so smoothly at KPIN, however, and even now the station ever teeters on the energy and improvisations of the one-man act perpetually holding it together.

The idea for KPIN, named for the first three letters of Pinedale, sparked in 1994, when Bob skimmed the crowds at the Republican State Convention in Jackson. He suddenly overheard a group of Sublette County acquaintances complaining that Pinedale still lacked a radio station. Already on the brink of building a station in Cheyenne, which he had found could survive on a five-disk CD changer, Bob's opportunity radar flared. Although he had never broadcast from a town with fewer stoplights than he could count, he joked, "Would you like for me to come to Pinedale and build you a radio station?"

As it turned out, they did. Once Bob returned home from the convention, he fielded constant calls from media-hungry Pinedale residents pledging to run his fantasy station on a volunteer basis.

He yielded at last in 1997, when he drove to Pinedale in the dead of winter and set up a ragtag studio in an unheated room in the Pine Creek Motel.

"So many of the other Wyoming broadcasters kept telling me I was insane to build a radio station in a town that small," the 62-year-old Cheyenne native said. "It was a fun challenge to show these other broadcasters they were wrong — and besides, the Pinedale people calling me at home in Cheyenne sure seemed to want the town to have a radio station."

Bundled in coat and gloves, he spread equipment on a sheetless mattress (which would be a surprising tableau for his first interviewee, then-Pinedale mayor, Rose Skinner), rigged a 50-foot antenna atop the motel, and signed on for the first time in the motel garage at 11:58 p.m. on Dec. 16, 1997.

Unfortunately, the station computer's hard drive could only hold 50 songs, and reception from the 250-watt transmitter fizzled to a wall of static five minutes outside of town at the Cora junction.

"At least it sounded loud and clear within the Pinedale town limits," he remembered consoling himself.

Initially, Bob only stayed in Pinedale to look after his pet project for a week. He moved the station into the Knotty Pine Building (now the Summit Building), for $100 monthly rent, trained a handful of volunteers and part-time workers, and returned home to Cheyenne to continue running the pager company that provided the bulk of his income at the time.

It became apparent that KPIN needed a new manager in May 2002, and Bob returned to Pinedale to mind the station while searching for a replacement. He promised his wife Karen that he would return home in about two weeks — which gradually stretched into two years, a period Bob grimly identified as one of the longest of his life.

His first pick for new manager requested a 100 percent raise after the first week, and the next thought being proficient with Windows meant capably washing the glass panes that looked into the hallway. Applicants under 25 declared their sole ambition to blast the station with Ludicris and P-Diddy, which could cost the station the majority of its advertisers over 55. Others suffered phobias of speaking into the microphone.

"Each week it was like, 'I think I have a lead on another manager, hopefully I only have to do this a couple more weeks and I'll be able to go home for good,'" Bob said. Instead, he at last decided to "pull a Dick Cheney" and hire himself —not only as manager, but also as every other job at the station, since competent help had proven evasive with the sudden energy boom that lured most potential employees to the gas fields.

His other radio stations already sold to larger companies, Bob turned over operation of his Cheyenne pager company to his office manager, Lynnette Lyttle, and moved to Pinedale permanently with Karen and their son David in 2004.

Since then, Bob has upgraded the transmitter to 4,000 watts, extending clear reception as far as Big Piney, Marbleton and all the lengthy stretches of dirt road between them and Pinedale. He's also increased the song count to 1,000, though he said he's still accused of playing the same 50.

He also often averages three hours of sleep.

The glass door of the KPIN office holds a scotch-taped note explaining why Bob isn't typically available before sunset. "I am working about eight jobs at KPIN Radio, including: announcer, salesman and ad copy writer, production person, owner, general manager, chief engineer, newsman and receptionist," the note reads. "If any one of the above eight people has to perform a task outside the radio station studio, the other seven have to come along for the ride, too."

The teetering stacks of papers and files that make his office look like the Library of Congress being reshelved are a testament to the obligations awaiting his return.

If anyone wants to hit up Rule about an advertisement or broadcast, they usually have to settle for sliding a note under the door — beneath the taped-up sign, 'shove it here' — unless they're willing to call his Cheyenne office or wait until about midnight to address the weary owner face-to-face. He works on ads and broadcast schedules from roughly 10 p.m. to 5 a.m., his typical night owl routine since long before he slept through his 8 a.m. college courses at the University of Wyoming.

Yet he still manages to pop up at events and meetings all over town, his sagging cheeks and hazel eyes boxed in geometric plastic frames ever locked in an expression just on the verge of speaking. He hones in on conversations like a missile, his focused, slightly nasal monotone drilling out the latest news with his pointed broadcaster's analysis.

"Bob Rule is on duty 24 hours a day, 7 days a week," said Dawn Ballou, owner and operator of Pinedale Online, the local online news source that often receives scoops and photos from Bob. "When the power goes out in town, he is set up to broadcast from Mt. Airy using a generator to get the radio station back on the air so people can get the news. During the winter, it's not easy to get to the top of that mountain, but Bob always finds a way."

Make no mistake, his life and thoughts revolve around the cramped and messy office on the lower level of the Summit Building strip mall.

"Radio broadcasting is in my blood," he said simply of why the endless work has never phased him. "Living the American Dream keeps me going, but I doubt that I could keep up my workload if I was simply working for a paycheck for someone else." He also relies on the "mystery lady" of KPIN, Lynnette Lyttle, his right-hand woman since he first hired her in 1975. Lyttle's soothing, business-like soprano often warbles from KPIN speakers reciting ads and weather forecasts, yet she's never set foot in Pinedale. She helps run the station from KPIN's Cheyenne studio, where she records broadcasts, handles billing and takes calls for the station during the day when Bob is passed out at home.

"He's a little eccentric, anyone who sleeps during the day and works at night must be," said Lyttle, whom Bob first hired as a "lowly switchboard operator" and has handled a variety of jobs for him since. "He's such a good, honest guy; I wouldn't have worked for anyone else. And he's changed over the years — he was a bachelor when I first worked for him, then he got married and had a kid. I almost got to watch Bob grow up, even though he's older than me."

Yet Bob still retains an almost boyish energy and constant drive for perfection that whirs into overdrive with every idea, Lyttle said. She anticipates KPIN has a great deal more excitement in store.

Bob's currently considering building another station in Wright and on Casper Mountain, with plans to ship the programming out of the KPIN office in Pinedale.

He also recently built a studio in his home, so he can alternate between working and bonding with Karen and David, now 11 (a life of nerdiness prevented Bob from marrying and reproducing earlier, he said).

That's only one example of his commitment, Lyttle said, and that's why she's proud to work for KPIN.

"This radio station is like his child — he's loved it and nurtured it and taken it from just a frequency to viable entity," Lyttle said. "Bob told me that the town get together used to be the post office, and now that there's a radio station, people can tune in and listen to what's happening to whatever crazy things are going on today.

"I don't know if it's a lost tortoise or someone needing a ride to Salt Lake, but it brings people together so everyone knows what's going on."

Photo credits: Alecia Warren

See The Archives for past articles.
---
Copyright © 2007 Pinedale Roundup
All rights reserved. Reproduction by any means must have permission of the Publisher.
Pinedale Roundup, PO Box 100, Pinedale, WY 82941 Phone 307-367-2123
editor@pinedaleroundup.com