From the pages of
Pinedale Roundup
Volume 104, Number 51 - December 20, 2007
brought to you online by Pinedale Online
---
Obituaries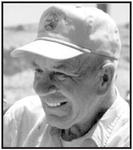 JERRY D. HUNT
JERRY D. HUNT
Jerry D. Hunt passed away on Dec. 8, 2007, at his family ranch on Fontenelle Creek, at the age of 65. He was born on Nov. 1, 1942, to Bill and Nina Hutcheson Hunt in Cottonwood, Ariz. He spent his early life in Humboldt, Ariz., and graduated high school in Prescott, Ariz. Jerry's entire life was spent as a rancher, and when he met and married Sue Herschler on June 28, 1969, they continued down that path. For the last thirty years, Jerry and his family have raised cattle and horses on the Herschler Ranch, now known as V Cross Cattle Company. Jerry loved a challenge, whether it be winning a team roping competition on his beloved bay horse, Baby, helping his sons with their champion market steers in 4-H or dragging a snorty bull into the trailer on the end of a rope. He worked every day to improve his cattle and horses and prided himself on his excellent Angus herd and string of Quarter horses. He devoted his life entirely to his wife and children and the ranch that he loved so much.
The greatest challenge of Jerry's life came in the last few years when his rugged old body began to fail him. His courage, pride and faith in God carried him uncomplainingly to the end. His last day was spent feeding his beloved livestock and hunting with his sons and his dogs. He died as he lived, exactly on his terms.
Jerry is survived by Sue, his wife of 38 years, his sons, Will and his wife, Sara, Ty and his wife, Kati, and Colin; grandchildren, Chancy, Jaynee, Rhett and Jordan, of Fontenelle Creek, his mother, Nina Prescott of Valley, Ariz.; brother, Clyde, of Houston; brother, Robert, and his wife, Denise, of Sacramento, Calif..; sister, Karen Brooks and her husband, Ulys, of Humboldt; and two nephews, Ted and Chad Brooks of Humboldt. He was preceded in death by his father, Bill, in March of this year.
Services to celebrate his life were conducted on Dec. 13, 2007, at St. James Episcopal Church in Kemmerer, with Rev. Walt Seeley officiating. Private interment followed in the Herschler Cemetery on Fontenelle Creek.
---
JOYCE ALYNE KENRICK
Joyce was called home to be with the Lord Friday, Dec. 14, 2007. She was with her family in Kemmerer, Wyo., and couldn't be happier.
Joyce was born in Caddo, Okla., on July 30, 1939, to Dewey and Opal Blakney. She was the fifth born of eight children, which included six sisters, Anna, Dot, Margie, Betty, Janette and Patsy, and one brother, Horace.
Joyce was blessed with two daughters, Trish (Woody) Studt of LaBarge, Wyo., and Pam (Boyd) Wallentine of Kemmerer, Wyo., four grandchildren, Brittany (Brett) Ritter of Kemmerer; Sarah Studt; Dustin Wallentine of Provo, Utah; and Jacob Wallentine of Kemmerer and two great-grandchildren, Madison Ritter of Kemmerer and Hayley Pierce of Billings, Mont.
Joyce was preceded in death by her husband, Ken Kenrick, her parents, brother, Horace (Bud), and granddaughter, Sarah Studt.
Joyce moved to California in her younger years, married and moved to Wyoming, where she lived on the Quarter Circle 5 Ranch in Daniel for 25 years. There she made many friends and fond memories. She then moved to Jackson, Wyo., where she lived on the Snake River Ranch and worked at the nursing home.
Joyce started liking the warmer climate and moved to Green Valley, Ariz., where she had made her home for the past fifteen years. She loved the heat as well as golfing, swimming and the activities that were available in the desert climate. More than that, Joyce loved her family and friends. She had the most beautiful spirit of any woman in the world. Her smile could light up the room and her laugh was contagious. Joyce loved life. She was a member of the Cornerstone Baptist Church and she loved the Lord. In her 68 years here with us, she taught us to live each day to fullest, as you never now what tomorrow will bring. And she did. We are thankful she came to Kemmerer to be with her family and share the last days of her life. We will miss her, but know we will see her again someday.
See The Archives for past articles.
---
Copyright © 2007 Pinedale Roundup
All rights reserved. Reproduction by any means must have permission of the Publisher.
Pinedale Roundup, PO Box 100, Pinedale, WY 82941 Phone 307-367-2123
editor@pinedaleroundup.com