From the pages of
Pinedale Roundup
Volume 104, Number 51 - December 20, 2007
brought to you online by Pinedale Online
---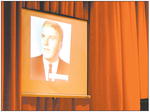 A multimedia tribute was shown for former Big Piney principal Terry Statton at his memorial service.

Former Big Piney principal 'was all about the students'

by Jonathan Van Dyke

A large crowd of diverse faces and ages packed into the Big Piney Fine Arts Center for the public memorial service in honor of beloved former Big Piney Principal Terry Statton, who died Dec. 9.

Rev. Dick Kalber led the mid-afternoon service last Thursday, which was highlighted by favorite Statton moments and a multimedia tribute.

"Terry was into getting things done," Kalber said. "He was always looking at the next place — or thing — to make dust of." The idea of "making dust" was just one of the "number of things that were strictly Terry Statton," Kalber said.

Throughout the service, the genuine openness of a man who served in the Army from 1967-1970, played college football at Chadron State in Nebraska, and traveled to Egypt at the turn of the millennium, was cited as the primary trait that drew people to adore the man who rarely resisted ending each speech with a raucous "yee haw." Statton, born on March 16, 1947, leaves behind his wife, Patty, and two sons Trent and Evan as his direct family descendants.

The story of when Terry met Patty is very much a representation of the paradoxical character Statton might have projected to those around him — the conscientious athlete. Statton went on his first date with Patty Schmiedt during his time at Chadron State. "You see, these college ladies can't resist a date with those football heroes," Kalber recalled, noting that Patty was probably expecting a one-and-done dating experience.

Instead, as the story goes, Statton's Volkswagen Bug got stuck in the snowy weather, prompting the big football player to get out of the car and remove it from the predicament with his own strength. When the car was lodged free, a favorite book of Patty's slid from under the front seat. Once she finished questioning Statton about the book — not trusting its mere presence — the blossoms of romance took off.

"From that moment Patty became smitten with him and they became inseparable," Kalber said.

After finishing the heartwarming story, Kalber gave way to a moving multimedia tribute put together by students of Big Piney High School.

The video mixed between still photos and archived video footage as several faculty members spoke of how important Statton's warmness affected their decisions to come into the school district.

It was also announced that a Terry Statton Golf Tournament was in the works for the spring. Money will go toward the Community Home Care Program that helped care for Statton during his battle with cancer. Afterward the big crowd spilled out for the reception, with high emotions for a man whose administrative approach was revered by many.

"He was very student-oriented," said Kathy Pompy, a retired Big Piney teacher. "He wanted new and innovative things to go on. He did all sorts of different things to try to help the kids."

"He was all about the students too, he supported us for everything," added Big Piney student Addison Milleg.

Photo credits: Jonathan Van Dyke

See The Archives for past articles.
---
Copyright © 2007 Pinedale Roundup
All rights reserved. Reproduction by any means must have permission of the Publisher.
Pinedale Roundup, PO Box 100, Pinedale, WY 82941 Phone 307-367-2123
editor@pinedaleroundup.com