From the pages of
Pinedale Roundup
Volume 104, Number 49 - December 6, 2007
brought to you online by Pinedale Online
---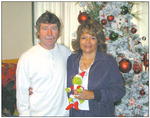 New owners Robert and Peggy Maw have switched the focus of the shop from candy to flowers and gifts.

Sweet deal? Mandie's Candies changes hands to GrandMaws'

by Jennie Oemig

With the bins of bulk candy replaced by pre-decorated Christmas trees and holiday gift baskets, GrandMaws' Floral and Gifts has now filled the space previously occupied by Mandie's Candies.

Mandie Calhoun, owner of the candy shop on Pine Street for two years, has handed the reins of the business over to Peggy and Robert Maw in favor of a less hectic schedule.

"[I sold it] just so I can have more free time," Calhoun said. "That's what it all comes down to."

Deciding to take over as owners just over a week ago, the Maws have decided to change some of the characteristics of the store as well, including eliminating bulk candy sales altogether.

"We really want to focus on the floral," Peggy said. " … We are gonna have some candy, but what we wanna do is flowers and fresh plants."

Having owned the Teton Court Motel, as well as the Sugar Shack, the Maws are not strangers to being business owners, though Peggy said this particular transaction was one of the spur-of-the-moment variety.

During a visit to the candy store the day before Thanksgiving, Peggy said Calhoun had mentioned to her that she would be closing up shop, though it didn't immediately dawn on Peggy that she could take over the space. After getting in her vehicle and driving away, Peggy said it wasn't long before she had an epiphany, turning around and heading back to the store to discuss with Calhoun the possibility of purchasing the shop. "I've always wanted to own a floral shop," Peggy said of her revelation.

Realizing something would be missing if the store were to close its doors completely, Robert said he was in favor of the new business venture as well.

"We hated to see it close down," he said. " … We needed to keep it going." Though she will no longer run the store, Peggy said Calhoun will continue to help out with the flowers.

"I think it's really important because she does really good work," Peggy said of her predecessor.

Having owned a flower shop in Rock Springs for many years, Melody Hoggan will also be doing floral arrangements. With the possibility of offering arrangements for weddings and other special events, Hoggan said GrandMaws' will be able to offer more than any other flower shop in the area.

"There's nowhere else you can get professional floral work," she said, adding that fresh green plants will also be sold. "We can always custom order … we're a fullservice florist."

And with the bulk of the floral season coming up with Valentine's Day in February, followed by Mother's Day in May, Peggy and Robert said they are excited to see how the business prospers. "We look forward to a good season," Robert said.

Having taken over the business on Monday, Peggy has already decorated the store for the Christmas holiday, filling the shop with pre-decorated trees, wreaths and poinsettias, as well as gift baskets and candles. For Peggy, the most important aspect of running the business will be pleasing her customers, and in order to do just that, she said she will need input from community members.

"There's so much that can be done," Peggy said as she gazed around her shop. "I would like feedback from Pinedale. I need to have a better feel for what they would like … They need to let us know what we're missing and what they want to see."

Photo credits: Jennie Oemig

See The Archives for past articles.
---
Copyright © 2007 Pinedale Roundup
All rights reserved. Reproduction by any means must have permission of the Publisher.
Pinedale Roundup, PO Box 100, Pinedale, WY 82941 Phone 307-367-2123
editor@pinedaleroundup.com