From the pages of
Pinedale Roundup
Volume 104, Number 48 - November 29, 2007
brought to you online by Pinedale Online
---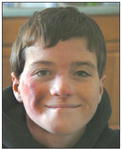 Klay Jones is almost fully recovered from an ATV accident.

'It's a miracle he's even here'

by Alecia Warren

Karen Stepp was especially thankful for one thing in particular at her Thanksgiving feast this year: that her son was alive. The victim of a severe 6-wheeler accident in mid October that left him with a broken arm, broken leg, five broken ribs, a broken shoulder blade, bruised lungs and damage to the vertebrae in his neck, 13-year-old Klay Jones sat down for the holiday meal nearly completely recovered.

"It's a miracle he's even here, it really is," Stepp said. "And he's doing so well — he's doing fantastic."

As relieved as Klay's family is, though, they all agree the past few weeks of the adolescent's recovery were strenuous to watch.

When a Polaris Ranger all-terrain vehicle (ATV) carrying Klay and his friend, 12-year old Nick Gay, suddenly swerved out of control and rolled over twice on Oct. 13, Klay, who wasn't wearing his seatbelt, was Life-Flighted to an Idaho hospital. The next day he was flown to Primary Children's Hospital in Utah for specialized care.

He breathed on life support for eight days to ease pressure from his lungs and facilitate healing, and remained bedridden for another week before returning home in a wheelchair and cervical collar to support his head while his neck recovered.

For the following week and a half, Klay could only rely on rest to heal him, and slept constantly but for intermittent interruptions for more X-rays.

Now Klay, who just turned 13 this month, is all smiles and labels his general comfort level with a satisfied "good." In recent weeks, doctors removed the cast on his right arm and replaced the cast on his left leg with a brace that allows him to walk. The day before Thanksgiving, his neurologist in Salt Lake City removed the cervical collar. He no longer feels pain in his ribs, and X-rays revealed rapid healing.

Now finished with doctor appointments once and for all, the only evidence of Klay's accident is a slight limp from the leg brace, and the crimson road rash covering his right cheek and upper lip.

"The first thing I said to him when he woke up in the hospital was, 'did you like your freckles?'" Stepp recalled with a chuckle. "Klay said, 'well, yeah,' and I said, 'Too bad, because they're gone on one side.""

The rash should disappear soon enough, as long as he continues covering his face with sun block to protect the new skin from burning.

His hands also quiver at times, which doctors predict will fade with time.

Although still unable to attend school because he tires easily, Klay began tutoring with local Talli Manning for two hours a day last week, and he hopes to catch up in time to start school after the new year.

"You'd think it would be really great (to skip school), but I'm scared that when I return to school I'll have fallen really far behind," Klay said.

Yet he doesn't harbor any fear of driving ATVs, and he anticipates hopping back onto a 6-wheeler as soon as he's healed. The accident left a powerful effect on the entire family, Stepp said.

"I'll tell you it's been the most significant in how grateful I am to God — it's almost completely changed my life in how I believe in the power of prayer," Stepp said. "And we all wear seatbelts now."

The family recently returned from a weeklong Hawaii vacation, which Stepp insisted on including Klay, and she dubbed it the best vacation of her life.

"It was way, way worth it to bring Klay, just because I knew he was alive and with me, and I could turn around and see his face and his eyes," she said. "I think his eyes just sparkle when I look at him now."

The Polaris Ranger that the boys lost control of, however, is not in equally good shape, the roll bar bent far out of place. When asked if they would buy another Ranger soon, Stepp's eyes widened. "Not for a while, I think," she said with a nervous laugh.

Klay shrugged, however. "We could probably fix the old one, anyway," he said.

Photo credits: Alecia Warren

See The Archives for past articles.
---
Copyright © 2007 Pinedale Roundup
All rights reserved. Reproduction by any means must have permission of the Publisher.
Pinedale Roundup, PO Box 100, Pinedale, WY 82941 Phone 307-367-2123
editor@pinedaleroundup.com