From the pages of
Pinedale Roundup
Volume 104, Number 44 - November 1, 2007
brought to you online by Pinedale Online
---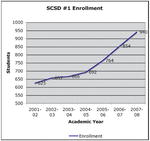 The Sublette County School District #1 has seen enrollment steadily increase in all of its schools.

Schools continue to grow

by Jennie Oemig

With the 2007-08 academic year under way, the enrollment, which is at its highest in Sublette County School District (SCSD) #1 history at 940, is expected to continue rising in the upcoming years, prompting school officials to begin preparing for the increase now.

At the beginning of the 2006-07 school year, the enrollment was at 854 and two years ago, only 764 students were enrolled in the district, Executive Secretary to the Superintendent Sharron Ziegler said.

And this increase is not something that comes as a shock to school district officials. "We've known that we're growing," she said, adding that there is no way to predict how many students will be enrolled at this time next year, though it is anticipated to be greater.

The middle school was impacted the most by the rise in enrollment this year, but that was due in part to another shift within the district, Ziegler said.

The fifth-grade class, which has 95 students, was relocated into the new fifth- and sixth-grade facilities. The elementary school was full and, with enrollment on the rise, it was something the district needed to do to accommodate those students, Ziegler explained. "We're just starting to use it this year," she said.

Middle school Principal Kevan Kennington said he is very pleased with the new facilities. "They're very, very functional," he said, adding that the technology has been a great help for the teachers. "It's beautiful." But, even with the new facilities, accommodating those extra students has not been easy.

"It's been quite a task for all of us to come together [to work out schedules]," Kennington said, adding that at times all of the classrooms are in use. " … We don't have a lot of room."

And the idea of more growth is something that may seem daunting, but Kennington said it shouldn't be a problem.

"I think we're going to have more growth, but we'll be able to handle it," he said. Superintendent Doris Woodbury said the district is doing everything it can to prepare for another increase next fall.

"The biggest issue is the teaching staff,"she said, adding that the district wants to hire enough teachers to accommodate the influx, but not too many. "We're being really sensitive." And with more students, there have been instances when teachers have had to instruct extra classes.

"We do have two teachers in the middle school that have additional sections," she said. "They have less prep time than other teachers and we're compensating them for that. We try to avoid that. It's not optimum." With the potential for further growth, class sizes and student-teacher ratios are on the minds of school officials.

"We monitor class sizes all the time to see how crowded we're becoming," Woodbury said.

The goal is to keep the class sizes in the low-20s, and once that number reaches 25, Woodbury said that those particular classes are watched very carefully.

Para-educators have also been brought into assist those teachers who do need extra help with their classes, Woodbury explained. During the 2008-09 academic year, Woodbury said the current eighth-grade class, with over 100 students, is bigger than this year's outgoing senior class, so the district is already looking into that.

"We'll need additional help at the high school level," she said, adding that the possibility of having five freshman English classes instead of three is definitely an option. Already preparing for the potential increase in enrollment next fall, Woodbury said the Wyoming School Facilities Commission is looking into getting modulars for the high school.

"Growth is on our minds all the time," she said.

When trying to forecast just how much growth can be expected, Woodbury said that the district usually anticipates between a 10 and 13 percent increase, which is significant. Though the workers in the gas fields bringing their families to the area may be a major reason for the influx, Woodbury said other families come and go as well. "Growth and economic vitality is always good for a community," she said. And Kennington could not agree with Woodbury's sentiments more.

"I think [growth] is good for the community," he said. "We have great students, great parents, great teachers … the school is the community."

Looking ahead, Woodbury said it would not be out of the ordinary if the current enrollment increased again before the end of the 2007-08 academic year.

"I would not be surprised if enrollment was up to 1,000 by the end of the year," she said. " … We've lost a few, but we've gained more than we've lost."

Just last week, Woodbury said the elementary school enrolled 13 new students.

"It's dynamic. It's changing all the time," she said of the fluctuation of students. "We just try to be flexible and be creative."

See The Archives for past articles.
---
Copyright © 2007 Pinedale Roundup
All rights reserved. Reproduction by any means must have permission of the Publisher.
Pinedale Roundup, PO Box 100, Pinedale, WY 82941 Phone 307-367-2123
editor@pinedaleroundup.com