From the pages of
Pinedale Roundup
Volume 104, Number 43 - October 25, 2007
brought to you online by Pinedale Online
---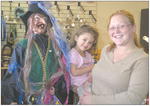 Mandie Calhoun, owner of Mandie's Candies in downtown Pinedale, will hand out free treats on Halloween with some help from her 3-year-old friend Willow Wilkes. Photo by Mary Billiter

Safety a good theme for Halloween

by Mary Billiter

Phylis Stevens had one goal this Halloween season.

"I tried to find costumes that kids could wear warm clothes underneath, like sweats and thermals, so they could stay warm," said the general manager of Faler's.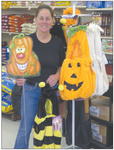 Phylis Stevens shows off some Halloween gear at Faler's. Photo by Mary Billiter

Stevens not only achieved this goal, she went one further.

"I found these tattoo shirts for the older kids. So if you've ever wanted a tattoo you can get one and they're painless," she said and found herself laughing. The silk-like, flesh-colored longsleeve shirt is riddled with red and black tattoos to give the look of being inked, without the permanence.

"And, if you don't like it, you don't have to worry about covering it up," said Stevens, who took consideration in the pricing of costumes.

"You can get a real cute costume for under 20 dollars," she said. From Disney princesses to the standard Halloween witch, Faler's has costumes for all tastes.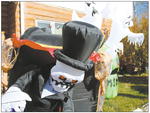 This ghoulish caravan sits in front of Teton Court. Photo by Jonathan Van Dyke

"I've always been a kid at heart and Halloween is that one night when kids get to use their imagination and be Cinderella if they want to," said Stevens, who didn't limit the costumes to just children.

for the teens. We wanted to make it worth going out on Halloween so we got a bigger selection this year," said Stevens. Dog suits to outfit your pup are stacked next to crazy colored wigs and bewitching makeup. Stevens sees Halloween as an opportunity for family and friends to participate in a time-honored tradition.

"It's the one night out of the year that the kids get to go out and be part of something and that's important."

Sublette County Undersheriff Jim Whinnery couldn't agree more.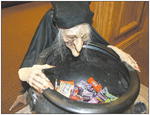 Those adventuresome enough to reach into this witch's cauldron may find a special treat at the First State Bank of Pinedale. Photo by Jonathan Van Dyke

"We want the kids and the parents to have a fun and safe Halloween," he said. "Be careful, especially for adults driving. We need to be extra careful for kids in the street."

While the Sheriff's Office usually beefs up patrol on Halloween, Whinnery said there usually aren't problems.

"At times, we get the juveniles that do egg throwing and pumpkin smashing and it'll be treated in the same way as in the past. It won't be tolerated," he said. "But usually things go fairly well."

The Sublette County Sheriff's Office provides a list of Halloween Safety Tips that range from using makeup or face paint instead of masks for better visibility to the standard treat check by an adult.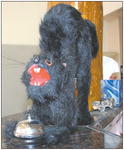 Patrons of the Sundance Motel might be forced to cross paths with this black feline monitoring the front desk. Photo by Jonathan Van Dyke

"We always recommend that before a young child eats their candy that a parent or supervisor check the packaging for tampering," said Whinnery, who offered these suggestions. "Anything that looks suspicious or out of place. If the wrapper is undone or has been resealed, open it up and examine it for foreign objects."

The other safety tip that Whinnery stressed was the importance of staying within your neighborhood and only visiting homes you know.

"If you go only to houses of people you know, you trust them and there's no problems. With a strangers' house, you don't know them," said Whinnery, who advocated the use of carrying cell phones on Halloween. "The older kids sometimes want to go out on their own and most of them have cell phones. They need to have them with them."

The prime trick or treating hours typically fall between 5 p.m. and 8 p.m. For those parents who'd rather not brave the cold door-todoor festivities, Whinnery suggested checking out the offerings at local businesses throughout town. BP America will be hosting its annual Halloween Party at Rendezvous Pointe from 2 p.m. to 8 p.m. on Halloween night, Wednesday, Oct. 31. The Sublette Center will also be hosting its 16th Annual Safe Trick or Treat Nite from 5:30 p.m. to 7:30 p.m. Mandie's Candies will be opening its doors to trick or treaters on Halloween at 5 p.m. for free goodies.

"It's fun to see all the little costumes," said owner Mandie Calhoun, who will be dressing up for the occasion.

"I'm going to be a peacock," she said laughing. A plume of emerald peacock feathers is only the start of her costume. "It's just fun. It's the one night to dress up however you want," she said.

With barrels overflowing with candy and life-size talking witches, Mandie's Candies is the place to be this Halloween night. "We have toys. Good toys," said Willow Wilkes, who will also be dressed as a peacock to help Mandie hand out treats. "I like the feathers."

Though the 3-year-old is sure to be the best-dressed peacock in Pinedale, Halloween is more than just what you wear. "It's the candy," she said, pointing to a barrel full of brightly colored taffy. "Lots and lots of candy."

See The Archives for past articles.
---
Copyright © 2007 Pinedale Roundup
All rights reserved. Reproduction by any means must have permission of the Publisher.
Pinedale Roundup, PO Box 100, Pinedale, WY 82941 Phone 307-367-2123
editor@pinedaleroundup.com