From the pages of
Pinedale Roundup
Volume 104, Number 42 - October 18, 2007
brought to you online by Pinedale Online
---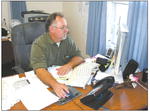 Randy Johnson, the Sublette County Rural Health Care District's media and marketing specialist, works at his office desk.

Johnson: County health care in good shape

by Jonathan Van Dyke

Randy Johnson is the spokesperson of the Sublette County Rural Health Care District. More specifically, he's its media and marketing specialist, and the singular person as far as getting to the bottom of what the governmental arm has been doing for the past few months.

According to Johnson, the health wing of the county is functioning better than ever, thanks to an ever improving organizational structure, and a membership that is committed to doing things the right way.

"There are few things in the community that people have such strong opinions and strong feelings about than their health care," he said.

The difference between the past and present couldn't be more evident to Johnson and that's a big reason we're not hearing as much about it, he said.

In the past, a five-person board was elected, and it was in charge of day-to-day operations.

"That is an inefficient way to do it, and that can be disastrous," Johnson said. Three years ago, however, the board decided to create a director position.

"For lack of a better term, they bureaucratized the system," he said.

Johnson was the man for the job.

"I used to get a lot of mileage by saying my job, at the time, was to put a fence around the whirlwind," Johnson said. "Literally, it was to formalize and put some structure into the district."

Shortly after he arrived, the district took on the business of running clinics. "With that change of emphasis came an awful lot of responsibility that a lot of us were unprepared for, and a learning curve that was near vertical."

At that point, the district added a medical administrator position. Kip Boone took the position in April of this year. With a changing of the guard organizationally and theoretically, Johnson thinks things have changed considerably since he began working with the district, in part to everyone involved. "Everybody knew that the health care district meetings were sometimes a free-for-all, always contentious, and at other times the reason you came on this board was because you wanted some entertainment value," he said. "It's no longer like that."

The district now has someone in place that can run it, chief financial officer Lorraine Gatzke, along with department heads, supervisors, policies and procedures, and formalized job descriptions, Johnson said.

"We now have all the structure in place that has needed to be in place," he said. "[The board] has been released of their responsibilities of day-to-day operations, which they should never have been in to begin with. And now they are in a policy and oversight responsibility position, and it is working marvelously."

Under the current configuration Johnson, Gatzke and Boone are in charge of most of the day-to-day operations.

"When the board hired Kip, at the time, it was a huge leap," Johnson said. Johnson said he understands that back then, and maybe even now, people have been quite skeptical in the operations of the district.

"[The board] basically went against whattheir constituents, rather vocally, told them," he said. "They said 'no.' [The board] did their homework and commissioned a study of whether we ought to do this, and bucked the tide of public opinion."

Johnson was very complimentary of both the board and Boone in transitioning the day-to-day operations.

"I've never seen or worked with a person that had a greater capacity to manage information mentally in so many different ways and still maintain the big picture," Johnson said of Boone.

The district, with the efforts of Boone and all the other members, has invoked somewhat of a business model that brings a necessary structure to the proceedings, Johnson said. Electronic health records are on the horizon.

For Pinedale, fruits of labor will be blossoming in mid-December when the Pinedale Medical Clinic has its grand opening. "The Pinedale Medical Clinic has served [the area] absolutely stellar since the late 1970s," Johnson said.

The clinic is not a hospital, but the efforts of the district are preparing it for more uses than ever once it is finished.

"A clinic doesn't have near the emphasis on urgent care because you have a hospital down the street, but for us, down the street is at least an hour and a half away," he said. The new clinic will be more trauma-ready and surgery-oriented than ever before, to make sure patients are stabilized before, or if, they need moving.

"We're going to be able to diagnosis better," Johnson said. "We have an absolute state-of-the-art lab that serves several functions." The new clinic will have a CAT scan, an expanded family practice and employees who are trained and ready for "anything coming down the pipe," Johnson said. "We now have doctors that have experience with those things, and doctors whose vision of this area is broad enough that, of course, we need that kind of technology, because it will enhance our diagnostic capacity to the point where we don't have to just float everybody out there," he said. "We'll be able to decide: this group of people, you have to go, and this group of people, you're going to be OK, and we'll treat you differently, instead of having the wholesale stabilizing transport."

Johnson notes that the district has a four point agenda as it looks forward.

The first is the continued handling of construction, whether it be the Pinedale Clinic or the new clinic being built for Big Piney and Marbleton.

Johnson and the board are also continually looking for personnel.

"It takes a pretty special type to live and work in Sublette County," he said. "Right now we have a care of providers here that are second to none, anywhere."

The district must also be wary of the responsibility of fiscal management, especially as it continues to take over private practices. Finally, the district is looking for Rural Health Care Clinic status from the government. Gaining this status would not only give it increased government oversight, but also enhanced reimbursement from Medicare.

For Johnson and his colleagues, things are looking up for an organization that was once described as tumultuous. It even unveiled a new logo during its last meeting.

"It's absolutely the combination of events, experiences and influences that have come together at the right time," Johnson said.

Photo credits: Jonathan Van Dyke

See The Archives for past articles.
---
Copyright © 2007 Pinedale Roundup
All rights reserved. Reproduction by any means must have permission of the Publisher.
Pinedale Roundup, PO Box 100, Pinedale, WY 82941 Phone 307-367-2123
editor@pinedaleroundup.com