From the pages of
Pinedale Roundup
Volume 104, Number 39 - September 27, 2007
brought to you online by Pinedale Online
---
Obituaries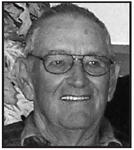 MELVIN LESTER MCLOUGHLIN
MELVIN LESTER MCLOUGHLIN
Melvin Lester McLoughlin, 73, passed away at his home on Sept. 21, after a long and valiant battle with cancer.
He was born in Pinedale, Wyo. on August 9, 1934, to the late James T. and Alice Pape McLoughlin. He lived his whole life along the Green River north of Daniel, Wyo. On June 30, 1954, he was united in marriage to Betty Lou Hecox at the Chapel of Transfiguration in Moose, Wyo. To this union were born their three children, LaDonna, Jim and Cindy.
Melvin was a versatile man whose profession changed as he watched Sublette County change. He started life as a rancher on his family's homestead. In 1969 he built and owned The Place Restaurant and Bar in Kendall Valley. Melvin was influential in bringing Polaris snow machines to Sublette County and was the first owner of a Polaris retail shop in Wyoming. Melvin moved forward to become proprietor and operator of his own sawmill and lumber company. In 1980 he established McLoughlin & Son Partnership with his son, Jim. Together they built barns and log homes the length of Sublette County. Melvin also established and managed the M&M Transfer Co. that is now owned and operated by his daughter LaDonna and grandson Ryan McGuire. In 1990, Melvin and Jim created McLoughlin Construction and Melvin changed the focus of his profession yet again; this time his work being mainly dirt excavation and road building. He remained a part of this business until his illness recently forced his retirement. In addition, Melvin had a big influence on the growth of the White Pine Ski Resort and was recently presented with an Honorary Director's Award.
Melvin is survived by his wife, Betty Lou; his daughter, LaDonna McLoughlin; his son Jim and his wife, Sandra McLoughlin; his daughter Cindy and her husband, Justin Jones; his four grandchildren, Ryan McGuire (Marie), Andrea and Casey Jones, and Isabelle McLoughlin; and his great-granddaughter, Mae McGuire. In addition to his parents, he is preceded in death by his uncle, L.G. (Whitey) McLoughlin.
Funeral services will be held at 2 p.m., Thursday, Sept. 27, at St. Andrew's Episcopal Church in Pinedale with a gathering of family and friends immediately following the service downstairs at the church. In lieu of flowers, donations in Melvin's honor can be made to: Kickin' Cancer of Sublette County and/or the Sublette County Home Health.
---
HAROLD GENE (HAL) MORRIS
Harold Gene (Hal) Morris, our beloved husband, father and grandfather, at age 75, returned to his Heavenly home on Sept. 17, from his home in Bondurant, Wyo.
He was born March 29, 1932, in Denning, Ark. The only son of Carl and Mary Morris, he married Charlene Sudweeks on Oct. 28, 1964, in Evanston, Wyo. They are parents of a daughter, Cindy Anderson, a son, Brett Earl (Sharon) Morris and a grandson, Chad Z. Cox. He served his country proudly in the 10th Army Infantry Division during the Korean Conflict from 1950 to 1952. He was employed with the Williams Company in the gas dispatching department, engineering and right-of-way department. He was a member of American Legion Post 71 in Salt Lake City. He enjoyed hunting, fishing, gardening and travel. He loved winters in Los Barriles, Mexico.
He is survived by his wife, children and grandson. He was preceded in death by his parents and grandparents. A memorial celebration of his life was held on Sept. 22 at The Church of St. Hubert the Hunter in Bondurant. Memorial contributions can be made to Bondurant Community Club, P.O. Box 71, Bondurant, WY 82922.
See The Archives for past articles.
---
Copyright © 2007 Pinedale Roundup
All rights reserved. Reproduction by any means must have permission of the Publisher.
Pinedale Roundup, PO Box 100, Pinedale, WY 82941 Phone 307-367-2123
editor@pinedaleroundup.com