From the pages of
Pinedale Roundup
Volume 104, Number 38 - September 20, 2007
brought to you online by Pinedale Online
---
Obituaries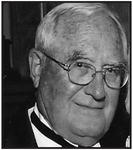 CHARLES "CHUCK" L. CONRAD
CHARLES "CHUCK" L. CONRAD
Charles "Chuck" L. Conrad, 74, of Polson, Mont., and Denver, died at his Finley Point property on Sept. 12, as a result of a farming accident.
Chuck was born on April 16, 1933, in Gurley, Neb., to Carl L. and Marjorie Conrad. He was raised in the Dayton-Ranchester area on the Powder River Ranch in Wyoming. He attended a one-room schoolhouse and attended high school in Gillette, Wyo. He graduated from Campbell County High School as valedictorian. He received a full ride scholarship to the University of Wyoming and graduated Sum Cu Laude with a Bachelor of Science in geology.
Chuck went on to work for Amoco Oil until he was drafted into the U.S. Army in 1956. He served in the U.S. Army Map Service in Washington, D.C., and was eventually honorably discharged in 1958. He returned to work for Amoco in Alaska. He married Sarah Burridge in 1961. He continued working for Amoco and transferred to Denver where he retired in 1989.
Chuck continued to be involved in various business ventures and eventually came to the Flathead Valley to pursue farming and operating an orchard on his land on Finley Point. He and Sarah still returned to Denver every fall. He always enjoyed sharing his produce at the local farmer's market. He also enjoyed his "hunt and lunch" buddies in Denver. He also had many dear friends and neighbors in the Polson community that loved him and he loved them. Chuck's life motto was "kindness, hard work and perseverance will take you through life."
Chuck loved to hunt, fish, garden and teach his grandchildren and his nephew about geology. He was the best husband, father and grandfather. Chuck never said an unkind word about anyone. He is preceded in death by his parents, a brother, Clayton Robert Conrad, and nephew, Danny Conrad.
He is survived by his wife, Sarah of Polson and Denver; daughters Katherine Conrad of Pinedale, Wyo. and Natalie Classen and her husband, Roger, of Denver; Grandchildren Ahna, Kaycee and Tomara all of Pinedale. He is also survived by his best buddy who rode shotgun, his redbone hound, "General Sherman."
In lieu of flowers, send memorials to the Museum of Natural History in Denver in Chuck's name.
Funeral mass was held on Monday, Sept. 17 at 10 a.m. at the Holy Name Catholic Parish in Sheridan, Wyo. Interment with military honors will follow at Sheridan City Cemetery. A reception will follow the services.
A memorial service was held on Wednesday, Sept. 19 at 10:30 a.m. at the St. Peter & Paul Catholic Church in Wheatridge, Colo. A reception followed the services. Arrangements are by Grogan Funeral Home, Polson & Champion-Ferries Funeral Home in Sheridan.
---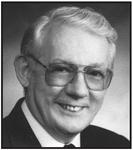 EDWARD A. JOCHUMSEN
EDWARD A. JOCHUMSEN
Edward A. Jochumsen, 78, passed away Friday, Sept. 14, in Pinedale, Wyo. Edward was born March 18, 1929, in Waterloo, Iowa, the son of Edward and Ingaborg Jochumsen. He graduated from high school in 1946 and traveled to Sweden with his family, where his father, mother and sister, Ann, resided near Norkopping. He returned to the United States in 1947 and enrolled at the University of Iowa. It was there he met his wife–to-be, Norma Strunce. They were married Dec. 28, 1952, in Creston, Iowa. He graduated from Iowa with a degree in business in 1951 and enlisted in the U.S. Army the same year. He served in Korea for eighteen months, most of the time in the IX Corps Headquarters, where he served as sergeant major of the operations and planning division.
Upon returning home Edward joined the family business in Waterloo for a period of three years. He then returned to the University of Iowa where he earned a Master of Arts degree in 1959 and his Ph.D. in 1964. After a year as an instructor of business at the University of Iowa, he joined the faculty of the College of Business at the University of Wyoming (UW) in Laramie in 1961.
Edward retired from UW in 1986 as a full professor. He then returned again to Iowa so his wife Norma could receive medical treatment closer to their families. She preceded him in death in 1994. During this time he taught at Buena Vista College in Storm Lake, Iowa, and subsequently at the University of Dubuque where he ended his teaching career in 1996 and returned to Wyoming, making his home near Pinedale for the last years of his life.
Among the organizations to which Edward belonged was The American Legion, Veterans of Foreign Wars, Disabled American Veterans, Kiwanis where he was a past lieutenant governor, Ducks Unlimited and Pheasants Unlimited, National Rifle Association, American Numismatic Association, University of Iowa Alumni Association, Board of Directors of the Dubuque Symphony Orchestra, and several academic associations. Up to the last months of his life he was an avid outdoorsman, fisherman, hunter, sailor and wilderness camper. As per his wishes, cremation has taken place and memorial services are pending. Arrangements are under the direction of Covill Funeral Home in Pinedale, Wyo.
---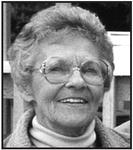 BETTY G. WELCH
BETTY G. WELCH
Betty G. Welch, 77, of Lander, Wyo., a real Wyoming girl, died Sept. 11 at her home on North Fork Road near Lander. According to her wishes, cremation has taken place and a celebration of her life will be held later this month.
Betty Gene Caster was born Oct. 12, 1929, in Guernsey, Wyo., to Eugene Ray and Ella Cecilia (McChesney) Caster. Betty grew up in various Wyoming railroad communities including Powder River, Madden, Glenrock and Guernsey.
Her father worked for Chicago, Burlington and Quincy Railroad. She graduated from Glenrock High School in 1947. In 1962 she married Arthur Jack Welch in Casper, Wyo. They moved to Lander in 1980 from Ten Sleep, Wyo. Betty worked at the Flagstaff Motel and Café in Ten Sleep where she had a great time working with good friends. She had also worked in many drug stores as a clerk in various Wyoming towns such as Pinedale, Carlin's Drug in Glenrock, and Corner Drug in Lander, where she became good friends with Myrtis Logan. She also worked for First National Bank of Casper and the Variety Store in Pinedale. At the County Assessor's office in Pinedale, she enjoyed years of work with her dear friend Miriam Carlson. She befriended her husband's acquaintances in his profession as a big game biologist and loved the give and take banter with many of them over the years and across the state.
Her family said she was a leader for Campfire Girls and Girl Scouts. She was also a past president for the Sublette County Wildlife Federation and a member of the National Bighorn Sheep Interpretive Center in Dubois, Wyo. She enjoyed wildlife, the outdoors and being able to live in nature's backyard. She also enjoyed gardening, taking care of her horse, Eppie, and visiting with family and friends.
Mrs. Welch is survived by her husband, Jack, of Lander; son Chris Kennaugh and wife Pat of Nederland, Texas; daughters, Lisa Sweeney and husband Joe of Barnegat, N. J., and Kay Lewis and husband Stephen of Houston; grandson, Todd Kennaugh; great grandson, Stephen Luke; brother, Eldon Ray "Jack" Caster and wife Mary Ann of Missoula, Mont.; brother-inlaws, Jerry Welch of Thermopolis, Wyo., Donny Welch and wife Pat of Orin Junction, Wyo.; sister-in-laws, Linda Olson and husband Buck of Converse County, Wyo., Lorraine Moore and husband Kenny of Casper, Wyo.; along with a host of friends she stayed close to in the communities she lived. She was preceded in death by her parents, and brother-in-law, Bill Welch.
Online obituaries are available and condolences for the family may be made at thedavisfuneralhome.com.
A celebration of life for Betty will be held at the Hangar Room, Natrona County Airpor in Casper on Sept. 23 at 1 p.m. Memorials may be made to the Little Wind Hospice, Girl Scouts, or donor's choice, care of Davis Funeral Home, 2203 W. Main Street, Riverton, WY 82501. Arrangements are under the direction of the Davis Funeral Home.
See The Archives for past articles.
---
Copyright © 2007 Pinedale Roundup
All rights reserved. Reproduction by any means must have permission of the Publisher.
Pinedale Roundup, PO Box 100, Pinedale, WY 82941 Phone 307-367-2123
editor@pinedaleroundup.com