From the pages of
Pinedale Roundup
Volume 104, Number 33 - August 16, 2007
brought to you online by Pinedale Online
---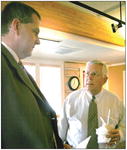 William Kuhl, President of the First State Bank of Pinedale, was one of many locals to approach Senator Mike Enzi during the ice cream social that followed a town meeting.

Enzi plays the field in town hall meeting

by Alecia Warren

More than 30 citizens from across Sublette County milled into Senator Mike Enzi's Town Meeting on Friday at the Sublette County Library, one of Enzi's stops on a tour across Wyoming to hear local opinion and questions.

Filling the seats in the room, citizens confronted the senator with concerns about land use, conservation and energy issues, to which the portly senator responded with hands clasped politely behind his back while promising that he would take their problems with him to the congressional floor.

Before turning his presentation over toquestions, the gray-haired legislator discusseda handful of bills he recently submitted to Congress, including a healthcare reform policy that would help small companies gain insurance and would fund technology development so patients could transport their medical records on portable cards.

But audience members voiced other concerns. One man demanded to hear the senator's opinion about the Bureau of Land Management's (BLM) "fast track" policy with permitting and leasing land for drilling before completing a Resource Management Plan (RMP) that was promised five years ago.

"It's akin to me building a house and giving 10 construction workers a few 2-by-4s and telling them get at it, and we'll give them the architectural plans in two or three years," the man said. Assuring that he had experienced similar land-use conflicts as mayor of Gillette from 1974 to 1982, shortly after the towndiscovered it was oil rich, Enzi promised that he and other congressmen try to influence federal agencies to put local opinion first in concern to public land leasing. Ron Rhyne and Leslie Schwabacher, members of a group of landowners in and around the Upper Green River Valley working to protect the area from oil and gas development, also questioned congressional involvement with conservation issues.

"What's the purpose of having pristine areas (in the north) drilled when there's plenty of gas not drilled yet in the south in the Jonah Field and the anticline?" Rhyne asked.

Enzi responded that Pinedale needs to prepare for when the U.S. "hits the wall" with energy consumption and other states will jump to take all of Wyoming's mineral resources, but the senator agreed he wants his children and grandchildren to enjoy the same open Wyoming landscape that he did in his youth in Yellowstone.

"I don't think everything should be blanketed under a moratorium, but we should be careful to put consideration into what can be saved," the senator said. Schwabacher mentioned recent problems with water contamination from leaking drilling fluids.

"Can you do anything to make sure gas and oil companies comply with rules of drilling?" she asked. "Yes," the senator said, and chuckled as he clasped his hands silently. "How?" Schwabacher prodded.

Enzi replied that appropriations for the BLM come up for review annually, and at each interval the senator meets with bureau representatives to ask what they need to manage issues properly.

"I can tell them, 'I heard about this water problem around Pinedale, do you need money to clean that up?' And they'll probably say, 'yes,'" Enzi said. "So let me knowabout problems like that and we can put pressure on them to take care of that." Cora resident Jocelyn Moorte said she was satisfied with the senator's answers as she tasted a root beer float at the ice cream social following the meeting.

"I think that it's wonderful that we have two senators like any other state, and they are responsive to us," Moorte said. "This is a wonderful event for us to come to." The senator said he was pleased to see so many locals participate in the meeting. "A lot of these meetings are a measure of intensity as well as direction, and there were a lot of passionate people there," he said. People weren't afraid to approach him with personal issues as well, Enzi said, and he took some individual casework from the meeting, though he couldn't specify with whom.

"It's important we show people that they can do that — come to us so we can use our connections to solve their problems," Enzi said. "We can't solve them all, but we can solve a lot."

Photo credits: Alecia Warren

See The Archives for past articles.
---
Copyright © 2007 Pinedale Roundup
All rights reserved. Reproduction by any means must have permission of the Publisher.
Pinedale Roundup, PO Box 100, Pinedale, WY 82941 Phone 307-367-2123
editor@pinedaleroundup.com