From the pages of
Pinedale Roundup
Volume 104, Number 30 - July 26, 2007
brought to you online by Pinedale Online
---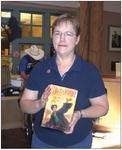 Librarian Jenny Gunn holds her copy of the new Harry Potter book.

Harry Potter in Pinedale - Waiting list at library

by Mary Billiter

Potter-mania swept through Pinedale last weekend, with the release of "Harry Potter and The Deathly Hallows." The final book in the series arrived at the Sublette County Library in Pinedale just in time for eager reading fans.

"I heard it was supposed to be good," said Dustin Timm. The 11-year-old was one of the first patrons to visit the library Saturday morning.

"I was hoping to maybe check it out," he said when he eyed the six copies on the front desk.

Timm will get his chance after the 12 patrons on the waiting list read it first. "People started calling in January to get on the list for this book," said librarian Jenny Gunn, who admitted she was surprised the list wasn't longer.

"I think a lot of people buy their own copy because they can't wait," she said and then smiled a bit embarrassed. "My book came in this morning's mail. I ripped the box open on my way in. I wanted to have something to start reading this afternoon at lunch." Gunn is not alone in the anticipation of reading Harry's final goodbye. The boy wizard has captivated worldwide attention since its debut in 1990. Author J.K. Rowling told the Associated Press that two major characters will die and has begged the public not to give away the ending to her seventh and final Potter book. That hasn't stopped readers from speculating.

"I think Dumbledore and maybe Ron (Weasley) die, but I'm not sure," said Timm. The future sixth grader was hopeful the series wouldn't end with Harry's demise. "I don't think the author would do that to us." A sentiment echoed by Gunn.

"I really don't want it to be Harry. That would be a really bad ending." The librarian offered her prediction. "I think it'll maybe be Snape and probably the young Malfoy." Middle-school counselor Jim Mahaffey didn't weigh in on the demise. He leaves that for his students.

"The kids were reading Harry Potter and talking about them so I started, then I got hooked."

Mahaffey called Pinedale home for two decades, but now summers here. When the school year starts he heads to Islamabad, Pakistan where he is a guidance counselor. Being well versed on all wizardly things keeps him in touch with his audience. "It brings up interesting discussions about religion, especially being in an Islamic county and how it affects people," said Mahaffey, who views J.K. Rowling's series as having a positive impact on kids.

"What I see with the Harry Potter books is that the students are interested in reading. As adolescents and in that puberty age when video games and computers call to them, this sparks them to read more."

Pinedale Children's Librarian Nancy McDaniel has seen first hand the popularity of Potter. "It has gotten children interested in books." McDaniel, who headed up this summer's, "Get A Clue at Your Library," favors any venue that gets kids and adults into a book. "We had a mystery-themed program and it re-introduced kids to Nancy Drew. There's so many wonderful books. We have classics, adventures, many books to choose from." So if you're waiting for your turn to plug into the next Potter book, McDaniel's offers this suggestion.

"Don't lose patience. Grab one of the earlier books and get caught up with where the action left off so you'll be ready for the exciting conclusion of Harry Potter."

Sublette County Library at Pinedale is open Monday through Friday from 10 a.m. to 5:30 pm and evenings Monday through Friday 7 pm to 9 pm. Saturday hours are 10 am to 5 pm. The library is closed Sunday. For more information or to add your name to the list for "Harry Potter and The Deathly Hallows" please call: 367-4114.

Photo credits: Mary Billiter

See The Archives for past articles.
---
Copyright © 2007 Pinedale Roundup
All rights reserved. Reproduction by any means must have permission of the Publisher.
Pinedale Roundup, PO Box 100, Pinedale, WY 82941 Phone 307-367-2123
editor@pinedaleroundup.com