From the pages of
Pinedale Roundup
Volume 104, Number 29 - July 19, 2007
brought to you online by Pinedale Online
---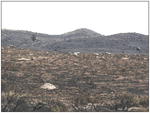 The 1,044 acres burned by Pole Creek resembled the aftermath of a volcano after the fire was controlled Sunday.

Fire could have been disastrous

by Alecia Warren

The Pole Fire that began on state land near Fayette Ranch at noon on Thursday, July 12 burned 1,044 acres before an interagency crew contained it on Saturday and controlled it on Sunday.

The blaze still burned for days afterward, and had yet to extinguish on Monday, when 55 crewmen continued to monitor the area for flare-ups.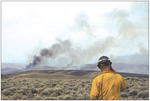 Firefighters from the Bridger-Teton National Forest Service were only one of many organizations that contributed to the collaborative firefighting effort. Other forces present included two service crews from the state, and several fire engines from Sublette County and the Bureau of Land Management.

The Pole Fire only bore a serious threat to Pinedale citizens on Thursday, however, when it was dubbed the second priority in the nation and left more than a thousand people without power and required 180 people from campgrounds and seven subdivisions around Skyline Drive to evacuate.

Burning a mile and a half east of town, the closest fire to Pinedale since 1996, the Pole Fire worried personnel last Thursday as a strong easterly wind fanned the flames toward downtown Pinedale, huge black plumes of smoke rising into the sky that were visible for miles.

The sagebrush and grass that cluttered the foothills east of Pinedale fueled the fire rapidly, said Mary Cernicek, spokesperson for the Bridger-Teton National Forest. "You might say, 'I would think sagebrush would burn slower than a dead tree, but not necessarily," Cernicek said, adding that the fire showed extreme behavior all day Thursday. "It's relative, humidities were very low and things are extremely cured out, so when there's not a lot of moisture and there are many fuels, it doesn't matter what you're talking about."

As the patches of fire hop-scotched between private land and land owned by the Bureau of Land Management (BLM), control of firefighting passed into the hands of a hodgepodge of organizations. Although fire information officers couldn't name the precise number of personnel that contributed, the workforce included: two hand crews from the state, several engines from the Rock Springs and Rawlins BLM departments, engines from the Bridger-Teton National Forest Service, and engines from Sublette County.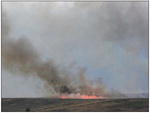 Before rain helped personnel contain most of the fire Thursday night, the blaze flared as bright as it had all day.

A red-and-white interagency helicopter dumped water on the flames from early afternoon Thursday into the evening, and four air tankers from Pocatello, Id. arrived around 7:30 p.m. on Thursday within half an hour of being called.

The planes soared slowly across the smoky sunset and opened their massive bellies to release waves of red retardant late into the night.

Whenever a fire burns so close to town, complications over local welfare pile up fast, Cernicek said, but officials and volunteers in the Pinedale community worked quickly to establish order.

The Sublette County sheriffs closed Skyline Drive Road in the evening, barring the entrance with their trucks to protect locals from the flames and to clear the roads of onlookers so fire engines could pass through.

Members of Tip Top Search and Rescue fanned out to inform vacationers and locals about mandatory evacuations at the north and south ends of Fremont campgrounds, Lakeside Lodge and several residential subdivisions. "It was really scary," said Dustin Witcher, an employee at Lakeside Lodge Resort and Marina. Witcher stood on the docks with the rest of the staff before sunset on Thursday and watched the flames crawl down the hill across Fremont Lake to the right of the Lodge. "I thought this place was toast." Only seconds after the flames came into view, a sheriff drove up to the Lodge and demanded everyone to leave.

"It was split second, it all happened in a blur," Witcher said, adding that he only had time to grab a few beers as the sheriff gave them the vague directions to wait in town. "When we drove out and turned onto the road, there were flames coming onto the road. They were pretty high."

If the wind had carried the flames only about 200 yards further around the rim of Fremont Lake, the fire would've consumed the business that Greg Ptasnik had run for 15 years.

"It's amazing how wind and fire is so unpredictableand so quick," Ptasnik said. "I really only had time to think about getting people out."

After knocking on cabin doors and telling guests to leave, Ptasnik hopped into one of the Lodge's rental boats and joined Tip Top Search and Rescue members zipping across the lake to transport campers who couldn't evacuate via the closed road.

Sheriffs and volunteers established a central shelter in the Pinedale High School and also housed evacuees at Rendezvous Pointe and the Marina docks, where the water acted as a natural barrier.

"I've been near two other large wild land fires, and this beat them both," said mayor's assistant Lauren McKeever, referring to a 1994 fire in Kelly and a 2001 fire in Wilson, where the fire was located in a timber region and much closer to locals' homes.

"It's not often you only have a 10-minute warning (to evacuate). This came very close, very fast, and felt very dangerous." A volunteer for Tip Top Search and Rescue, McKeever had been driving to warn districts around Skyline Drive to evacuate Thursday evening, and she swerved her car around immediately when she saw firefighters standing down to protect residences in her own subdivision, which she preferred not to name.

After McKeever drove into town, she ducked into the high school to account for her neighbors.

"It's pretty impressive that everything was pulled together as fast as it was," she said of the shelter, where evacuees were accounted for with sign-up sheets before enjoying food and beverages donated by local residents and businesses like Obo's Market and Deli, Subway and Faler's General Store.

"When I got to the shelter at 10, there were tons of volunteers, lots of people I knew," McKeever said.

The fire damaged a main feeder line with Rocky Mountain Power almost immediately after the blaze began, which left 1,100 people in Pinedale and Boulder without electricity until late in the evening Thursday and even midday Friday.

Lakeside Lodge lost power around 12:30 p.m. on Thursday and didn't regain electricity until noon the next day.

"It hurt business big time," said Jesse Lake, 25, the assistant manager at the Lodge. Losing electricity to the Lodge's water pumps caused the most distress, not only robbing the restaurant of drinking water, but also depriving the 18 cabin residents of flushing toilets and the staff of the ability to wash bed sheets.

"(Friday) morning we tried to make 'poor-man's' coffee by heating water out of Fremont Lake over a fire and grinding the beans with a hammer," Lake said. "It was probably the worst thing I've ever tasted." The restaurant was closed Friday so the restaurant employees could assess how much food was spoiled.

Despite the inconveniences, only one of the Lodge's 30 customers left, Lake said. The Sheriff's office does have a fan-out procedure to evacuate the town if it's in danger, said Pinedale Mayor Steve Smith, but that was never necessary during the course of the Pole Fire.

Late-night rain on Thursday helped the interagency crew contain much of the fire, and evacuees were allowed to return by 10:30 p.m.

Control of the fire was turned over to Sublette County on Friday. The fire didn't burn any structures, and no one was injured. Considering how many details needed attending, firefighting personnel and Pinedale citizens performed very smoothly, Cernicek said.

"Evacuations are scary, and just the fact that everyone came together and waited patiently while information was sorted out and distributed, I thought it was just an outstanding effort," she said. "And not just by the firefighters, but everyone involved, including the public who kept out of the area."

Photo credits: Alecia Warren, Alecia Warren, Alecia Warren

See The Archives for past articles.
---
Copyright © 2007 Pinedale Roundup
All rights reserved. Reproduction by any means must have permission of the Publisher.
Pinedale Roundup, PO Box 100, Pinedale, WY 82941 Phone 307-367-2123
editor@pinedaleroundup.com