From the pages of
Pinedale Roundup
Volume 104, Number 26 - June 28, 2007
brought to you online by Pinedale Online
---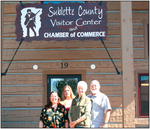 Kim Andrews, Terrie Swift, Bonnie and John Nelson.

Chamber and Visitor's Center set for grand opening

by Amy Servantez

Unofficially opening its doors on Tuesday, this Sunday marks the grand opening celebration and the official opening for the Chamber of Commerce and Visitor's Center. The opening will be held from 1 p.m. to 3 p.m. with events including: a ribbon cutting, an appreciation ceremony for all who helped make the new building a reality and dedication of the eight-foot tall bronze Mountain Man Monument that will be located in front of the building. The celebration is open to the public with Bottom's Up Brewery catering the event with Dan Fogerty providing live music.

The deputy director for the Wyoming Board of Tourism, Alan Beverly, is planning on attending Sunday's festivities as well as Sublette County Commissioners John Linn and William Cramer.

With the opening of the new building, executive director of the Chamber of Commerce, Kim Andrews, believes the facility will draw in many visitors.

"It is such a beautiful building and it's in such a central location it'll be so much easier for people to find number one and just the synergy the downtown area creates will draw a lot of people here," Andrews said. "I think people are going to be stopping here just because of the building and when they see that eight-foot bronze mountain man, that's going to be a definite car-stopper as well."

Included in the building will be a display case brought down from the Mountain Man Museum as well as information and business cards from chamber members. Andrews said there are several other projects in the works. "We have a lot of ideas for displays that will highlight what Sublette County has to offer, both recreationally and business wise as well," Andrews said.

Mindi Crabb, the marketing director for the Sublette County tourism board, will have her office in the new building. Although not a part of Sunday's celebration, Crabb said she is looking forward to the Visitor's Center opening.

"It is a wonderful way to show off the community of Pinedale as well as give information about the entire county and provide much-needed restrooms for the public," Crabb said.

With Rendezvous taking place in two weeks, Andrews said there is no better time than now for center's grand opening. "It's so exciting; I just want to jump up and down. At times I get emotional because it's just going to be such a cool place to be. I felt at the old visitors center on the south end that we were just kind of far away from everything and down here we'll be in the middle of it," Andrews said. "We'll be ready for Rendezvous. Just to be in the middle of all that with the street fair that really excites me!"

Ward Wise, who has been involved since the beginning, said it has been a communitywide effort in making the building a reality. Like Andrews, he is also anticipating its opening.

"It's a great asset to the community. It will give the downtown economy a boost and it will show everyone what it's all about in Sublette County and Pinedale," Wise said.

Photo credits: Amy Servantez

See The Archives for past articles.
---
Copyright © 2007 Pinedale Roundup
All rights reserved. Reproduction by any means must have permission of the Publisher.
Pinedale Roundup, PO Box 100, Pinedale, WY 82941 Phone 307-367-2123
editor@pinedaleroundup.com