From the pages of
Pinedale Roundup
Volume 104, Number 25 - June 21, 2007
brought to you online by Pinedale Online
---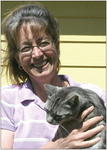 Liz David at her home in Boulder.

Liz David: Teacher of the Year

by Alecia Warren

The first day third-graders walk into the science lab at Pinedale Elementary School, science teacher Liz David hands each student a diesel battery, a small flashlight and a length of wire with the assignment to piece the materials together and produce light. "In some years, none of them have gotten it," Liz said with a shrug. "The kids are so stunned because they walk out and I didn't give them the answer."

Independent discovery encompasses Liz's teaching method, which earned her the 2006-2007 Sublette County School District No. 1's "Teacher of the Year" award. Other teachers herd their third-and-fourth grade students into Liz's special science classes every Tuesday and Thursday at the elementary school, where she has taught since 1993. Short and lean, the award winner has also taught field science courses at Pinedale High School three days a week since 1997.

Liz's elementary science classes are a rarity at a time when most third-and-fourthgrade teachers across the country simply cram science in between other lessons. Recognizing Liz's talents with helping children grasp difficult concepts, though, Pinedale Elementary has continued to fund Liz's extra classes, even though the No Child Left Behind Act places more emphasis on other subjects.

"She takes complex science terms apart and teaches to them to kids in a very meaningful way," said Greg Kennedy, Pinedale Elementary School principal. "I poked around the classrooms on the last day of school, and her third-grade students were still working on an activity dealing with the content she teaches, rather than watching a video. She uses every minute of time with her kids, every day of the year."

Yelling over fourth-graders one day only to face hormone-happy high school students the next might sound ominous, but Liz armed herself for the challenge with activity-based lesson plans she remembered loving during her own days as a student in Pinedale, her hometown.

"I think basically the philosophy for both (elementary and high school) is the same," Liz said. "Kids need to be hands-on and really involved, and that doesn't change."

Someone walking down the school hallway during Liz's fourth-grade ecology lessons, for example, will see kids hopping and trumpeting animal sounds like theater actors rehearsing for The Lion King.

The silver-haired teacher lures the students into the hallway with cut-out animal tracks and her usual sprightly smile, asking the children to identify which creatures the tracks belong to by imitating each animal's walk.

Liz's Winter Snow Studies course at the high school also allows students to consider the world beyond their dark brick classrooms. Without relying on lectures or even a textbook, Liz buses her teenage scientists to the Wyoming wilderness, where they dig snow pits and compare their observations to lessons about avalanches and snow crystal patterns.

"I give them the basic information, and let the terrain teach more than me," Liz said. With classrooms full of skiers and snowmobile enthusiasts, Liz encourages her students to take lessons about avalanche fatalities with them on their weekend trips. "I always hear stories on Monday mornings, kids tell me about a snow bank that broke off and started sliding, and they say, 'I was thinking, 'Mrs. David told me this would happen,'" Liz said.

Liz and her students presented various snow research for two years in a row to the American Avalanche Association, which gave Liz with an honorary membership last fall in recognition of her extensive snow studies with children.

Liz didn't anticipate such recognition or even know where her Environmental Sciences degree or summer work with the Forest Service would take her when she graduated from Middlebury College in Vermont in 1979. Unwilling to part with her love of ski racing, the slender athlete worked as a ski instructor for a year. Afterward, she taught horseback-riding and environmental studies at boarding schools, first in Southern California and then in Vermont.

Disliking the "dorm parent" role of sharing living spaces with high school juniors and seniors, Liz moved back to Wyoming. She obtained a teaching certificate at the University of Wyoming for elementary and middle school sciences so she could teach children who went home to their own parents at the end of the day, she said with a laugh.

Her career wavered between her specialties in teaching children and playing outdoors.

After teaching for a year in Bondurant in 1986, Liz took time off to run a dude ranch in Jackson Hole and then an outfitting guide business in Pinedale with her husband, Matt. Eventually they grew tired of leaving their children behind while they toured the mountains on horseback and mountain bikes.

"It's like when your dream becomes your nightmare," she said. "We realized we were hiring baby-sitters so we could help other families spend more time with their kids." Liz now helps her husband run a feed business in addition to her teaching. She still literally makes nature her home, though. Her small yellow house in Boulder is surrounded by a corral full of goats, horses and dogs. During the winter, Liz brings sick animals to live in the house's laundry room.

She shares her love of horseback riding and skiing with her daughters, 15-year-old Amy and 17-year-old Erica, and has taught both of them at Sublette County schools. "She's one of the few teachers that when kids of any age see her in the grocery store, the kids will run up to her, as opposed to saying, 'oh my God, there's my teacher,'" said Erica, who studied under her mother for third, fourth and fifth grade and also took her mother's high school field science class. "She makes every activity a lot of fun, but at the same time she gets really in-depth and children learn a lot from her."

Liz plans to continue teaching, and will spend the $1,000 Teacher of the Year Award prize on science supplies for her family and her students.

"I think this research affects (students') daily lives, and to me that's the most important thing, making good citizens who are really confident that they should investigate something," she said. "My hidden agenda is that these kids will still remember the concepts when they're grandparents."

Photo credits: Alecia Warren

See The Archives for past articles.
---
Copyright © 2007 Pinedale Roundup
All rights reserved. Reproduction by any means must have permission of the Publisher.
Pinedale Roundup, PO Box 100, Pinedale, WY 82941 Phone 307-367-2123
editor@pinedaleroundup.com