From the pages of
Pinedale Roundup
Volume 104, Number 25 - June 21, 2007
brought to you online by Pinedale Online
---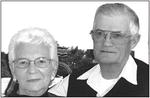 Mary and Ken Fear have been married for 50 years.

Pioneers – Ken And Mary Fear

by Helena Linn

When Frank A. Fear came to the Green River Valley to visit a homesteader near Daniel, his friend tried to get him to file on land nearby but Mr. Fear had come through Piney country and decided he liked it better. He filed on the bench south of Big Piney and two years later he moved his wife Jessie and son Clifton Fear Sr. from Grand River, Iowa to his homestead. He had operated a store in Grand River so he traded it for draft horses. The Fears brought their household goods, the horses, a couple of milk cows, and some mules on the train from Iowa to Opal, Wyoming. It was slow going with a wagon, a Shetland pony and other animals but they finally reached their new home near Big Piney. The first winter was spent on what is known as the Holden Place in a cabin with a dirt floor, sod roof, one window, and one door.

The Fears built a home a mile or so to the west where Frank had his homestead. Between 1915 and 1918, they built a Sears Roebuck house on that property. They brought 52 wagonloads of lumber from the railroad at Opal to the ranch to build the twostory house where John and Jody Fear live now.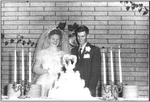 Mary and Ken Fear married on February 14, 1957.

Clifton Fear Sr. married Cornelia O'Neil, daughter of T.D. and Mary O'Neil who lived on a ranch a couple of miles southeast of Big Piney bordering another well known place called the Muleshoe. Clifton and Cornelia bought the ranch and the O'Neils moved to Cottonwood where they bought a ranch from the Cottonwood Development Company. Clifton and Cornelia raised their children, Clifton Jr., Kenneth (Buss), Edythe, and Cornelia on the ranch near Big Piney.

Fred Reardon, a relative of Frank and Jessie Fear, established a ranch along the river south of Big Piney. Fred's homestead house was near the river and when the water was high in the spring, his land would be flooded. At one time Clifton and Cornelia Fear lived in a two-story house in town that had been the Hockett home. Fears moved that house to the Reardon Place by crossing the river on the ice. It was set east of the homestead cabin so it would be on higher ground.

Buss Fear married Mardell Bennett and they settled on the Fear Ranch. Their son Kenneth Fear Jr. (Ken) was born October 23, 1938 in Kemmerer while his dad, uncle, and granddad were driving their cattle to Opal to be sold. Buss and Mardell also have three daughters — Deanne, Lynda, and Melodie. These four attended schools in Big Piney.

Ken was still in high school when he went to a St. Patrick's Day dance on March 17, 1955. There he met Mary Gurney who was going to high school in Pinedale. Mary's parents Melvin (Swede) and Ann Gurney lived at the Carroll Noble Ranch at Cora when Mary was born there on September 13, 1937. She has one sister, Ellen Brockmeyer. They went to the country school at Cora. Mary went to that school for two years and either walked, rode horseback, or one of the older children pulled them on a toboggan. Madge Funk was Mary's first teacher. When the school closed the pupils were bussed to Pinedale. Mary's family moved to the John Bloom Ranch just outside of Pinedale in 1945 where they lived for many years. The Bloom ranch is now the Redstone subdivision. Mary cleaned the house and helped with cooking for her folks while they worked in the field. Later, she worked in the hay field too.

After that St. Patrick's Day dance, Ken and Mary began dating. Ken graduated from high school and his first job was driving an International dump truck for his uncle, Rod Bennett who had established the Skyline Construction business. Mary graduated then worked a year and a half as a bookkeeper and Dental Assistant for the dentist in Pinedale, Dr. Howard Smith.

The young couple married in Pinedale on February 14, 1957 and for a while they lived at the Fear Ranch in a 17 ft. trailer that had no running water and was so cold that the bedding would freeze to the wall. They continued to live and work for his dad and mother for the next several years.

Fear Ranches incorporated in 1960 and the corporation bought the O'Neil Cottonwood Ranch. With their children Mandy, who was born April 25, 1961, and Jay who was born September 26, 1963, Ken and Mary moved to the Cottonwood Ranch in 1964. Mandy and Jay went to school in Big Piney and graduated from BPHS. Mandy went on to the Bryman School of Nursing in Salt Lake City and became a medical assistant. She worked at the Pinedale Clinic for 20 years. On July 23, 1983 she married Harvey Norris, a carpenter by trade, and they now manage the CL Bar Buffalo Ranch near Cora.

Jay went to Western Wyoming Community College in Rock Springs and finished his education at the University of Wyoming. He came back to the ranch and on December 22, 1989 he and Ann Montgomery were married. Besides working on the ranch, Jay has also worked for High Mountain Real Estate and now owns his own business – Jay Fear Real Estate, LLC. Ann owns Ann Fear Real Estate Appraisals. Jay and Ann have two daughters, Lisanne who is fourteen, and Abigail who is ten years old. They go to school in Pinedale.

While Ken took care of the ranch work, Mary did the bookkeeping and homemaking. Before horse trailers came into so much use, Mary drove the stock truck to take horses back and forth and also to take lunches to the cowboys if needed. Those jobs continued as the men began to use horse trailers. Sometimes she was the cook for the hay crew and was always a gracious hostess to anyone who stopped by and she could feed them.

Special Interests

Ken and Mary have been very active in the rodeo, 4-H, and horse show organizations in Sublette County. Ken joined the Intermountain Quarter Horse Association and served on the board for 20 years as Wyoming director, vice-president, and president. He received a special award from that Association when he was named the outstanding member in the five state area.

Buss Fear and Ross Meeks started the Big Piney Roping Club. Later, Ken (with Mary's help) served as secretary of that club. In 1960, Ken and Mary started a registered quarter horse show at Big Piney. After five years, it was moved to Pinedale and was called the Sublette County Quarter Horse Show. Mary was secretary and manager of that event for many years and with all the good help she has had from others in the county, she has managed 4-H and Sublette County horse shows for 30 years. They worked hard to have the little arena built at the fair grounds.

Fears built a small arena at the ranch for roping and Ken loved to be the header for partners who roped the heels. From that sport he went into carriage driving of both singles and pairs. He has driven his carriage in the County Fair competition and also gone to events at Jackson, Blackfoot, and others in the area. This led to his next enterprise. Ken, Jay, and T.J. Symonds, who worked at the ranch, purchased some crossbred draft horses. Ken went to Blackfoot, Idaho and purchased a hitch wagon and they began hooking up a six-horse hitch and then an eight-horse hitch. They used the hitch wagon and teams at parades and rodeos for seven years in western Wyoming. Ken sold the hitch wagon to a fellow in Laramie that has the contract for teams and wagons for the parades and grand entries for Cheyenne Frontier Days. Now, Ken and Mary spend ten days in Cheyenne each summer where Ken drives his six-horse hitch in each parade and grand entry. Mary and Ken have made many friends among the people who participate in these events and come from many states. In the late 1980s Fears split up the family corporation and the Cottonwood Ranch was sold to investors from New York. Ken, Mary, and Jay were asked to stay and manage the ranch.

Ken is very fond of Red Angus cattle and asked if he could change the operation to that breed. His goal was to wean a 500 lb. steer calf – at the time, the ranch currently produced calves weighing about 435 pounds.

About that time, ranchers were developing EPDs (Expected Progeny Data) so Ken studied the EPD for the bulls he purchased and determined that the bulls had to have a medium frame and gain at least 3 lbs. a day while on feed. Using his methods, Ken developed an easy calving cow and higher weaning weights in the calves. They started calving the 5th of April and calved through May and sold calves from October 25th to November 5th. Ken spent 15 years doing the night calving and kept records of weights and how many he assisted. With their former herd, they assisted 75 percent of the 2 yearold heifers and he reduced the number to 15 percent. By attaining his goal, Ken was selected the Outstanding Commercial Producer by the Wyoming Breeder's Cattle Improvement Association for year 1998-1999. He was awarded a trip to the National Beef Cattle Association's annual meeting in Roanoke, Virginia. Mary, who Ken says has been with him in all they've accomplished through the years, went along on the trip to Virginia.

Ken belonged to the Green River Valley Cattlemen's Association and Mary is a charter member of Cowbelles in Sublette County. She gathered brands and designed Cowbelle napkins and place mats and served as president in 1974 and 1975. She was named Ranchwoman of the Year in 1987.

The Fears have traveled some. They took her folks to Nashville to the Grand Ole Opry. Mary and her sister Ellen went to St. Martin in the Caribbean and were surprised that everything shut down in the afternoon so everyone could have a siesta. Mary spent her 50th birthday with her sister in Arkansas. In recent years, they have gone south and spent a couple of months each winter seeing the country in a travel trailer.

Mary had a serious illness in 1965 and spent 47 days in the hospital with blood clots. In 2005, she was diagnosed with cancer and has fought a courageous battle with that disease. Ken, their family and friends have been beside her though that ordeal. In 2005, the ranch changed management and Ken and Mary moved to town. They built a new house in Marbleton. Ken and his nephew Mack Bradley started a partnership backhoe service business and Ken enjoys operating the equipment – loves to run the trackhoe. They have now purchased a Kenworth dump truck so Ken Fear has come full circle – his first job was driving a dump truck and now – here he is, driving a dump truck!

When they left the Cottonwood Ranch in 2005, Ken and Mary had lived there for 41 years. Neither of them had ever lived in a town before they moved to Marbleton and they have seldom been apart in the years of their married life. At the Fear family reunion this Saturday Ken and Mary will be honored for their 50 years of marriage. We wish them many more years in their life together.

Photo credits: Helena Linn

See The Archives for past articles.
---
Copyright © 2007 Pinedale Roundup
All rights reserved. Reproduction by any means must have permission of the Publisher.
Pinedale Roundup, PO Box 100, Pinedale, WY 82941 Phone 307-367-2123
editor@pinedaleroundup.com