From the pages of
Pinedale Roundup
Volume 104, Number 25 - June 21, 2007
brought to you online by Pinedale Online
---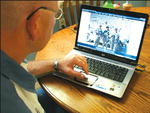 Mac looks at a photo of himself and other members of the seven-man team he commanded. They are wearing protective gear that was the requisite uniform during rocket attacks.

'Mac' serves town and country

by Alecia Warren

Only a few weeks after returning from a year-and-a-half Army tour in Afghanistan, Andrew Mackenzie, or "Mac" to his coworkers at the Sublette County Sheriff's office, said he sleeps like a rock, his dreams unruffled by memories of screaming rockets or trucks rumbling over minefields. Sitting with rigid posture, his musclebound girth dwarfing his wooden kitchen chair, Mac shakes his clean, bald head to inquiries of why he doesn't demand recognition of time spent away from his wife and two children. He simply repeats his curt mantra, "I just did my job."

Already readapting to his duties as a small-town deputy sheriff, Mac prepared to pick up where he left off with his family, despite the fact that he had missed half of his 8-year-old's life during his sporadic periods of active duty, first through the Navy, and now through the Army. When asked about his experiences, he spoke bluntly in short, rapid bursts, using few adjectives and fewer personal opinions, as if words were precious ammunition that needed conserving.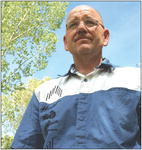 Deputy Sheriff Andrew 'Mac' Mackenzie just returned from a yearand-a-half Army tour in afghanistan.

The 42-year-old's service overseas seemed to affect him as strongly as the 20-second walk to fill the coffee cup he grasped confidently in his big bear hands.

Yet when pried about his perception of the country he left behind, a glimmer of sadness shined through his steely gaze, otherwise as constant and straight as headlights from an oncoming train.

"I've seen people who don't know where their next meal is coming from," he said of the Afghan families he met during his service. "They've had to wear the same clothes for three or four years. It just makes you realize what we have here."

Few Americans seem to know what their tax dollars are doing to make a difference.

"Afghanistan — it seems to take a back burner to Iraq," he said, hesitating between each word as if he might offend the still silence of his Pinedale home. "A lot of people seem to forget that we're still there, I think." Although Afghanistan no longer consumes international news headlines, 25,500 U.S. troops still traverse the desert and rocky countryside to engage in duties like Mack's: restoring infrastructure and nurturing all the small details wrapped in the enigma of a mission to "establish the rule of governance and law."

Acting as a clean-up crew for damage both from the American invasion and the previous Soviet occupation, U.S. troops act out the solubility — or lack thereof — of U.S. policy in the Middle East. They also represent the individual sacrifices of by leaving behind jobs and families, which raises the question of whether their efforts in another country balance out their hiatus at home.

After weeks of physical training, language and culture classes, Mac boarded the plane in December 2005 to Afghanistan believing he was fully prepared to serve as a civil affairs officer.

Although he served active duty in San Diego and Kuwait for the Navy after 9/11, the tour in Afghanistan was his first deployment through the Army, which he joined when he plateaued in rank in the Navy. His journey ended at his station in Asadabad, the capital of Kunar, a small Northeastern province in Afghanistan at the foot of the jagged and rocky Hindu Kush Mountains.

Because Afghanistan has long existed as a motley of tribes, the country comprises only a few cities surrounded by numerous small, isolated villages. The Army assigned Mac and his seven-man crew to visit many of the scattered towns on MEDCAPs, or three-day missions in which the soldiers adopted the impoverished villages' multitudes of problems and attempted speedy welfare makeovers.

A gradual routine developed in carrying out the missions, he remembered. The team's tan Humvee pulled up in a cloud of dust into tiny villages of mud shacks shelved along the steep, rocky foothills. Mac quickly noticed that electricity was sparse, and emaciated Afghans gathered water in buckets they lowered into muddy wells.

Villagers gathered to meet the soldiers who prepared large sacks of humanitarian assistance, or HA, usually including clothes, tarps and school supplies donated by a notfor-profit organization.

Afghan women stood stoic and silent, the younger dressed in bright red and purple hijabs, the older covered in light blue burkas, all turned away from the soldiers to hide their faces from strange men. Male villagers stood wrapped in brown or grey cloaks over their "man jimmies" as the U.S. soldiers called them, traditional garb consisting of baggy pants and shirt loosely covering their toothpick limbs.

The soldiers, sporting only basic understanding of the local dialect Pashto, struggled to herd the mass of villagers into lines separated by gender, as Islamic women can't mingle with men in such informal fashion. The soldiers also assigned same-sex medics to each group, because only females can examine other women. The medics treated a variety of illnesses, the most common including worms and parasites from the polluted well water. The corps dentist yanked an array of brown-and-black tinted teeth. "Some of these people, it's the first time they've seen qualified medical personnel," Mac said, and admitted he felt a pang of horror witnessing such squalor.

He calmed himself by handing out bags of the most coveted necessity: food. The soldiers marked bony hands with indelible marker to ensure fair food dispersal, but this didn't deter recipients from quickly dropping off rations at their huts and scrubbing their hands clear before they dashed back into line for a second or even third helping.

As the servings of food grew small, the crowd began to clamor with anger and frustration like a volcano about to erupt. Here, Mac's law-enforcement training came in handy as he instructed the handful of locals clad in black uniforms to mark that they were training for the National Afghan police force. The local police succeeded in establishing a perimeter around the clamoring villagers, and lacking riot gear, the officers swiftly belted anyone stepping out of line with a switch.

"It was just like herding cattle," Mac said. Mac's team also contracted local architects and construction workers to build schools, clinics and bridges for the villages they visited, according to what the small group of town elders requested. The soldiers also paved roads and installed indoor plumbing, and Mac had begun working with a Russian contractor for a hydroelectric plant for the Northeast province shortly before he left.

"It's a cash economy, so I would have to roam around with a big bag of money," he said of the Afghan money he dispersed for the various projects.

The dangers Mac and his tan-fatigue-clad crew faced were usually unseen, the soldiers facing stagnant periods of inactivity spliced with brief, violent shocks.

Boredom threatened the troops the most often. When facing downtime at the base, or "in the wire," Mac and his team faced the stark opposite problem of their Afghani recipients: full stomachs and too much time.

After filling out paperwork for missions and supplies, Mac said he and his seven-man team measured the time in cigarettes, packages from home and pirated DVDs from Afghani shops.

After lights out, however, a whole new danger awaited. After Mac's first two weeks living in the old Soviet base, he awoke one night to the explosions of a rocket attack. Not knowing this would become routine, he strapped into his "horrendously uncomfortable" body armor and heaved his M-4 and M-9, in case he ended up face-to-face with the attackers. He scrambled with his team into the concrete office, where they sat and waited, listening to the roar of the rockets careening from the sky and booming around the base.

The attacks would blast the base for four nights, then stop for a month, he said. The first night he sat in the grey office, listening to the other men talk nervously and wondering how stable the base was, he felt "a great deal of stress." But eventually he grew so used to the barrage of noise that he slept through the attacks.

"(The other soldiers) would wake me up to tell me we were taking incoming rounds and had to go," he said.

As far as who flung the rockets at their bases and whom he sat waiting to shoot, Mac never asked.

"When I say 'they,' I just lump everybody together, just whoever was bad," he said. "I don't care who, I don't care what flag they fly, just whoever is going against us." Ironically, Afghans have adjusted to similar tactics after facing generations of warfare. In fact, the country has known little else, though the face of its enemy constantly changes.

For centuries, tribal and regional leaders fought over the Afghan countryside. In 1979, the U.S.S.R. took control of the capital, Kabul, and tried to gain control of the entire country throughout the 1980s in hopes to spread Communist influence in Asia. Afghan mujahidin ("freedom fighters") battled to preserve their Islamic culture, which the CIA supported with arms and funding.

After the Soviets pulled out in 1989, warlords — regional leaders backed by independent militias — clashed once more, and the country fractured into a patchwork of fiefdoms. In 1996 the Taliban, a generation of Afghan Islamic fundamentalists that had grown frustrated with civil war, seized control of Kabul.

A month after 9/11, American forces invaded, announced victory after half a year, and has occupied the country since, though the country still endures violence from the Taliban and various militias. Remnants from the past still remain in subtle forms.

"There would be times when we'd come back from a mission and then get a report that said we'd driven over mines, but they'd failed to detonate," Mac said. Most mines were remnants of the Soviet occupation, thus the Afghans accompanying the soldiers were accustomed to detecting the fatal glimmers of metal from the dusty roads, and they knew to look for warning signs like odd debris in the road from recent explosions.

While Mac faced down conflicts in Afghanistan, his coworkers continents away in the Sublette County Sheriff's Office missed the similar duties he set standards for in Pinedale, said Sheriff Wayne "Bardy" Bardin, who has known Mac since he first joined the sheriff's department in 2003.

"He's dedicated, he's fair, he's in this business for all the right reasons — mainly to help, to keep the peace, just to make Sublette County a safer country or everyone to live," Bardin said, adding that he constantly missed relying on a talented deputy sheriff who never acted "badge-heavy," taking his authority too seriously. "(Mac)'s a piece of the puzzle that was sorely missed while he was gone."

The other deputy sheriffs gathered like eager children to hear news from Mac's emails, Bardin said.

"There's times when deputies spend more time (with each other at the office) than with their own families because of the work load that they might have," he said. "There's a camaraderie that's formed, it's one that can't be explained, really. We call it a second family." Mac's wife, Carol, also left the sheriff's office pack. She had worked in the office handling detentions, but she resigned when she couldn't juggle both the daytime shifts and caring for the couple's children —13-year-old Jake and 8-year-old Torri — by herself.

Eventually, Carol moved to live with her parents in San Diego last November so they could help while Mac was overseas. She'll return to Pinedale when the children's school session finishes at the end of June, Mac said. Carol never complained, he added. "She's a Navy brat, she grew up in the Navy," he said to explain her acceptance of active duty. His children adjusted to his absence, too, "unfortunately," Mac said. When he frowns, deep lines crease his face like trenches dug into a stone surface and he resembles a chiseled Terra Cotta warrior bust more than an aging family man.

"It's such a common occurrence now, I think they're just waiting, waiting for me to leave again," he said of his children. "That's the cycle that they have, that daddy comes home for a while and then goes away again." Now that he's back, Mac calmly awaits his next orders to ship out, though there's no telling when those will come through. He plans to spend at least the next 10 years of his life in the Army, he said.

"It was just something I felt I had to do," he said. "Be a part of a public service." Newspaper headlines blazoning public disapproval ratings with President Bush's international policies don't concern Mac, nor do stories of the heightened danger for Americans in the Middle East. He has no opinion about U.S. success or failure in the war on terrorism. As a soldier, he doesn't have to have an opinion. In fact, a lack of one makes his job much simpler.

"They tell me to go and give me a mission and I go do it," he said, then took a sip of coffee and repeated, "It's what I do."

Photo credits: Alecia Warren, Alecia Warren

See The Archives for past articles.
---
Copyright © 2007 Pinedale Roundup
All rights reserved. Reproduction by any means must have permission of the Publisher.
Pinedale Roundup, PO Box 100, Pinedale, WY 82941 Phone 307-367-2123
editor@pinedaleroundup.com