From the pages of
Pinedale Roundup
Volume 104, Number 24 - June 14, 2007
brought to you online by Pinedale Online
---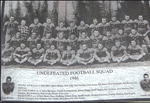 His 1946 football team was unbeaten.

Pioneer – Darrell Copeland

by Helena Linn

Darrell Copeland was born in Myrtle Creek, Oregon on August 8, 1917 in a handhewn log house where his grandfather had been born in the 1800s. Darrell's parents, Grover and Clara Copeland, had a daughter Nona who is now 94 years old and still working as an entertainer – mimics Minnie Pearl to a T. Darrell was next in line before his sisters Lois (Brewer) and Winifred (Bronson). Winifred passed away some time ago and Lois lives in Ashland, Oregon. The Copelands raised prunes and Darrell was quite young when he learned to drive a truck to pick up prunes and take them to the dryer. He also had to milk the cows and the job was turned over to him to milk as many as 10 cows. Selling cream was another of the family's way of making a living.

Darrell graduated from the Myrtle Creek schools in 1936. He enjoyed playing in all of the sports and was on the varsity basketball team every year during high school. He made All-State all four years. He participated in basketball, football, and baseball – the only one to play all three sports. After high school he played semi-pro baseball and a friend asked him to come to Southern Oregon College. He attended one semester before being called into the Army. From Texas he was sent to Nikiska in the Aleutian Islands where he served the next four years.

Darrell Copeland

When the war ended, Darrell traveled to a port in Canada and then boarded a train for Southern California where he was discharged. He returned to Southern Oregon College at Ashland to earn his degree in education. He played football and his team had an undefeated season in 1946. He went to the finals in Kansas City in basketball where his team took second – they lost by one point. Two years were spent playing Jr. League baseball in Roseburg, Oregon and losing by one run cost his team a trip to the finals in Kansas City. Darrell loves sports, watches them on TV, and still attends most of the sports events in Big Piney. He coached middle school girl's basketball last year. Darrell remembers playing basketball against the CCC camp at Myrtle Creek, Oregon. The timbering companies sponsored the games.

Family and Career

From his first marriage, Darrell has a son Larry whose 16-year-old son is going to school in California. After his divorce, Darrell met and married Carol Meeks.

Carol, her parents Ross and Emma, and her brother Pat lived near Big Piney, Wyoming. In seeking treatment for Pat's health problems, Emma, Carol, and Pat spent most of the time in Ashland, Oregon. Carol went to Southern Oregon College where she met Darrell Copeland. Although Carol finished her degree in Business Management at the University of Wyoming, she moved back to Ashland to work. She and Darrell were married on March 14, 1957 in Big Piney.

They began their married life living in Eagle Point, Oregon where Darrell was teaching 7th and 8th grades and coaching Junior High sports. The two boys John and Ross were born there. Darrell had taught in Eagle Point for 21 years before the family moved to Big Piney in 1968 to help run the family ranch. They had daughters Elizabeth and Rebecca and all the Copeland children graduated from Big Piney High School.

John Copeland married Faye Harms, They operate the Silver Spur Bar and Faye works at the school. Their children are Kelsie and Darcy. Kelsie is the oldest grandchild. She just graduated from Big Piney High School and will be going to Casper College this fall. Ross married Lisa Thomas; he runs the ranch on Cottonwood and the Wheel-In Liquor store in Big Piney and Lisa works at EOG. They have Shane, Caitlin, and Bailey.

Elizabeth (Liz) married Jim Sedey, they live in Rock Springs where she teaches and he works at the Jim Bridger Plant. They have Randi and James. Rebecca (Becky) and her husband Daryn Harshbarger live in Twin Falls, Idaho where she works for Farm Credit in the northwest region and he works for Simplot. They have Morgan and Dayton.

After her father died, Carol helped with the ranch as well as owning and operating the Wheel-In Liquor Store and helping her mother Emma with the Silver Spur Bar. Darrell taught in the middle school and coached sports in the high school. He and Rick Costello coached together for four years. Darrell also coached girl's basketball along with Ray Clark. At the State Playoffs, the girls finished in second place. In 1982, Darrell retired from teaching but still substituted occasionally.

Carol passed away on November 14, 2004 and Darrell continues to live in their home in Marbleton. He still keeps abreast of happenings at school, attends all the games that he can, and awards a scholarship each year. Copelands established a hunting camp about 16 years ago which they call the CK Hunting Camp and they expect quite a few hunters this fall. They hunt deer, antelope, moose, and sheep if someone has a permit for one. Ross helps run the camp now. Besides watching sports on TV and attending as many games as possible, Darrell likes to read newspapers, fish when he can, likes to ride his four-wheeler, loves the mountains, and is very fond of his dog Wendell, who came to Darrell from Wendell, Idaho. Darrell also likes to golf. His companion Darla helps him with irrigating and that is a ranch chore that Darrell particularly enjoys doing.

Darrell has enjoyed some traveling and has been to Mexico several times. He was there a couple of years ago. He and Carol had a highlight trip to South America and several islands one Thanksgiving. That was a special gift from Emma Meeks.

Darrell has lived in Sublette County long enough to be called one of our old timers.

Photo credits: Helena Linn

See The Archives for past articles.
---
Copyright © 2007 Pinedale Roundup
All rights reserved. Reproduction by any means must have permission of the Publisher.
Pinedale Roundup, PO Box 100, Pinedale, WY 82941 Phone 307-367-2123
editor@pinedaleroundup.com