From the pages of
Pinedale Roundup
Volume 104, Number 22 - May 31, 2007
brought to you online by Pinedale Online
---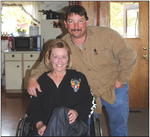 Tammy Burns and Doug Howell.

Tammy Burns rolling on the road to recovery

by Mike Fitzgerald

They walked down Franklin Street on the sun-splashed day, a man pushing a woman in a wheelchair, a portrait of courage and love.

Ironically, it was the same path they took together on motorcycles just weeks earlier, on a day that would change their lives in a few horrifying seconds. "I remember being knocked off the bike," said Tammy Burns. "I sat up and all I could see was blood. "I couldn't feel my leg. I thought it was cut off."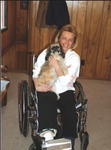 Tammy Burns with her dog Harley.

It was an innocent Sunday afternoon, a rare day off from his job in the Jonah Field for Doug Howell. Doug had bought Tammy a new Harley and it was finally warm enough to give it a test ride. The two had been living, riding and working together around the country. The 44-year-old Burns is an Ohio native and the 42-year-old Howell hails from Mississippi. They started working for BE&K in the gas field outside of Pinedale on July 1, 2006.

"I was right next to her on my bike when it happened," the soft-spoken Howell said last week. "She hit hard. It happened so fast. I wrapped my shirt around her left leg. "I thought she would lose both her legs. I wish we hadn't got that motorcycle." The new Harley had stalled out and Tammy said she overcompensated when she restarted it. The bike went flying into Pine Street, Pinedale's main drag, and smashed into a passing semi trailer truck. Quick work by retired nurse Marilyn Huffman at the scene probably saved her life. She was transported to the Pinedale Clinic — treated there by Huffman and nurse Abe Keating — and then life-flighted to the University of Utah hospital in Salt Lake City.

Tammy was in intensive care for nine days and hospitalized for 34 days. She had 13 surgeries and almost lost her foot. "I'm not a real religious person, but God was looking down on me," she said from her home last week, her little dog Harley in her lap. "Thank God for the people at the Pinedale Clinic and the University of Utah. And thank God for modern technology." To make matters worse, their hot water heater at home broke a few days after the accident while they were in Salt Lake City and flooded their basement, where many of their possessions were stored.

But then the little town of Pinedale showed its big heart. Donations poured in from everywhere. Volunteers watched and worked on the house.

On her first day out after leaving the hospital, Doug pushed Tammy in her wheelchair down Franklin, past the tragic site, then down Pine Street and into the Corral Bar. The tears and beers flowed as Tammy was greeted with hug after hug after the warmest of hugs. "Oh, that felt so good," she said with a smile. "A lot of people I didn't even know were coming up to me.

"Pinedale is just full of wonderful and generous people. I can't thank everyone enough." This was the second brush with death for the 5-foot-2, 120-pound Burns. In 1987 she was hit head-on by a drunk driver back in Ohio.

"I was trapped inside a burning car and in a wheelchair for nine months, and on crutches for 16 months," she said. "It broke my arm and shattered my leg." Now a few more surgeries and physical therapy lie ahead. The house on Franklin has been outfitted with a ramp and the bathroom refitted.

"I'm getting around good and bathe myself," she said with a smile. "Doug told them after the wreck that she's strong and strong willed. I'll walk and work again. "But no one wants to go through what I went through once, let alone twice." Doug bought a van so she could ride comfortably to and from Salt Lake. He fixed up the house and never left her side. "It's been a big change, but she would do it for me," he said with a smile. Tears welled in Tammy's soft blue eyes. "Doug has been standing by me every day," she said. "I love him so much."
---
Thanks to everyone!
We would like to thank all of the wonderful people who donated money. It has been a great help. Thanks to all the wonderful people in Pinedale that asked about me, prayed for me and all the acts of kindness. Pinedale is a special place with special people. I am home now and still face more surgeries. I will be in a wheelchair for a long time. We want to send a special thanks to the Pinedale Medical Clinic and Staff, Pinedale EMS, Dr. Judy Boyle and Idaho Air. I know without all of you I wouldn't be where I am today. Thanks to KPIN and First Bank.
We want to thank special friends Ron and Susan Orcutt, Rick Anthony, Mike, Jan and Gylly McFarland, Kevin, Sonny, Larry and everyone from BE&K. There have been more people that have touched our lives than we can begin to name and we thank you all.
Thanks again,
Tammy Burns and Doug Howell
Photo credits: Mike Fitzgerald, Mike Fitzgerald
See The Archives for past articles.
---
Copyright © 2007 Pinedale Roundup
All rights reserved. Reproduction by any means must have permission of the Publisher.
Pinedale Roundup, PO Box 100, Pinedale, WY 82941 Phone 307-367-2123
editor@pinedaleroundup.com