From the pages of
Pinedale Roundup
Volume 104, Number 22 - May 31, 2007
brought to you online by Pinedale Online
---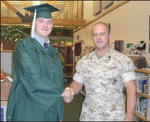 Tyler Roberts with Sgt. Jason Bomba at Pinedale High School's graduation ceremony.

Pinedale salutes Class of 2007

by Mary Billiter

"The will to do; the soul to dare" was the motto for the Pinedale High School graduating class of 2007. No other body of students exemplified this more than the Senior Wranglers. The will to fulfill a childhood dream led senior Tyler Roberts to enlist in the delayed entry program with the United States Marine Corps.

"He made the choice to be the few, the proud," said Sergeant Jason Bomba, who drove from Rock Springs to see our country's recent recruit. "It's amazing to me," said a moved Bomba. "I enlisted during peace time, but we're not at peace. He enlisted at wartime. It's an honor to be here for him." For Tyler, the choice to serve his country was obvious. "It's something I've always wanted to do. I'm real patriotic and the Corps seemed like the right thing to do," he said.

The 18-year-old will be leaving Pinedale for San Diego, where he'll start boot camp on June 11th. His military occupational specialty (MOS) will be artillery. Despite the dangers involved, that's not what is concerning the 6-foot-3 graduating senior. "I'm nervous about the drill instructors. I've heard some stories," he admitted. "I'll probably get some 4-11 drill sergeant who hates me."

To enlist in the military, Tyler had to take a series of tests that he scored in the 97 percentile. This didn't surprise his father, Mark Roberts. "I'm proud of him. He wants to do this and his mother and I support everything he does," said the senior Roberts, who didn't try to persuade his youngest child and only son's decision.

"He'll do well. This is what he wants to do. He'll excel, I'm confident of that." The soul to dare led senior Bianca Jones to leave her New Mexico high school during her senior year to spend the next seven months with her birth mother in Pinedale. "My classmates made it a good transition," she said of the relocation. Her adopted parents, Clifford and Bobbie Jones, were in Pinedale for their daughter's graduation.

"We're terribly excited. She's so talented. She's a wonderful artist and a beautiful singer. She's a very gifted young woman," said Bobbie, who has raised Bianca since she was 3 years old and her sister, Kelsie, since she was 2 months old. Clifford and Bobbie supported Bianca's decision to move to Pinedale.

"She makes friends wherever she goes. She knows no strangers. Whatever she picks to do, she will excel," said Bobbie. Bianca, who joined the Pinedale High School Concert Choir her senior year, performed for her fellow graduates. The musical presentation of "Give Us Hope" echoed the sentiments of the senior. "I loved Pinedale. It was a change of pace and something I needed to do," she said and then a smile broke across her face, "but I can't wait to get back to New Mexico."

A change of pace is what Senior Class President, Jeff Biffle, suggested to the Honorable Max Maxfield, Secretary of State, when he invited him to give the commencement address.

"I was told to keep it short," joked Secretary Maxfield in his opening remarks. Secretary Maxfield brought a gift to the Class of 2007: the Dr. Seuss bestseller, "Oh, The Places You'll Go." "It says a lot about how we enter into our lives," said Maxfield, who read a portion of the book to the graduates. Friday night's ceremony was the only commencement Secretary Maxfield would be addressing for the year.

"It was an honor. I consider graduation to be important because people may hear you at other functions, but there's only one graduation. This is special." Perhaps the most special address of the evening was from senior class Salutatorian, Stephanie Wilkerson.

"I challenge you to not settle for a life of mediocrity, to choose a life not on convenience, not what is easy, but what is excellent." Though class Valedictorian Brent Belford weaved humor into his address, he spoke of graduation, not as the final plateau of success. "It's the hundreds of small victories and accomplishments over the years."

Pinedale High School Principal Richard Kennedy recognized the foreign exchange students, who had chosen Wyoming for their course work, and the families that hosted them. Though the seasoned administrator tried to put on a stoic face, his compassion and care for his students was evidenced in the continued smile he wore all night. School Board Vice President Ward Wise had nothing but praise for Kennedy and the entire administration.

"We're really proud of this system and administration. It's a team effort." Wise credited Kennedy with the scholarship program that provided graduating seniors with more than $250,000 in financial assistance.

"He has helped this program grow," said Wise who acknowledged the community for their continued support to the senior class. "Education is the best investment." Wise wished the Class of 2007 much success. "They're a tremendous group. I think they're a class with a lot of ahead of them."

Photo credits: Mary Billiter

See The Archives for past articles.
---
Copyright © 2007 Pinedale Roundup
All rights reserved. Reproduction by any means must have permission of the Publisher.
Pinedale Roundup, PO Box 100, Pinedale, WY 82941 Phone 307-367-2123
editor@pinedaleroundup.com