From the pages of
Pinedale Roundup
Volume 104, Number 21 - May 24, 2007
brought to you online by Pinedale Online
---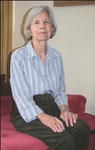 Marj Guio

Pioneer Marj Guio: A little lady with a big heart

by Helena Linn

Marj Guio may very well be the smallest adult in Sublette County. However, she stands tall as a civic-minded, compassionate, and kind citizen of Big Piney and the whole county.

Frances Margaret (known best as Marj) was born to Anton and Theresa Peternel Subic on March 5, 1925 in Rock Springs, Wyoming. Her parents were natives of Austria which later became Yugoslavia. Anton Subic came through Ellis Island on June 16, 1906 when he was 21 years old. Marj believes her parents knew each other in Austria but they married in Rock Springs, Wyoming.

Theresa Peternel was about fifteen when her mother died after being bitten by a snake. Theresa came by herself to the United States, landing at Ellis Island on April 22, 1912, when she was seventeen years old. She traveled to where her sisters, Mary Galicich and Frances Fortuna lived in Rock Springs, Wyoming.

Theresa was married first to Frank Fortuna and they had a son, Stanley, who was killed in a gun accident as a young man. The Fortunas also had daughters Amelia and Rose. When the girls were still small, Mr. Fortuna died. Later, Theresa married Anton Subic. Anton had a welding shop in Diamondville before he came to Big Piney. He was a blacksmith by trade and operated his blacksmith shop for many years in Big Piney on the corner where the drive-in is now. Anton adopted Amelia and Rose. He and Theresa had a son Tony and their daughter, Marj.

The Subic children attended and graduated from Big Piney schools. Amelia married Jerry Van Beveren and has lived in California most of her life. Rose married Alvin (Ole) Pearson, whose sons Ben, Paul, and Kenneth Pearson grew up and lived in Sublette County.

Rose, Ole, Tony, and Amelia's husband have passed away. Marj's brother Tony earned an Ensign welding rating when he served in the Navy during World War II. He did arc welding on ships in the European Theater. After the war, he assisted his father in the blacksmith shop and also had an independent arc welding business and did a lot of that work in the oil fields. He was 42 when he died from a heart attack while working at the bowling alley.

Although Anton Subic was a welder and blacksmith, Marj has a patent signed on June 23, 1923 that documents his invention. The patent was for "stops for talking machines". In other words, he invented an automatic record stopper for a record player. His wife Theresa was talented too. She made beautiful cluny lace. Marj has many pieces of her mother's fine cluny lace. Theresa was also well known around Big Piney for the wonderful pastries she made using recipes from her native country.

Marj and Her Life

When Marj started school, the twelve grades were in the original stone building then she graduated from the red brick schoolhouse that also accommodated all twelve grades. She loved school and has fond memories of Caryn Murdock Bing who was her first teacher and Jerry Deveraux who was the superintendent. She liked to play basketball at school and baseball during the summer.

Marj was a Camp Fire Girl. Camp Fire was led by Madge Funk and Cap Looney and was a big part of life for girls in the county. Marj remembers going to the show at the Gaiety Theater, the drug store, sitting on the steps of the Big Piney Examiner office, and living through World War II. Those times were hard and sad. So many of her classmates, family, and friends went off to war; some lost their lives and some were wounded.

After graduation from Big Piney High School, Marj intended to go to California and live with her sister Amelia and attend UCLA. Before she could get on her way, Francis Tanner asked her to work for him at his Mercantile and also run the telephone office. She worked in the telephone office in the morning, did the Mercantile bookkeeping in the afternoon, and went back to the telephone office in the evening. The telephone office closed at nine o'clock in the evening. Finally, she did go to California and attended City College in Los Angeles.

Marj married Ken Guio whose grandparents, Al and Sadie Osterhout, had a ranch near Big Piney. Al Osterhout passed away and Sadie operated the ranch for a long time. Marj and Ken were married on March 27, 1947 and came to the ranch. Sadie was 75 years old and they shared the home place with her for fourteen years until Sadie moved to town. Sadie was the only girl with five brothers in the Daniel B. and Josephine Budd family. The Town of Big Piney is on land that was originally the Budd Ranch. The Budds came to Big Piney country in the 1800s and were among the early settlers of the valley.

Marj and Ken have four children, four grandchildren, and one great-grandson. Their son Cotton was born on March 11, 1949, graduated from BPHS and married Cynde Jamieson. They raised their daughters Tayton and Landa on the ranch. Tayton married Brenton Lyon and they have a son, Bailey. They live in Oklahoma City. Landa married Nick Kavalis and they live in Farson, Wyoming.

The Guio's daughter, Susan was born September 25, 1950. She works as a medical practitioner and lives in Rawlins, Wyoming. Susan received her Master's Degree when she was 50 years old. The next in line is Candon, born on October 5, 1955. He lives and works on the Guio Ranch.

Youngest in the family is Tagg, born June 14, 1957. He married Nancy Brasswell and their home in Big Piney is on the site of the original Budd home. Josephine Budd (known locally as Grandma) lived there until she died at the age of 102 in 1944. The pump in Tagg and Nancy's yard was used for the Budd home and is still used to water the yard and trees. Tagg and Nancy have a daughter Ali who attends Stanford University, and a son Matt who is a junior at Big Piney High School.

It is noteworthy that all of the Guio children and grandchildren (except great-grandson Bailey) have gone to school in Big Piney and graduated from Big Piney High School. Cotton, Susan, Candon and tag all attended the University of Wyoming at some time. The three brothers have remained on the ranches of the corporation called Alsade, Ltd.

Work and Fun

Marj has some special interests, among them are golfing and playing bridge. She has belonged to the local bridge club for about 50 years. Working with the cattle on the ranch was a favorite responsibility for Marj. Her mother Theresa taught Marj, Helen Milleg, and Rachel Scherbel the art of making cluny lace and Marj also learned to knit. Marj received her pilot's license when she was nineteen years old. Marj maintains a journal using shorthand for the entries and uses shorthand daily for making notes. Few people are as civic-minded as Marj Guio. She was on the school board for many years; she is a charter member of the Green River Valley Museum board and still serves on that board. She served on the Tri-Town Recycling Board and was instrumental in getting recycling going in Big Piney and Marbleton.

She established the Green Pastures Thrift Shop and served on that board. She set up a gallery she calls Greener Pastures. She and her assistant, Helen Evans hope to have it operating soon along with the Web site. Consignments can be made for fine clothing and jewelry. A memorial fund will be set up so people can borrow from it for medical and funeral expenses.

Marj was instrumental in getting the bike path built between Big Piney and Marbleton. She was given a "Go-Getters" award from the Town of Marbleton for her work.

Marj has been in Eastern Star for over 50 years and was Worthy Matron twice in the local chapter. She belongs to Cowbelles and is a past president of that organization. She was made a lifetime member of the Green River Valley Cattlemen's Association. She has been a member of Dee Fox Post of the American Legion Auxiliary and has been since it was established here. She supports organizations that help veterans. She attends churches in Big Piney.

She was named a member in the National Register's Who's Who in executives and professionals in 2004. She was given a Manchester award of Who's Who of New York. It's hasn't been all work and no play for Marj. She used to ski and snowmobile and remembers one particular time when she was with a group of nineteen snowmobilers and they became stranded because of an avalanche. They spent the night in a Forest Service lookout station and Marj made tea with snow.

Marj has traveled quite a lot. She makes yearly trips to Big Sky, Montana for retreats and pilgrimages to Toronto, Canada for Consumer Health conventions. Her love of the game led to belonging to a California based golf association and three trips to Scotland to play golf. She has spent some time in Mexico, Arizona, California, Colorado, Canada, and most of her life in Wyoming. Dogs, cats, and horses are special to Marj. She is an animal lover and is always concerned about baby calves and whatever animal needs attention.

Marj is especially concerned and helpful for anyone who needs a helping hand. She has looked after elderly and sick family and friends. Truly, she is a little lady with a big heart. She is one of our pioneers – she's been here longer than most Sublette County residents.

Photo credits: Helena Linn

See The Archives for past articles.
---
Copyright © 2007 Pinedale Roundup
All rights reserved. Reproduction by any means must have permission of the Publisher.
Pinedale Roundup, PO Box 100, Pinedale, WY 82941 Phone 307-367-2123
editor@pinedaleroundup.com