From the pages of
Pinedale Roundup
Volume 104, Number 21 - May 24, 2007
brought to you online by Pinedale Online
---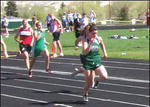 Sadie Nelson wins the 200-meter dash.

Pinedale High track teams excel in state competition



Four Pinedale High track team members were named All-State after the Wrangler boys and girls competed in the 2007 State Track and Field competition in Casper on May 15-17.

Both girls and boys teams had great meets and finished among the top in the state. "Our kids really did a great job at State," said Coach Rich Steege. "They were very competitive against the best track athletes in the state."

The girls team finished seventh in the 16-team field and nine of the girls earned points. Leading the way was defending champion Sadie Nelson, who would finish first in the 200-meter dash, second in the 100-meter dash, fourth in the 4x100 relay and eighth in the 4x400 relay for a total of 19.25 points. Other top scorers were Chelsey Hanson, who placed sixth in the triple jump, Jordanne Steege sixth in the pole vault, Jeslyn McGinnis was seventh in the 100 hurdles, Kendra Williams seventh in the shot put, Ashley Transtrum seventh in pole vault, and the 4x100 relay team was fourth with Anna Harrower, Sadie Lundberg, Ashley Transtrum and Sadie Nelson.

The boys team would finish in fifth place with strong performances from Joe Steege, who placed second in the pole vault and broke a new school record, Kevin Jaquez second in the discus and fourth in the shot put, Lincoln Proud was second in the 300 hurdles, fourth in the 110 hurdles, Abe Pearce third in the pole vault and eighth in high jump, Junior Aguire sixth in the 100-meter dash, Brad Reints eighth in the discus, 4x100 relay team was fourth with Neal Nelson, Jr. Aguire, Lincoln Proud and Abe Pearce, 4x400 relay was also fourth with Dylan Nelson, Neal Nelson, Chad Gaines and Lincoln Proud.

Four of the Wrangler tracksters were crowned All-State this season. They are Sadie Nelson, Joe Steege, Kevin Jaquez and Lincoln Proud. Steege said: "We have had a super track season this year with a lot of highlights. It was great to see our athletes shine at the State Meet.

"Congratulation to all of our track kids on a fine season."

See The Archives for past articles.
---
Copyright © 2007 Pinedale Roundup
All rights reserved. Reproduction by any means must have permission of the Publisher.
Pinedale Roundup, PO Box 100, Pinedale, WY 82941 Phone 307-367-2123
editor@pinedaleroundup.com