From the pages of
Pinedale Roundup
Volume 104, Number 21 - May 24, 2007
brought to you online by Pinedale Online
---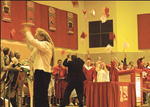 Big Piney graduates threw their hats into the air at the end of the ceremony on Tuesday night, then marched out of the gym and into the arms of congratulatory friends and family. More graduation photos on pages 14A, 15A, 16A, 18A, 19A.

Big Piney honors Class of 2007

by Julia Stuble

The Big Piney Class of 2007 held their commencement ceremony on Tuesday night, launching 42 graduates into their futures. The program began at 7 p.m. The graduates were seated on a built-up stage in the center of the gymnasium, facing a speaker's podium and the packed audience. Every seat was taken in the stands, as families held up cameras and shushed young children.

Valedictorian Heather Nelson delivered her address first, laughing that she was nervous speaking in front of a group of people, and is now giving the valedictory address. Nelson reflected on her school career, and gave advice to following students on classes that needed intense study. "I want to talk about our futures," Salutatorian Seth Linn began. Linn spoke to future potential of the graduates, but also asked his fellow graduates to remember the good times they had at the high school, touching on highlights like winning the 3A football championship this year.

"Time and space will separate us, but no matter where our lives take us we will always be the class of 2007," Linn finished to applause.

Then, Dr. Jonathan Jones, a 1987 graduate from Big Piney High School was introduced for his graduation speech.

Jones remembered his graduation, and revisiting teachers who guided him through his Big Piney school years. He advised the students to, "Go forth to serve, be quick to forgive and have the courage to stand up for your moral convictions." "I wish I could sit with each one of you and talk about your dreams and ambitions and where you want to go," Jones said, and gestured to the audience. "But out there are friends and family who know you and love you. I suggest you listen to them." Jones also warned the graduates to think of their "worried mothers" as they begin their post-high school years.

Jones, who now is employed by the National Aeronautics and Space Administration, told the students that under President Bush's push, NASA is returning to the moon to build a base.

"Perhaps one of you will become an astronaut," Jones commented, continuing that NASA would then go to Mars and would need explorers.

"There is so much we can do and I hope you can do it," he said, telling the seniors before they went to graduation parties, "Go find your mother, father or special friend. Give them a hug and tell them they will be proud of you."

Dr. Darcy Turner, from Wyoming Range Medical, announced scholarship winners, noting that Big Piney graduates earned over $482,000 in scholarships.

Dr. David Burnett, also from Wyoming Range Medical, handed out the diplomas. The students then rose, switched their tassels and threw their hats into the air to the raucous applause of the audience. As they marched out of the gym, past the first row of stadium seats, some were smiling and others were tearful as they accepted high fives and handshakes.

It would be the last time they walked out of the gym as high school students.

Photo credits: Rafter NJ Photography

See The Archives for past articles.
---
Copyright © 2007 Pinedale Roundup
All rights reserved. Reproduction by any means must have permission of the Publisher.
Pinedale Roundup, PO Box 100, Pinedale, WY 82941 Phone 307-367-2123
editor@pinedaleroundup.com