From the pages of
Pinedale Roundup
Volume 104, Number 20 - May 17, 2007
brought to you online by Pinedale Online
---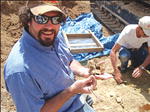 BLM archaeologist Dave Crowley grins as he holds up a mandible unearthed last Thursday at what could be one of the most significant archaeological sites in the state.

Ancient human remains discovered

by Julia Stuble

A skull rolling out of a backfill pile and halting construction of a new home may vex a soon-to-be homeowner. But not Julie Morrell, who said she had felt drawn to the piece of property she and Jerry Morrell now own and are building on. "I'm not at all disturbed by it. This is such an incredible opportunity to learn about more of the history of our area, or even to be able to define a piece of history previously unknown," she commented, adding that she spent Mother's Day out sifting through dirt. The home site, now unofficially known as the Hallie May site after Julie's Cherokee grandmother, could be one of the more significant archaeological finds in Wyoming, says Bureau of Land Management archaeologist Dave Vlcek.

Remains of at least six individuals, and perhaps seven, of both children and adults, have been unearthed from various backfill piles on the Morrells' land.

Vlcek is theorizing that the bones may be 2,000 to 4,000 years old. If scientific dating methods confirm it, the significance of the find – because of the number of individuals found – is immense. Usually, Vlcek noted, remains this old are only of single individuals. The remains have mostly been found in a backfill pile, in loose dirt, meaning they have been moved at least once and maybe more times, from their original location.

However, the dirt that they are being found in looks like it may have come from a deeper level, as a bank revealed by the backhoe shows. Looking at the seven-foot wall, a cutaway of soil levels, Vlcek pointed out the topsoil, then below it, a carbonate "lens." He explained this layer is formed after a very long time as water leaches through it. Below that was a hard clay layer, which is similar to the backfill.

The Morrells' construction manager and his crew have worked with the archaeologists to try to determine from where they were originally excavated. The key now, other than unearthing more bones from the backfill, is to try to find remains that are "in situ" still, in their original deposition site. Without any in situ evidence, unofficial dating and theories of the bones' deposition may remain just theories. Vlcek was careful to avoid saying "graves," as the individuals may not have been purposefully placed together in the ground.

"These are a series of archaic interments," Vlcek noted. "We don't necessarily have a burial." "What does it all mean?" he asked after sifting a shovelful of dirt and finding a tiny bone bead. "It'll take a long while to sort it out. And I'm sure we'll have more questions than answers."

There have been no articulated bones found, but Vlcek noted, "We're in the middle of a construction site and everything's disturbed. At this point, it's looking for a needle in 500 haystacks."

Articulated bones may indicate either a burial, when the complete body was laid in the ground. Often, however, ancient burials were "bundle burials" when an individual was laid on a platform, then some time later the skeleton was bundled and interred. Even if the question of how they were deposited is answered, the ones around how they died and who they were only adds to the mystery.

"I've never seen children and adults found together in the ground," Vlcek noted, wondering if they died together, as from a shared disease, or separately, and if they were related. When they are dated, and the artifacts found with them, may answer some questions, like lifestyle. Their bones already attest to some of this. The teeth in a skull have a characteristic "shovel-shape," which is indicative of Native American origin. Often, teeth were an important tool for leather curing or basket making.

If they are archaic, between 2,000 and 7,000 years old, Vlcek said they had to be hunters and gatherers, as there is no evidence that societies this ancient were agricultural or pastoral.

Only continued digging will answer some of these questions, if they can be answered at all, and Morrell is happy to allow it to go on. "We'll hold off as long as we need to," Julie said, noting that work can still be done on the house. The septic system was being filled in when the first skull was found.

The site is on private land, so the bones are the Morells' private property. The Native American Graves Protection and Repatriation Act (NAGPRA), a federal regulation that usually decrees bones held by federally funded entities, after some scientific study, be given back to modern day Native American tribes for reburial, does not apply. Because the Morells are interested in fully excavating and protecting the remains, the BLM archaeologists, Vlcek and Dave Crowley were called in "on loan" as a few of the several local experts.

Russell Nelson, an anthropologist who is a research affiliate with the Museum of Anthropology at the University of Michigan and adjunct anthropology faculty at the University of Wyoming, is also donating his expertise in examining the bones for gender, age and physical characteristics.

The Sublette County Sheriff's Department was also on-site, at first to determine if the site was a crime scene. "At this point, we've ruled out any crime," noted Detective KC Lehr. On Tuesday, the Sheriff's department released the scene as a crime scene, but noted that anyone entering private property without permission may be subject to fines or arrest. The first few days of the dig, volunteers dug alongside the deputies, archaeologists, representatives from the county attorney's office and the county coroner.

"The total cooperation of everybody is really commendable," praised Vlcek on Friday. Later this week, members of an archaeology firm from Rock Springs will arrive on the site to help excavate it.

Though the site location is not being disclosed for its own protection, the Morrells are seeking volunteers for digging and sifting. "We would like to thank all those who have dedicated time and effort thus far, and treasure the opportunity to share a part of this amazing adventure with others," Julie said on Tuesday. She can be contacted at 231-1217.

Photo credits: Dave Vlcek, courtesy of the Sublette County Sheriff's Department

See The Archives for past articles.
---
Copyright © 2007 Pinedale Roundup
All rights reserved. Reproduction by any means must have permission of the Publisher.
Pinedale Roundup, PO Box 100, Pinedale, WY 82941 Phone 307-367-2123
editor@pinedaleroundup.com