From the pages of
Pinedale Roundup
Volume 104, Number 17 - April 26, 2007
brought to you online by Pinedale Online
---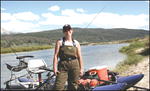 Mindi Crabb enjoys fishing and other outdoor activities.

Mindi Crabb brings experience to tourism role

by Mike Fitzgerald

She was born in Alaska, lived in nine Western states, but has found a home in Wyoming. Literally. "I bought my first house here," said Mindi Crabb, Tourism Marketing Director for Sublette County. "And I've probably lived in 25 different places."

The 45-year-old Crabb moved here two years ago this May after traveling through the area from dude ranch jobs in Jackson and Aspen, Colo.

"I fell in love with Pinedale," she said this week after returning from the governor's tourism conference in Casper, where she was named to the Wyoming Travel Industry Coalition board. "I have made a lot of friends here."

Crabb said she started working in her family's hotels in the Mt. McKinley/Denali, Alaska area — where she was born — when she was 8 years old. By the time Crabb attended Oregon State, where she earned her bachelor's of science degree in hotel and restaurant management, she had already managed a large hotel staff.

From there she worked at several four and five star resorts in a variety of tourism and marketing roles, before settling in here. It wasn't the typical interview and hire, though, she recalled with a smile. "I initially came to interview with the Green River Valley Land Trust," she recalled. "But then I was told there might be a new position of Tourism Marketing Director. "So I quietly sat through an ugly fourhour meeting of the local tourism board and they finally decided to hire more than a secretary, someone with tourism experience. After a breakfast meeting the next day I accepted their offer."

Crabb is an outdoors enthusiast, especially horseback riding and photography, she said. It obviously works well with her career. "I like selling things I believe in and I've really enjoyed getting to know all of the natural resources and recreational opportunities Sublette County has to offer. Then being able to share that with visitors." What doesn't she like about the job? "Sitting in an office too long, although the job does require some of that," she said. "I don't like being stuck inside when it's so beautiful out."

Crabb is looking forward to another upcoming major move. She will have an office and major role in the new Sublette County Visitors Center and Chamber of Commerce on Pine Street, which is due to open near the end of May.

From there she will continue to wrestle with some unique tourism-related challenges. "The energy boom here has brought a lot of benefits and growing pains," she said. "Tourism is drastically affected." Motel rooms are typically expensive and full, in large part due to the influx of gas and oil field workers, these days. That makes local lodge owners happy, and keeps the lodging tax income — which funds Crabb's position — flowing at a good rate.

But it severely limits room for tourists, and their sightseeing and spending, to stay in Pinedale and Sublette County, especially as they travel to and from Yellowstone National Park.

"Tourism is our long-term sustainable and low-impact economy, so we don't want to go off the map as a tourist spot in the future. And the fishing, hunting and horseback guides, even the ski area, has no place to put their clients right now so that's a problem. "But like most boom towns, hopefully the workers will find more appropriate places to stay and keep the room availability in balance." Kim Andrews, executive director of the Sublette County Chamber of Commerce, appreciates Crabb's experience as they help promote the county.

"Mindi brings a lot of professionalism and expertise," she said.

Photo credits: courtesy Mindi Crabb

See The Archives for past articles.
---
Copyright © 2007 Pinedale Roundup
All rights reserved. Reproduction by any means must have permission of the Publisher.
Pinedale Roundup, PO Box 100, Pinedale, WY 82941 Phone 307-367-2123
editor@pinedaleroundup.com