From the pages of
Pinedale Roundup
Volume 104, Number 16 - April 19, 2007
brought to you online by Pinedale Online
---
Obituaries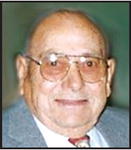 A. JOSEPH DEGRAZIO
A. JOSEPH DEGRAZIO
A. Joseph DeGrazio, 92, died April 11, 2007 at Memorial Hospital of Sweetwater County Hospital after a lengthy illness. He was born on July 25, 1914, in Atchee, Colorado, the son of the late Frank and Josephina DeGrazio.
Joseph attended schools in Salida, Colorado and graduated from Salida High School with the class of 1933. He obtained his bachelors degree from Western State College in 1937 and in 1939 a Masters of Arts degree at Colorado State College of Education in Greeley, Colorado. He was a veteran of the WW II, having served in the US Army stationed at the Asiatic Pacific Theaters in the Philippines as a gun unit commander. He married Mary "Vicki" Hartsfield on March 7, 1980 in Pinedale, Wyoming.
Joseph was a member of the Holy Spirit Community in Rock Springs. He was also a member of the Elks Lodge in Salida, Colorado for 62 years. His interests were fishing, hunting, gardening and his many friends.
Survivors include wife Vicki DeGrazio of Rock Springs; one sister, Ruth Giordino of Denver, Colorado; 2 nieces and 3 nephews and many cousins, great nieces and great nephews.
He was preceded in death by his parents and one sister, Ida Blagg. A Mass of Christian Burial will be celebrated at 10:00 a.m. Monday, April 16, 2007 at the SS. Cryil & Methodius Catholic Church, 633 Bridger Ave., Rock Springs. A parish rosary will be recited at 7:00 p.m. Sunday, April 15, 2007 at the church. Cremation will follow and inurnment will take place in the Resurrection Catholic Cemetery, Los Angeles, California at a later date.
In lieu of Flowers, the Family request donations be made to a charity of your choice. Fox Funeral Home, Funeral Directors Rock Springs, Wyoming.
---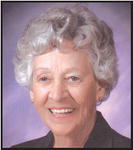 CORNELIA 'INKY' MARIE FEAR ROBINSON
CORNELIA 'INKY' MARIE FEAR ROBINSON
Cornelia "Inky" Marie Fear Robinson, 83, died Easter Sunday, April 8, 2007 in Salt Lake City, UT surrounded by her children. Inky was born August 19, 1923 at the family ranch in Big Piney, Wy to Cornelia L. O'Niel Fear and Clifton A. Fear Sr. She attended Big Piney Schools and St. Mary's of the Wasatch in SLC and a year or two at the University of Wyoming. Following that she worked in Cheyenne as a secretary for the Wyoming Game and Fish Dept. She married Ben R. Buckley and had a daughter Patricia. She married Dean G. Jewett and had daughter Roberta and son Gordon. Upon divorce the family moved to Florida for a brief period where she developed a life-long love of the ocean, beaches and sun. Returning west she lived for 27 years in several places in Utah including Roy, Bountiful, Murray, Park City, and Salt Lake. She worked for many years for M and I Insurance in Salt Lake and was actively involved in the Soroptomist Club. She married Gordon Robinson and was widowed in 1978. After retiring she moved to Arizona and divided time between there and family in Salt Lake, California, Washington and Wyoming. In retirement her joys were golf, traveling and enjoying the company of her many friends and relatives. She actively participated in the St. Joachim and St. Anne Catholic Parish in Arizona and outreach programs for St. Vincent de Paul. She was a woman of faith, hope and charity who tried to teach her children the same. We cannot imagine life without her.
She is survived by daughters Patricia S. Buckley of SLC, Ut; Roberta A. Jewett, Sonin-law Kent G. Lightfoot of El Cerrito, Ca; son Clifton Gordon Jewett, daughter-in-law Theresa Jewett and Grandson Clifton Caleb Jewett of Spokane, Wa. And a large extended family of many nieces, nephews, great and great-great nieces and nephews and beyond in California, Georgia, Iowa, Nebraska, Oregon, New Mexico, New York, Utah and Wyoming.
She is preceded in death by her parents, brothers Clifton "Pete A. Fear Jr. Kenneth "Buss" Fear Sr. and sister Edythe L. Barp all of Big Piney, WY.
A Viewing and Rosary was held Friday evening April 13 from at St. Anne's Catholic Church in Big Piney. Funeral Mass was held Saturday morning April 14 at 10:00 a.m. at the Church. Interment followed in the Plainview Cemetery.
An informal gathering to remember her was held on Sunday April 15 between 11 a.m. and 1 p.m. at the home of her daughter Patricia Buckley. In lieu of flowers donations can be made to the St. Vincent de Paul Charity or a comparable charity with a mission to the poor.
See The Archives for past articles.
---
Copyright © 2007 Pinedale Roundup
All rights reserved. Reproduction by any means must have permission of the Publisher.
Pinedale Roundup, PO Box 100, Pinedale, WY 82941 Phone 307-367-2123
editor@pinedaleroundup.com