From the pages of
Pinedale Roundup
Volume 104, Number 16 - April 19, 2007
brought to you online by Pinedale Online
---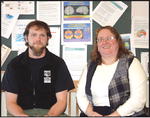 Casey Boulter, probation officer, and Kathy Anderson, drug court coordinator, believe Sublette County's drug court helps alleviate crime and helps people break addictions.

A different kind of graduation
County drug court program offers users a second chance
by Annie O'Brien

Nineteen-year-old Chris disproved F. Scott Fitzgerald's famous maxim, "There are no second acts in American lives." On April 4, Chris graduated from Sublette County's drug court program, a lengthy, comprehensive treatment option for men and women who have descended into drug and alcohol-linked crime. The graduation was simultaneously more formal and more intimate than the ceremony his high school friends will experience next month. It was held in the Circuit Courthouse and presided over by a black-robed Judge Curt Haws, but all eyes were on the young man who had just dedicated a year of his life to breaking alcohol's hold on him.

Like a lot of teenagers, Chris began drinking as a high school student. One night he drove drunk, almost hit a sheriff's deputy and was charged with Driving Under the Influence (DUI). A basketball player, he was suspended from the team, and was not able to re-establish the camaraderie he once enjoyed with his teammates. Chris said he began to feel guilty for "letting people in the community down," and last May, he entered the drug court program.

At first he was an unenthusiastic participant. "It was like I had a full-time job plus another full-time job," he said, but after observing his fellow drug-court members, many of whom had suffered from years of addiction, Chris changed his mind about the program. At the graduation Judge Haws dispelled the myth that drug court was an indulgent way of excusing unlawful behavior.

"There are those that will suggest to you that drug court is a sort of liberal way to coddle criminals. It is not," he insisted, adding that had Chris chosen to serve a criminal sentence, he would have completed his punishment in much less time than it took him to go through drug court. Sublette County implemented a drug court in 2003. Judge John Crow and Jeannie Whinnery oversaw the young drug court, and the county commission agreed to fund the entire program, "a rare luxury," drug court coordinator Kathy Anderson said. She speculated that the commissioners were willing to finance drug court because they believed in the importance of "taking care of our own."

The county is currently working on a drug court for juvenile users. Drug court is designed for individuals who have been arrested for multiple drug-related offenses, or who have lost a job or their families because of their substance abuse. Men and women with a history of very violent behavior are typically excluded from the program. Prospective participants can be referred by anyone, but "post adjudication" or post sentencing treatment is usually the most effective, Anderson said, because the attendees are under a court order.

The program consists of "intensive supervised probation," Anderson said. Drug court members are subject to frequent urinalysis tests, searches of their home and person and must remain in constant contact with the overseeing judge. During the first two months, participants are required to complete nine hours of therapy each week. The treatment extends beyond drug tests and reports to the judge. If they lack a high school degree, drug court members must complete their GEDs. They take parenting and financial education classes. In some cases they must enter vocational rehab. All of these seemingly peripheral issues can make the crucial difference in helping addicts stay clean, Anderson explained. "We try and address the whole picture. Substance abuse doesn't happen in a vacuum," she said.

While model participants like Chris can complete the program in about a year, most people take 14 to 15 months to go through drug court. Sometimes they relapse, probation officer Casey Boulter said. Anderson also disputed drug court's reputation as way to coddle reprobate criminals, arguing it is a more effective method of breaking the cycle of using and crime than standard sentencing. Participants are still held accountable for their actions, but the program tries to treat the reasons for their addictions. It was also more demanding choice, she claimed. Gas field employees who work on "dirty" rigs must find a different job. "It's not a get out of jail free card," Anderson said.

Boulter and Anderson agreed the energy boom has exacerbated drug and alcohol abuse in Sublette County, in part because the increasing population simply brings more drugs, alcohol and stressors to the area. But Anderson said the long hours, and concentrated living situations among gas field workers may contribute to substance abuse "Like a steroid for a baseball player," she speculated some roughnecks turn to methamphetamine to get through very long shifts, during which they perform dangerous work.

Drug court, Anderson and Boulter emphasized, makes both practical sense, reducing the rates of recidivism, and gives individual human beings a rare opportunity to change their fates. "It's amazing what these people will do when they no longer have the meth or pot in their system."

While illegal drugs like meth are scourges in America, alcohol is the most commonly abused substance. Wyoming has some of the highest underage drinking rates in the United States. Thirty-two percent of Wyoming youths report binge drinking, the nation's fourth highest percentage. Alarmed by research detailing the disastrous consequences of heavy drinking during the teenage years, including an increased link between early alcohol use and later alcohol dependence, Wyoming First Lady Nancy Freudenthal is waging a campaign against underage drinking.

Judge Haws left the lucrative world of corporate law for the public sector because he "was looking for an impact position." When he worked for a hospitality industry in Jackson, one of the company's employees was "profoundly addicted," and had been arrested for 14 DUIs. The employee served over a year in jail, missing the birth of his first child and leaving his wife without any financial support. He entered the drug court, and is now reunited with his family and is now a "valuable contributing member of the community," Haws said with evident pleasure. Helping people overcome their addictions, particularly alcoholism, may help reduce many other crimes, Haws argued. Virtually every case of domestic violence he has seen as a judge has involved alcohol.

Haws feels a quasi-paternal affection and concern for the participants in the drug court. "I probably think more about the people in this program than all the people who come through my courtroom," he said. The drug court also serves as a reminder to be careful about denouncing human lives. "If we draw a line in the sand in the wrong place, we're condemning these people to failure."

Chris, too, learned about compassion and sympathy through drug court. In high school he would issue quick judgments about others, but after going through the program, he said, "I realize everyone has a story." "I really let my guard down," Chris added.

He found an outlet in cooking, and plans to attend the Culinary Institute in Dallas. While cooking could be a dangerous occupation for a recovering alcohol abuser, constantly exposing him to wine, beer and liquor, Chris said he was not tempted by alcohol in the kitchen. Cooking stimulates and relaxes him. "It's when I'm the most alive, the most in my element, when there are 30 tickets on the board. The more chaos, the better," Chris said.

After Judge Haws presented him with an order dismissing his criminal case and counselor Jeff Swain praised his commitment to sobriety and to the others in the program, Chris, looking like a casual, carefree teenager in his jeans and long hair, spoke to the courthouse. In drug court he realized that partying with his friends was not the most important thing in life. "You have to grow up sometime," he said.

Photo credits: Annie O'Brien

See The Archives for past articles.
---
Copyright © 2007 Pinedale Roundup
All rights reserved. Reproduction by any means must have permission of the Publisher.
Pinedale Roundup, PO Box 100, Pinedale, WY 82941 Phone 307-367-2123
editor@pinedaleroundup.com