From the pages of
Pinedale Roundup
Volume 104, Number 15 - April 12, 2007
brought to you online by Pinedale Online
---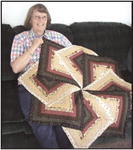 Deanne, at her home, shows one of the intricate quilt designs she has pieced together.

PIONEER – Deanne Bradley

by Helena Linn

Deanne Bradley descends from families that settled in this area before it was Sublette County. The sixth generation of those families still lives in this County and they are Deanne's grandchildren who live in Marbleton and go to Big Piney Schools.

Frank A. and Jessie Fear came to Big Piney country from Iowa and settled on South Piney Creek in 1889. Thomas D. and Mary Ellen O'Neil came to Big Piney from near Cheyenne, Wyoming and bought a ranch from Norris Griggs, a few miles from the Fears. Frank and Jessie's son Clifton married T.D. and Mary Ellen's daughter Cornelia. Clifton and Cornelia settled on the ranch that O'Neils bought from Mr. Griggs when T.D. and Mary Ellen O'Neil bought land on Cottonwood Creek.

Clifton and Cornelia lived on the ranch, which became the family home place for Fear Ranches. There they raised their sons, Clifton Jr., Kenneth, and their daughters Edythe (Barp) and Cornelia (Robinson). Clifton Jr. became known as Pete Fear Jr, Kenneth as Buss, and Cornelia as Inky. The brothers and sisters went to school in Big Piney and graduated from Big Piney High School.

The next generation took over the home place when Buss married Mardell, daughter of Rod and Inez Bennett. Buss and Mardell's children followed their parents, aunts and uncles into the Big Piney schools. The oldest, Kenny (Ken Fear Jr.) married Mary Gurney and they ranched for many years on the O'Neil Ranch on Cottonwood. Their son Jay and his wife Ann (Montgomery) live in Pinedale with their daughters Lisanne and Abby. Ken and Mary's daughter Mandy and her husband Harvey Norris live near Cora. Buss and Mardell's oldest daughter is Deanne, born on November 30, 1941 in Kemmerer.

Next came Lynda who married Doug Vickrey. Vickrey's son Mike married Debra Boettcher and they live in Pinedale. Their son Jason is a freshman at the University of Wyoming and their daughter Kelsea is in High School in Pinedale. Doug and Lynda's daughter Nikol married John Baker; they live in Chico, California and are expecting a baby soon. Lynda and Doug lost a son James Rodney when he was about two years old. Melodie is Buss and Mardell's youngest. She married Russell Good and they live at Belen, New Mexico. Their children are Jeff, married to Kathy and they have three girls; Kelly Ann, married to Bret Badger; and Annie, married to Jonathon Wilson and they have one boy, Christian.

Deanne

After Deanne graduated from Big Piney High School in 1960 she went into the School of Nursing at Holy Cross Hospital in Salt Lake City, Utah. She graduated from there in 1963. She came back to Big Piney and on April 16, 1963 she married her high school sweetheart, Allen Bradley, son of Joe and Lucy Bradley of Big Piney. Allen worked for Northwest (now Williams) but before long they moved to the Fear Ranch south unit, the Reardon Place. The house at the Reardon Place had originally been in Big Piney and was moved to the ranch when they could cross the river on the ice. It was set on higher ground than the original homestead which had experienced flooding during Green River's high water season. The Reardon Place was home to Deanne and Allen for twenty-four years. Deanne worked as a nurse for Dr. Burgoon for a few months but mostly she was a stay-at-home mom while she and Allen raised their four children. She resumed her nursing career when she served as the school nurse in 1979. In 1980 she went to work for Dr. Close and they have worked together since then.

Like their forebears, the Bradley children attended and graduated from Big Piney Schools. The oldest, Rebecca, married Roger Ball of Big Piney. They live in West Jordan, Utah and have Kaitlyn, a freshman at Salt Lake Community College and Nicholas, a sophomore in high school. Becky is a personal assistant to the pastor of a church and Roger works for Bluecoat Computers. On February 12, 1967, five babies were born to Deanne and Allen. Sadly, Christopher, Samuel, Anne, Sharon, and Elizabeth all died soon after they were born. Audrey married Mark Matheson of Laramie. They live in Belen, New Mexico with their young children Blake, Wyatt, and Troy. Audrey is a teacher and Mark works in landscaping.

Marilyn married Eudell Larson, They have Quaid, Kail, and Taik and Taik is not in school yet. The Larson family lives in New Underwood, South Dakota where Eudell grew up and is now the rodeo coach and Marilyn is the office manager for the rodeo department of the college there. Mack is the youngest Bradley. He married Tiffanie Herring from Encampment. Mack and his uncle Kenny Fear own K & M Backhoe Service. Mack is also the manager and part owner of Spotsylvania Mobile Home Park. Tiffanie teaches in the elementary school in Big Piney. Their daughter Karson is in the second grade and their son Kolby is in pre-school.

Karson and Kolby are the sixth generation of the Fear family to live in Big Piney. During the first Exxon boom, Bradleys and Rodney Bennett established the Spotsylvania Mobile Home Park. Later, Deanne bought the Bennett interest and now she and Mack own and operate the Park which also has storage units to rent.

Life Changed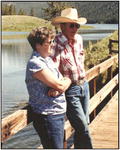 Deanne and Allen Bradley enjoying a nice day out at the Green River Lakes.

Allen and Deanne left the Reardon Place in 1988 and lived at the home place managing the ranch for new owner, Bill Barney for the next five years. They moved to Big Piney the Thanksgiving weekend of 1993 and later to Marbleton and began work on their own new house. Allen was working for Mountain States Water Service when he was killed in a truck accident in March, 1994. Recovery from this tragedy was very difficult for Deanne and her family but she had the house finished and continued her nursing profession. Deanne and Dr. Close worked in the Marbleton Clinic and at what is now the Lincare building during much of the time they provided medical care for the community. Now, Dr. Close and Deanne devote a lot of time to end-of-life cases and sometimes patients are referred to them.

Dr. Close and Deanne are largely responsible for the Community Home Care for this community. Although others help with raising money and many donations are made as memorials, the doctor and nurse take care of their patients. The Community Home Care program has sent a child to diabetic summer camp; it sometimes needs to buy prescriptions for someone who is in need but cannot afford the medicine; and sometimes provides transportation to out-of-town medical facilities. Care of the elderly is a special concern. Looking out for the health of everyone in the community prompted Deanne and Chris Jones from Casper, who owned Western Health Screening, to start the Health Fair in this community. About 300 people had blood drawn the first year and now many years later, 720 people had their blood drawn this year. Deanne still helps with the blood draws but has turned the actual Health Fair over to the local EMTs. The Health Fair has saved several lives because an illness was screened and people were given the opportunity to seek the diagnosis and treatment they needed.

Deanne has devoted her time, energy, and talents to other areas of the community, as well as in the medical field. She was a ten year member of 4-H and that led her to serving 35 years as a 4-H leader. She served on the Fair Board for sixteen years and when she retired from that board the performing stage at the Fair Grounds was named in her honor. It runs in the family – last year the rodeo arena at the Fair Grounds was named in honor of Deanne's father, Buss Fear. Deanne is an active member of St. Anne's Catholic Church where she serves as a Eucharistic Minister and is a member of the Catholic Council of Catholic Women.

It was during Deanne's six years as a member of the Sublette County Retirement Center's Board of Directors that the name was changed to the Sublette Center. She has been a member of the Cowbelles and helped with the quilt that is raffled each year. This brings us to a very important part of Deanne's life. She is an avid quilter and has helped many people learn to quilt. She, Jan Keller, Lynda Houfek, and Nancy Graham established a local quilter's group known as the Sisters in Stitches. The ladies have made many quilts for charitable purposes as well as for gifts and for their own enjoyment. She remembers that when she first started to quilt, they tied their quilts. Now, most are quilted and usually by machine. A popular thing among quilters in the 1980s was an exchange program and Deanne made, sent, and received many quilt blocks. Another fun thing was the Round Robin – each person make a medallion for the center, then, in turn, each of the six ladies in the group added a complete border of triangles, squares, rectangles, appliqué, curves, and then anything goes for the last one. Each person got her own medallion quilt back at the end, with all the quilt borders added so it was ready to finish.

Deanne is a member of the Wyoming State Quilt Guild and Lora Grinestaff nominated her for the Golden Thimble Award for a member who does a lot to promote quilting. It was very rewarding for Deanne to be the winner of that award, especially since she was chosen by other quilters. The Wyoming Nurses Association gave Deanne the Volunteer Award for starting the Health Fair in Big Piney and for other community works. Dr. Close and Susie Lehr nominated Deanne for the March of Dimes Nurse of the Year Award for 2005. Even though she didn't win, her plaque shows that she was nominated and she appreciates that.

Deanne has traveled some and just enjoyed a trip to New Zealand last November. Other exciting trips were to the Artic Circle (Churchill) to see the polar bears and to Prince Edward Island to see the Harp Seals. No matter where she goes, she comes home to Big Piney. Of course, she often travels to see her children and grandchildren and lots of family members gather at her house each summer for their family reunion. She is a devoted and much loved member of her family. She is also a tireless worker for her community – and well respected for it.

See The Archives for past articles.
---
Copyright © 2007 Pinedale Roundup
All rights reserved. Reproduction by any means must have permission of the Publisher.
Pinedale Roundup, PO Box 100, Pinedale, WY 82941 Phone 307-367-2123
editor@pinedaleroundup.com