From the pages of
Pinedale Roundup
Volume 104, Number 13 - March 29, 2007
brought to you online by Pinedale Online
---
Obituaries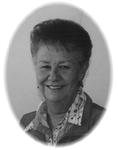 JEANETTE MARIE HACKLIN
JEANETTE MARIE HACKLIN
Memorial services for Jeanette Marie Hacklin will be held at 10:00 am, Wednesday, March 28, 2007 at Stevenson-Wilson Funeral Home with Pastor Bill Morel of the Family Life Church officiating.
Jeanette Marie "Bunny" Hacklin, age 63, of Pine Haven, Wyoming died on Saturday, March 24, 2007 at Campbell County Memorial Hospital due to a battle with cancer.
Mrs. Hacklin was born May 18, 1944 in Kemmerer, Wyoming the daughter of George and Marie (Corsi) Yeaman. She was named after her grandma Corsi and mother, but her two brothers Carl and Jerry seen her in the crib and named her "Bunny" which stuck with her for the rest of her life. Bunny started school in Calpet at the Texaco camp, where her dad worked. They later moved to La Barge, Wyoming and Bunny attended school from the 5th grade to 12th grade in Big Piney, Wyoming. She graduated in 1962 as Salutatorian of her class. Bunny was a cheerleader, homecoming and prom queen in high school, and was class officer for 4 years. She married her high school sweetheart Ron Hacklin on June 16, 1962 in Big Piney. In 1967 the joy of her life was born, a son, she and Ron named Jay Dee. While living in La Barge, she and Ron owned and operated Ronco Self Service in 1973 and Bunny's parents purchased the Eagle Bar from Pete and Rena Sundgren in which Ron and Bunny became part owners.
In 1980 the family moved to Pine Haven, Wyoming where they lived until her time of passing. In 1993 Bunny was Deputy Clerk for the town of Pine Haven and was a member of the Cemetery board. Bunny loved playing fantasy football and knew all the players on all the teams and the positions they played. She was secretary of the first Chamber of Commerce when in started in Pine Haven and was a member of the American Legion Auxiliary Post 88, in La Barge, Wyoming, and also a member of the Keyhole Country Club for over 26 years. She loved the golf club auctions and was a great animal lover in which any stray was always welcome at her house until a home was found for them. Bunny was so proud of her husband, son and grandchildren.
She is survived by her husband, Ron Hacklin of Pine Haven, Wyoming; son, Jay Dee (Tammy) Hacklin of Moorcroft, Wyoming; grandchildren: Amanda and Dee Jay Hacklin both of Moorcroft, Wyoming; along with many nieces and nephews. She was preceded in death by her parents, 3 brothers: Doyle, Carl and Jerry Hale, sister; Gene Marie Johnson. Memorials may be made in Bunny's name to benefit the American Cancer Society. Memorials and condolences may be sent in care of Stevenson-Wilson Funeral Home, 210 W. 5th Street, Gillette, Wyoming 82716 or via the internet at www.stevensonwilson.com
---
ROSE TREFTZ
Long-time Pinedale resident, Rose Treftz passed away at home on March 9, 2007 in Santa Rosa, California. Rose was born in Turtle Lake, Wisconsin on Jan. 28, 1923, daughter of Henry Effertz and Angeline Backes Effertz. She celebrated her 84th birthday earlier this year.
Rose was employed at the Briggs & Stratton Defense Corp. in Milwaukee, she constructed magneto components for the Mitchell B-25 bombers used for combat in World War II. It was here that she met Samuel Treftz and they married on Nov. 30, 1945.
Rose was a devoted wife and mother and was the unifying factor in her family. She found joy in daily phone conversation and emails with family and friends, and strength and peace in her faith. Rose was an active member and volunteer at Our Lady of Peace Catholic Church in Pinedale. She enjoyed church activities, dancing, needlework and reading Zane Grey novels in her spare time. She and Sam lived in Pinedale for several years in the late 1950s before moving to Wisconsin. They returned to Pinedale in 1973, where they lived until Sam passed away in 2000.
Rose is survived by children Kenneth (Jean) Treftz of Nashville, TN, Cecilia (Jim) Carstarphen of Santa Rosa, CA, Samuel Treftz of Tall Timbers, MD, Michael (Nelly) Treftz of Las Vegas, NV, Beverly (Eric) Kucera of Salisbury, MD, and Angela (Vaughn) Treftz Young of Santa Rosa CA. She has ten grandchildren, Richard Treftz, Garrett and Kaitlin Procknow, Samuel and Samantha Treftz, Jarvis, Andrew, Michael Jr. and Alejo Treftz and Nicholas Kucera. She also has five great grandchildren, Taylor, Lauren and Nathan Treftz, Raven Procknow and Isaiah Treftz. Rose is also survived by brothers Henry, Jim, George, Bob and John, and sisters Mary Dominica Effertz, Theresa Weinert and Cecilia Vobornik.
Rose was preceded in death by her husband Samuel, parents Henry and Angeline Backes Effertz, brothers Joe, Matt and Frank and sister Angeline Joarnt. Memorial services will be held in Pinedale, Wy. at Our Lady of Peace Catholic Church on May 14, 2007.
See The Archives for past articles.
---
Copyright © 2007 Pinedale Roundup
All rights reserved. Reproduction by any means must have permission of the Publisher.
Pinedale Roundup, PO Box 100, Pinedale, WY 82941 Phone 307-367-2123
editor@pinedaleroundup.com