From the pages of
Pinedale Roundup
Volume 104, Number 13 - March 29, 2007
brought to you online by Pinedale Online
---
PIONEERS: Paul and John Zembo

by Helena Linn
Except for a few years in the service during World War II, Paul and John Zembo have spent their lives on a ranch southeast of Boulder on Muddy Creek. Their father came to America from Czechoslovakia in 1901. Paul Zembo Sr. first worked in a hat shop in Connecticut then went back to the old country and brought his wife Catherine (Katie) Benko Zembo with him to Wyoming where his brother John lived at what is called The Wells, north of Rock Springs, Wyoming.
Paul Sr. and his brother John hand dug a 225 ft. deep well at The Wells. A horse pulled a barrel out with their diggings. The well was along the trail for ranchers driving cattle and sheep to the railroad near Rock Springs. The Zembos sold water for the animals and Mrs. Zembo cooked for whoever traveled through there. A daughter Anna and a son George were born to the Zembos while they lived at The Wells. After spending a winter in Connecticut the family returned to Rock Springs where another daughter Kathryn was born. To supplement their income, Paul Sr. and his brother John herded sheep for John Hay while at The Wells.
Both Zembos were adept at providing water for what they needed. They dug wells, developed springs, and built reservoirs. They also began to acquire land. They filed on land, sold that, and in 1913 Paul Sr. bought the present Zembo ranch and the A+ brand from a bachelor, Ole Hande. Mr. Zembo brought cattle from Brown's Park, Colorado to start his cattle ranch.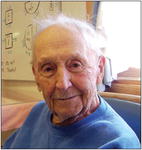 Paul Zembo, Jr.
Paul Zembo Jr.
Paul was born on the ranch at Big Sandy on January 1, 1916. Next, his parents had twins that died at birth. John and two more girls were born to the family. They were Elsie and Margaret. Elsie, Margaret, and Kathryn live in Rock Springs.
The Zembo children went to school at the Emerson School on their own ranch. Paul went to the eighth grade then worked full time on the ranch. He knew how to do ranch work; he had started to rake hay when he was seven or eight years old.
Paul was young but he remembers the Depression, what he calls "the Hoover Days", and times were tough. His mother was a good cook and since hitchhikers looking for work often passed by their place, which was on the main road, she would give them something to eat and sometimes gave them a place to stay awhile. Few people around could afford to hire anyone so they would move on to the next stopping place.
During the Depression, Paul Sr. took 32 steers to Omaha and got $500 for the whole herd. It was tough for ranchers when the government stepped in, paid a rancher $18 for a good cow and $12 for a sheep then shot the animals on the ranch. They butchered the sheep and took the pelts but most cows weren't used and left to rot. It was hard for Mrs. Zembo to see meat go to waste when so many people needed food.
World War II came along and Paul spent four years in the South Pacific, landing on 17 islands during his time there. His troop ship landed at New Caledonia and his troops were replacement for the Americal Division. He was glad to get back to the ranch and he hasn't left it for very long since.
The Zembos raised both cattle and sheep and their horses were brought in from the desert. Paul says they were tough and sometimes hard to break but good strong horses when they were broke. They usually branded ten or twelve desert horses a year. Paul had a good team, Bud and Jeff, that he used on a sweep. Lincoln Service brought electricity to the Zembos in 1953. Paul laughs when he said they called it "Blinkin' Service" because it didn't always work.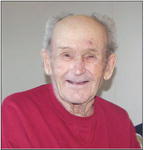 John Zembo
John Zembo
John was born in Rock Springs on May 23, 1920. He went to the Emerson School until the seventh grade then, like his brother, went to work on the ranch. It was quite an adventure for the family when Mr. Zembo bought a used Model T. A few years later in 1929, he bought a new Model A.
They used horses for all the ranch work until Mr. Zembo was finally able to buy a Fordson Tractor to use on the plunger and for other ranch work. He also had three teams that he used on a wagon to haul freight from Rock Springs to Big Sandy and Boulder.
John went into the Army during World War II and spent about two and a half years in the states and two and a half years in Europe, going through England, France, and Germany. His was a replacement unit and he well remembers the tough years he spent there. Like his brother, he came back to spend the rest of his life on the ranch.
He remembers how their dad trapped coyotes, muskrats, and weasels to help buy clothes for his family during the Depression. There were good times too, when neighbors got together to help with branding or with whatever they could do to help each other.
Both John and Paul went on several of the cattle drives to take their cattle to the railroad. They camped wagon and a cook to take care of meals. They remember that neighbors put their herds together, and shared night herding until they could build corrals where they stopped along the way. It was much easier when ranchers began trucking their cattle to the railroad.
John said haying and ranch work was easier with tractors but he liked using horses. They sold the sheep about 1939 and have raised cattle since then. They fed hay in the winter with a team until the snow melted then they would use a tractor. They put their cattle on the desert for spring pasture and took them about 25 miles to the mountains for the summer. John had a favorite horse – a grey he called Peanuts. They also had dogs around the ranch.
Neither John nor Paul traveled much after they returned from the service – "to Pinedale or Rock Springs," John said with a smile. They've worked hard on the ranch, grew what they could in a garden, didn't have a lot of time to read, and don't have a television. They agree that they have had a good life doing what they love – ranching. They have belonged to the New Fork-East Fork Cattle Association. The Green River Valley Cattlemen's Association gave them a lifetime membership a few years ago.
Their parents, sister Anne and brother George, have passed away but Paul and John, who never married, still have three sisters and their families. The Zembo brothers have seen a lot of changes in the country but they have been content to let the world go by while they live quietly and enjoy life. Although it wasn't Sublette County when they were born, their roots are deep in Big Sandy country in what is now Sublette County.
Photo credits: Helena Linn, Helena Linn
See The Archives for past articles.
---
Copyright © 2007 Pinedale Roundup
All rights reserved. Reproduction by any means must have permission of the Publisher.
Pinedale Roundup, PO Box 100, Pinedale, WY 82941 Phone 307-367-2123
editor@pinedaleroundup.com