From the pages of
Pinedale Roundup
Volume 103, Number 23 - February 8, 2007
brought to you online by Pinedale Online
---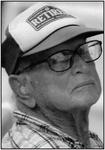 JOHN WILLIAM HANSEN

Obituaries



JOHN WILLIAM HANSEN

John William Hansen, 88, of Marbleton passed away Wednesday, Jan. 24, 2007, in Marbleton. He was born Oct. 25, 1918, in Leavenworth, Kan., to John and Fannie Mae Hansen. He married Dorothy Caroline Taylor on April 14,1947. John was a resident of Marbleton for five years. He was a member of the U.S. Navy from 1944-46.

He then served in the U.S. Air Force from 1948 until retirement in July 1969. He was awarded the Air Force Commendation and the Bronze Star for meritorious service in Vietnam. John served our country three times in war. He was a baseball player in his teens and was offered a position in the minor leagues, which he declined in order to serve our country.

He won several trophies in bowling and golf. After retirement he was an avid hunter, fisherman and traveler (mostly by motorcycle with his wife Dorothy).

He is preceded in death by his parents, two sisters and son Robert W. Hansen (2005). He is survived by Dorothy, his wife of almost 60 years; sons Johnnie of Alvin, Texas, Ron (Carol) of Indialantic, Fla., Ray (Donna) of Bremmerton, Wash.; daughters Patricia (Tim) Fischer of Las Vegas, Nev., and Jeanette (John) Hanson of Marbleton; grandsons Steven and Christopher Hansen, Jason Winn, Kevin and Daniel Yenser; greatgrandchildren Skyler Winn and Emily Hansen; brothers Ben, Donald, Albert, Jerry and Jim Hansen; and sister Mary Murphy.

John was laid to rest next to his son Robert (Bob) Hansen in Pinedale. He will be missed and loved by all who knew him.

See The Archives for past articles.
---
Copyright © 2007 Pinedale Roundup
All rights reserved. Reproduction by any means must have permission of the Publisher.
Pinedale Roundup, PO Box 100, Pinedale, WY 82941 Phone 307-367-2123
editor@pinedaleroundup.com