From the pages of
Pinedale Roundup
Volume 103, Number 22 - February 1, 2007
brought to you online by Pinedale Online
---
Obituaries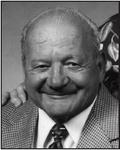 JOSEPH ANTONE BOGATAJ
JOSEPH ANTONE BOGATAJ
Joseph Antone "GoGo" Bogataj, Jr., 82, of 1228 9th Street, Rock Springs, Wyoming passed away on Sunday, January 28, 2007 at the Memorial Hospital of Sweetwater County where he had been a patient for the past five days. A life long resident of Rock Springs, Wyoming, Mr. Bogataj had been in ill health for the past six months. He was born on August 12, 1924 in Rock Springs, Wyoming, the son of Joseph A. and Mary F. Golob Bogataj. Mr. Bogataj attended school in Rock Springs, Wyoming.
He married Lorraine "Dena" Nigra on June 7, 1947 in Rock Springs, Wyoming. Mr. Bogataj was a United States Marine Veteran of World War II. He was employed as a butcher for Miners Merc and then was employed at F.M.C. for thirty-two years and retired in 1990 as an Operator.
Mr. Bogataj was a member of the Holy Spirit Catholic Community, Fraternal Order of the Eagles Aerie 151, Knights of Columbus, Veterans of Foreign War and KSKJ Lodge.
His interests included spending time with his family and grandchildren. He also enjoyed traveling to Lava Hot Springs, Idaho. Survivors include his wife Lorraine "Dena" Bogataj of Rock Springs, Wyoming; two sons Frank Bogataj and wife Kathy of Largo, Florida and Karl Bogataj and wife Barbara of Rock Springs, Wyoming; one sister Angela Mary Majhanovich and husband John "Brownie" of Rock Springs, Wyoming; seven grandchildren Megan Bogataj, Christopher Bogataj, Tyra Bogataj, Karlee Bogataj, Kyle Bogataj, Amber Knapp and Stephanie Jasperson; six great-grandchildren Jaylee Shalata, Genessa Bogataj, Blayson Bogataj, Ashtyn Jasperson, Gavin Jasperson and Lexi Knapp; one uncle and one aunt Albert and Frances Korfanta.
He was preceded in death by his parents. A Mass of Christian Burial will be celebrated at 11:00 A.M. Thursday, February 1, 2007 at the Saints Cyril and Methodius Catholic Church, 633 Bridger Avenue, Rock Springs, Wyoming. Father Carl Beavers will officicate. A Parish Rosary will be recited at 7:00 P.M. Wednesday at the Vase Funeral Chapel. Friends may call at the Vase Chapel, Wednesday afternoon and evening until 8:00 P.M. and on Thursday at the chapel until time of funeral services. Cremation will take place following the services.
---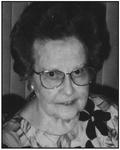 BERNICE MALMBORG
BERNICE MALMBORG
Bernice Malmborg, 95, of 333 Bridger, Pinedale, Wyoming passed away on Saturday, January 27, 2007 at the Sublette Center in Pinedale, Wyoming. A resident of Pinedale for the past seven years and former resident of Elkader, Iowa, Mrs. Malmborg died following a lengthy illness.
She was born on January 27, 1912 in Shioctan, Wisconsin, the daughter of the late Charles and Clara Foss Kling. Mrs. Malmborg attended schools in Shioctan, Wisconsin and graduated from the Shioctan High School. She also graduated from the Stevenspoint Teachers College. She married Paul Andreas Malmborg in Shioctan, Wisconsin on June 14, 1937 and he passed away at Strawberry Point, Iowa on August 3, 1990.
Mrs. Malmborg was employed as a teacher for forty-years. Her interests included spending time with her family, playing bridge, traveling and gardening. She was a member of the Bethany Lutheran Church.
Survivors include one son William Malmborg and wife Sheri of Rancho Mirage, California; two daughters Karen Wilson and husband Denny of Independence, Iowa and Linda DeBernardi and husband Joe of Rock Springs, Wyoming; eight grandchildren Erik Malmborg, Jody Inturri, Kelly Malmborg, Andrea Robens, Michelle Soukup, Brett Wilson, Alex DeBernardi, Charlsie De-Bernardi ; twelve great-grandchildren; several nieces and nephews.
She was preceded in death by her parents, husband, and three brothers Carl, Clarence and Harold.
Graveside Services and Interment will be conducted at 10:30 A.M. on Friday, February 2, 2007 at the Hortonville City Cemetery in Hortonville, Wisconsin. Friends may call one hour prior to services on Friday, at the Borchardt & Moder Funeral Home, 109 Main Street, Hortonville, Wisconsin.
See The Archives for past articles.
---
Copyright © 2007 Pinedale Roundup
All rights reserved. Reproduction by any means must have permission of the Publisher.
Pinedale Roundup, PO Box 100, Pinedale, WY 82941 Phone 307-367-2123
editor@pinedaleroundup.com